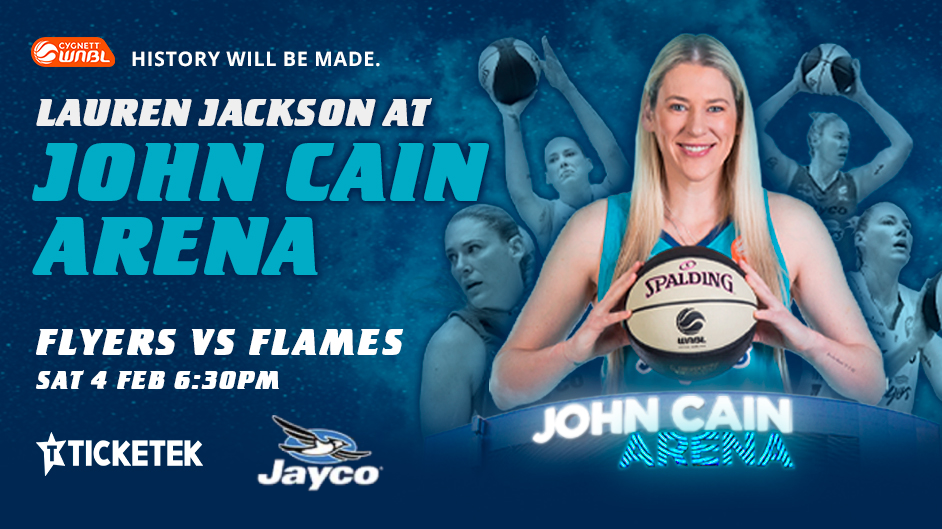 January 10, 2023 | WNBL news
Written by Southside Flyers
Sporting history set to be made on Saturday February 4
The Jayco Southside Flyers are set to create WNBL history when they host the Sydney Flames in the first ever WNBL game to be played at John Cain Arena on Saturday February 4.
Jayco Southside Flyers v Sydney Flames
Saturday February 4 at 6:30pm
John Cain Arena
The game will provide Victorian sports fans with the opportunity to come together to celebrate Australia's greatest ever basketballer, Lauren Jackson, who has returned to the WNBL for the Flyers this season.
"This will be a very special event, not just for basketball, but a celebration of women's sport featuring Lauren, a true world sporting icon," said Gerry Ryan, Director of the Flyers.
"What Lauren has done for basketball, and indeed women's sport, continues to be remarkable and we are thrilled to have this opportunity for the Flyers to be part of history with Lauren part of the team," added Gerry.
With a capacity of over 9,000, the Flyers are also hoping to set a new crowd record for a stand alone WNBL game as part of this celebration of women's sport in Melbourne.
"This is such an incredible event the players and all the staff are excited to have the opportunity to make history and play on the big stage at John Cain Arena. It is great for women's basketball and we look forward to huge support from basketball fans and all sport lovers," said Flyers Coach Cheryl Chambers.
This event is another example of the incredible support Gerry Ryan continues to provide to women's sport and in particular women's basketball. Once he received confirmation the venue was available, Gerry was keen to provide the opportunity for women's basketball as well as for Lauren Jackson to be part of history in a special night for families.
While basketball royalty and sporting stars will be joined by celebrities and leaders of sport and business to celebrate this event and the incredible career of Lauren Jackson, it is a night for families.
There will be loads of entertainment and giveaways inside and outside the venue for the whole family, with ticket prices just $20 for Adults, and $5 for children. Tickets will be on sale through Ticketek from noon on Wednesday January 11.
Jayco Southside Flyers v Sydney Flames
Saturday February 4 at 6:30pm
John Cain Arena
Tickets available via Ticketek from noon Wednesday January 11
Adults $20
Children $5
Click Here to purchase and become part of sporting history.
Saturday February 4 – HISTORY WILL BE MADE.