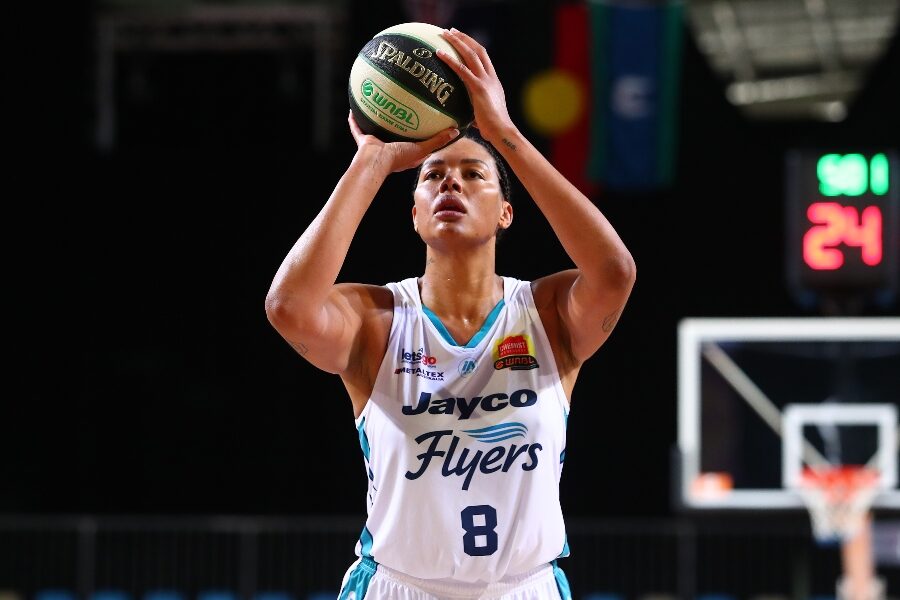 November 28, 2020 | WNBL news
With Liz Cambage delivering against the JCU Townsville Fire for the second time during the 2020 Chemist Warehouse WNBL, while receiving plenty of support the Jayco Southside Flyers, proved too much for an opponent who lost one of their superstars.
Any hope the Fire had of turning the tide on their first meeting with the Flyers received a significant blow late in the first quarter when star guard Lauren Nicholson left the floor with blood streaming from her nose.
She suffered a suspected fractured nose when Flyers opponent Jenna O'Hea landed on her heavily in a fight for the loose ball. Given she's averaging 18.4 points a game, it proved a lot for the Fire to try and make up and with so many Flyers stars stepping up, it was Southside winning 94-70.
That improved the Flyers to 6-2 with Liz Cambage again unstoppable inside with 26 points and nine rebounds on 12/16 shooting.
She wasn't short on help, though, with Bec Cole producing 19 points and eight assists, Jenna O'Hea nine points and four rebounds, Aimie Clydesdale nine points and four assists, Rebecca Pizzey nine points, Sara Blicavs seven points and eight rebounds, and Steph Blicavs six points.
The Flyers played an impressive team game for 30 assists on the 36 made field goals while shooting 52 per cent from the field and going 8/19 for 42 per cent from beyond the arc.
Point guard Monique Conti was pleased with the start to the double-header ahead of Sunday's clash with the Adelaide Lightning.
"It's always good to get a win to start off a double-header for a weekend," Conti said.
"They are a good team with a whole bunch of young players with a lot of talent so we had to make sure we came out with a bang.
"We did that pretty well but they did stick with us for most of the game. In the end we just had a bit more experience and got over the line."
Shyla Heal did what she could to make up for the loss of Nicholson for Townsville with 15 first half points and 17 for the game while Stephanie Reid grabbed her chance with 15 points including 3/5 from three-point land.
Courtney Woods added 11 points, Nadeen Payne nine and Megan McKay seven, but with 17 turnovers and going 5/21 from beyond the arc, it was a tough loss for the Fire.
Heal is looking forward to the chance to quickly respond on Sunday against the Sydney Uni Flames.
"Our defence was horrible the whole game so we really need to go look at the film and adjust everything pretty much," Heal said.
"Losing (Nicholson) was really big obviously in the backcourt but we have good players on our bench. Hopefully she's fine but if not we all need to step up.
"Offensively we were all over the place as well. We now play again tomorrow so we have to get our recovery in and bring the energy tomorrow."
The Flyers made an ominous start and it all began going inside to Cambage as they raced to an 11-2 lead with their superstar delivering nine of those points.
They forced Townsville into five turnovers too to lead 20-9 by quarter-time and even though Heal did all she could to keep the Fire in it in the second period with 11 individual points, the Flyers were still up eight at the main break.
A trifecta of three-pointers from O'Hea in the third quarter helped Southside break the game open further as the lead got to 20, and they cruised to the 24-point win in the end.
Chris Pike is a freelance journalist for WNBL.com.au 
Jayco Southside Flyers – 94 (Cambage 26, Cole 19, O'Hea 9, Clydesdale 9, Pizzey 9)
JCU Townsville Fire – 70 (Heal 17, Reid 15, Woods 11)