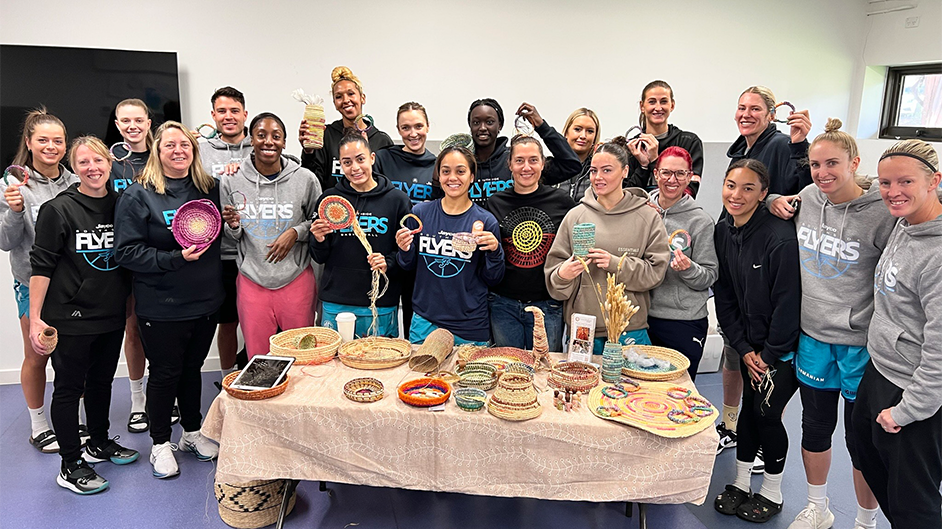 November 3, 2023 | WNBL news
Written by Megan Hustwaite
It's early Tuesday morning, days out from Southside's opening game of the Cygnett WNBL season, and the Flyers have gathered away from the court for a session of a different kind.
Instead of practicing plays and finetuning skills, players, coaches and support staff are sitting in a circle about to create a traditional weave.
For thousands of years, Aboriginal and Torres Strait Island people have used grass, weeds, fresh twigs and willow shrubs from their local environment to craft baskets and every day objects.
Today, everyone is starting with a ring, woven from grass, and with a needle will perform a blanket stitch with coloured grass which has been dyed, covering the ring. Each ring will then be stitched together as a collaborative Indigenous art piece.
Emma Stenhouse is a Ngarrindjeri woman, contemporary artist and for the past three years a member of the Flyers family. She designed the team singlet with artwork depicting sisterhood and leads cultural sessions for the club.
View this post on Instagram
Standing behind a table of stunning woven pieces, Emma explains the art form has been passed down her family but it wasn't a skill she took up she was 40 years old.
She says that the thoughts and feelings you have when weaving are worked into the vessel, to tap into mindfulness and perhaps add hopes for the season and the group into this practice.
Flyers import Jasmine Dickey hails from Baltimore, Maryland in the US and has been in Australia a matter of weeks.
"It's been really eye-opening learning about Indigenous people and culture this week and also get to know each other on another level, it's been pretty cool," she says.
"Learning more about what the jersey means rather than looking at it and seeing pretty colours, understanding what the symbols represent.
"I'm enjoying the weaving, it's nice and peaceful."
Point guard Maddi Rocci says investing relationships with people like Emma and the workshops she creates ensure Indigenous themed-round are more than wearing a different playing strip.
"I've enjoyed having a better understanding of the Indigenous culture and what they've been through and I find it's a really good way to get a connection with the culture and also with our teammates as we take some time out from basketball and connect in these activities."
Coach Cheryl Chambers says connection is weaved through community, culture and sport.
"Emma's become one of the family, it's not just bringing someone in to do some cultural work she's part of the family and really helped us understand what's going on and with our theme of being connected it's just worked perfectly.
"It connects us all together and anything we can do to educate ourselves and our country is fantastic and it also adds to our team, the connectivity of our team, our values and what we stand for."