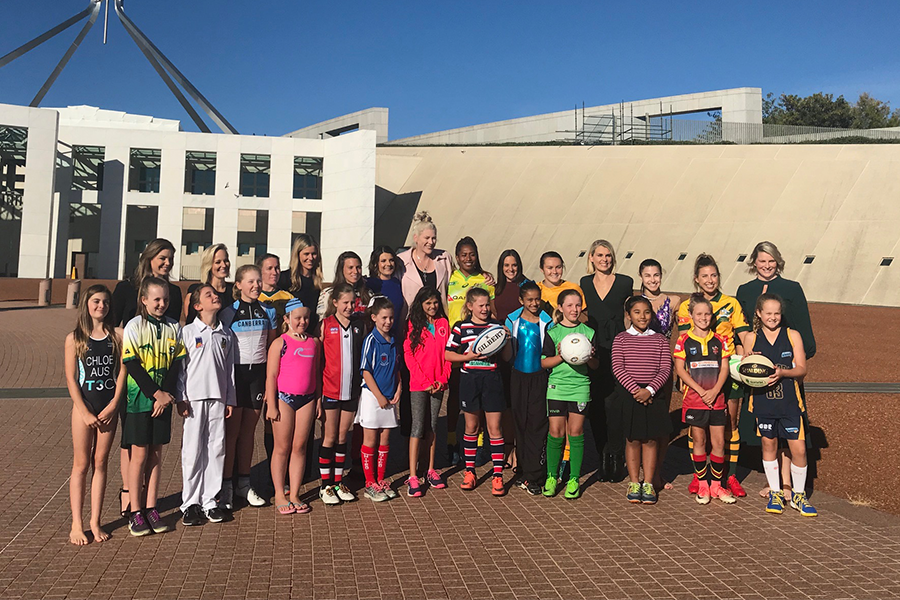 March 27, 2018 | WNBL news
A host of current and former female sporting stars, representatives from sports codes and politicians came together this morning at Parliament House, Canberra, to celebrate women's sport and women in sport at the FOX SPORTS' 'Dare to Dream' event.
FOX SPORTS is at the forefront of women's sport – providing a platform to showcase these incredible athletes and help grow codes and competitions as well as leading the way for female sports presenters.
Former greats Lauren Jackson and Leisel Jones, along with current stars Simona de Silvestro, Ellia Green, Caitlin Foord and Sam Bremner were some of the athletes who attended today's event hosted by FOX SPORTS' presenters Yvonne Sampson, Kel Underwood and Jess Yates.
The event showcased how FOX SPORTS will provide further opportunities to female athletes and those working in the media as the network builds towards its biggest year of women's coverage yet.
Foxtel will show 90 per cent of all women's sport on Australian TV, four times more than all free-to-air networks combined.
An increased line-up will deliver the biggest year of coverage yet. More than 60 codes and competitions will be shown across FOX SPORTS' channels in 2018 providing a platform to help grow women's sport and creating pathways for young girls to follow their dreams.
In 2018 FOX SPORTS will continue to champion females on screen. A record 25 female presenters will feature across our sport's coverage and will host 16 entertainment shows and live match day broadcasts.
In further support for women working in sport, FOX SPORTS this month became the first media organisation to become White Ribbon Accredited. Over the past two years FOX SPORTS has built a work environment that promotes awareness around violence against women using the opportunity to make an impact among its employees and viewers.
Foxtel CEO, Patrick Delany, outlined FOX SPORTS ongoing commitment to providing women's sport a platform to grow and prosper.
"In 2018, FOX SPORTS and the Australian Government are making sure there are more pathways, more opportunities for young girls to dare to dream.
"Dream about becoming the next Erin Phillips running out on the MCG, the future Lauren Jackson representing her country or perhaps join Simona De Silvestro competing in the same field as her male competitors.
"Our plans for women's sport and those who lead the way on and off the screen won't be a token effort. It will be real and it will make a difference.
"Foxtel and FOX SPORTS, harnessing the reach of News Corp, will help grow the profile and professionalism around women's sport.
"We will provide more platforms for female athletes to prosper across more sports as we showcase new competitions including Super W, AFLW, increase our coverage around W-League and hockey and more.
"And in further great news, today we announce an exciting partnership with Gymnastics Australia. In the lead up to the 2020 Olympics we will become the home of gymnastics providing more coverage of one of Australia's highest participated female sports than ever before.
"We will continue to put more female presenters in more meaningful roles. A record 25 females across our sports coverage, 16 shows hosted by these impressive and knowledgeable women.
"We go beyond the siren, continue past the whistle, shining a light on women's sport in new shows, panel discussions, news bulletins and front and back pages of the newspapers.
"We support sport's that are ready to be supported. Sport's that have developed their structure and governance and aggressively grown their fan base. It's a two-way partnership and both have a role to play.
"We are excited for the year ahead and working with more of these sporting bodies as collectively we grow women's sport and those working in it."
Article Courtesy of FOX SPORTS