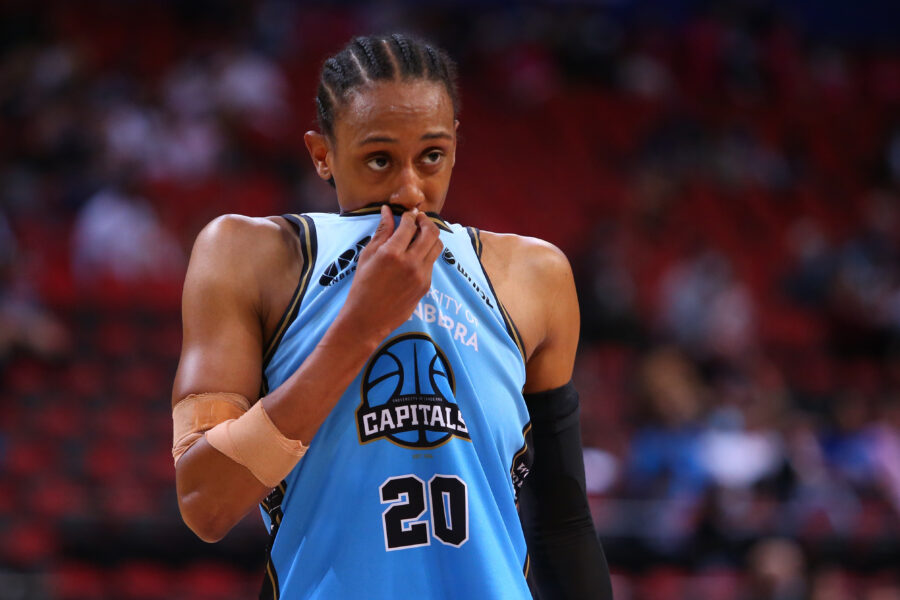 December 7, 2021 | WNBL news
Written by Megan Hustwaite.
BRITTNEY Sykes is one game into her WNBL career and has already embraced a true blue Aussie staple.
Following the UC Capitals opening-round win over Sydney Flames on Sunday, the 27-year-old US import tucked into a Vegemite sandwich in the changerooms post-game.
"I think I cheated the system, I was told a light spread of Vegemite and butter but I need a triple dose of butter, a 3-1 ratio to Vegemite,'' she said.
"It's cool, it's very salty. I heard it's really good for post-game so that's going to be my post-game thing."
The LA Sparks guard top-scored on debut with 16 points, 7 rebounds, 3 assists, 2 steals and 2 blocks in the Caps come-from-behind 58-55 victory at Qudos Bank Arena.
"It was a gritty win and it was pretty cool to have a grinded out win," she said.
"It really tested what we want our identity to be for the entire season. I didn't even know we were down all game until the fourth quarter, that's how hard we were playing. I realised 'oh man, we're up – let's keep it that way.'
The opportunity to play for, and be coached by, Paul Goriss was what brought Sykes to Australia.
"My agent Marcus Crenshaw and I talked and I told him my one rule is that he doesn't send me anywhere cold because I went to Syracuse for five years and I don't want to do any place with snow,'' she said.
"I didn't know Australia has opposite seasons, so I was skipping a winter and coming for your summer.
"He told me about Coach Goz and how he's a good coach. I ended up talking to (Aussie) Tiana Mangakahia, because she went to Syracuse, and she said nothing but great things and everything she said was true. He's a great guy, he's a great coach, he has a great mind and he's a great person.
"It's not really about the money for me, it's about experience and I wanted to be coached by a coach who had that type of experience.
"He's a player's coach, I don't think I've talked to a coach overseas as much as I've talked to him especially during the WNBA season. Coach Goz would watch my games, he'd text me and say 'when you get here we can work on this' he said he wants to send me back to Los Angeles a better player.
"You don't usually hear that, usually overseas coaches are just worried about themselves and their team they don't really care what you do outside of that but for Coach Goz he's prepping me to be a better player because he saw something. I really appreciated that and it made me really excited to come and play here.
"And Canberra win, so I wanted to come to a winning program."
Sykes has settled into the nation's capital and is enjoying her surrounds, weekly visits to farmers markets and waking to the sound of chirping birds each morning: 'I heard a cockatoo for the first time and it sounded like something out of Jurassic Park.'
"Everybody was downing Canberra (to me) but Canberra is amazing, it's literally perfect for me. I like to be out of the way, I don't like traffic or a lot of touristy things. I'm the most anti-social, social person,'' Sykes explains.
"It's peaceful here, there's so many trees and it's just beautiful. It's nature, I can be grounded, I live across the street from a park. I think I walked Lake G (Ginninderra) by accident the first day I got here
"I'm in love with Australia and I haven't even left Canberra yet."