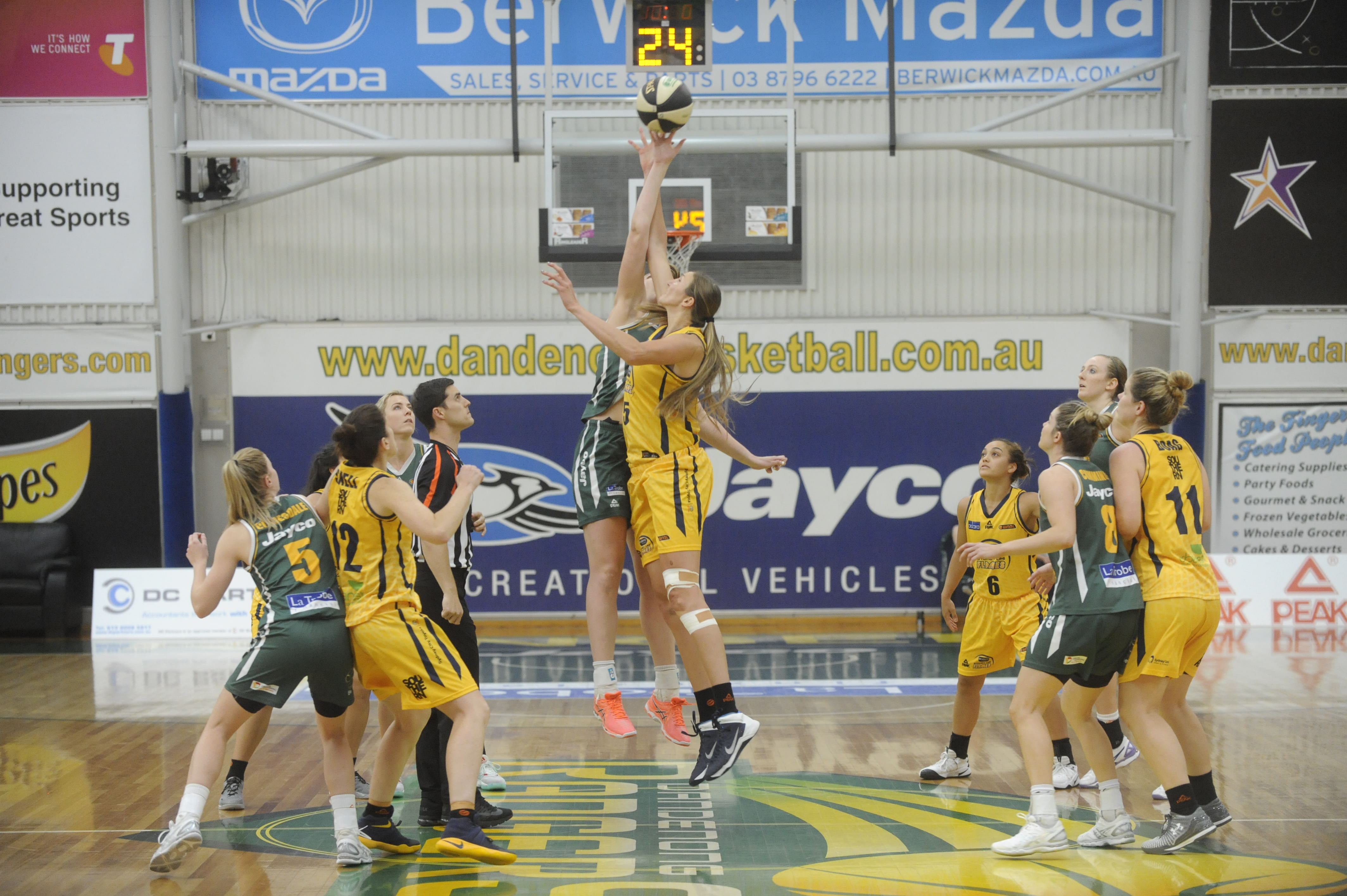 March 9, 2017 | WNBL news
Brydens Sydney University Flames (1st) v Jayco Dandenong Rangers (2nd)
Game 1: Brydens Stadium (SYD), Saturday night 7.00pm
Game 2: Dandenong Stadium next Friday night (March17) 7.30pm
Game 3 [if required]: Brydens Stadium, next Sunday (March 19) 2pm
Likely starters (PG-C):
Flames: Leilani Mitchell, Ally Wilson, Belinda Snell, Asia Taylor, Jennifer Hamson.
Rangers: Aimie Clydesdale, Steph Cumming, Amelia Todhunter, Sara Blicavs, Ally Malott.
The contest
Both teams want to play in transition and play fast, both arenÕt afraid to shoot three-pointers and both have multiple playmakers.
In short, this series should be full of entertainment and frantic scoring runs.
There are superb match-ups all over the court and so much of the series will be decided by how much influence Leilani Mitchell and Aimie Clydesdale have from the point guard position or how many points playersÊlike Ally Wilson, Steph Cumming, Belinda Snell or Natalie Novosel can score from outside.
Turnovers and efficient ball use will also be crucial as both sides love to punish the oppositionÕsÊmistakes with fast scores at the other end.
Closer to the basket, look for FlamesÕ import Asia Taylor to post up and play physically down low while Sara Blicavs will look to drive at Taylor at the other end and test her one-on-one defence.
Home court could, in the end, be the deciding factor in this series as Sydney won the season series 2-1 and all games were won by the home side.
Dandenong have some added emotional inspiration with celebrated Òmother duckÓ Jacinta Kennedy telling the side she will be retiring from the WNBL after the grand final series.
Kennedy is a three-time Champion and was a vital presence in the Semi-FinalÊwin over Perth. She will again have a key role in slowing down Taylor and centre Jennifer HamsonÕs impact this series.
Rangers coach Larissa Anderson praised the efforts of Novosel and Kennedy off the bench this season.
ÒNat can clearly start,Ó Anderson said.
ÒItÕs a weapon we are using for her and Cinno [Kennedy] to come in and use their experience and poise against other oppositionsÕ benches- itÕs been a huge advantage for us, especially as it allows someone like Amelia to lock in and focus on her defensive role.Ó
The Flames are chasing their first championship since 2001 while the Rangers havenÕt claimed the title since their win in 2011-2012.
Key Match-Ups
While the point guards from both clubs will have a big say across the series, it could turn out that the shooting guard match-ups supply the seriesÊwith a match-winner.
Steph Cumming (17.6 points per game) is fourth in league scoring and is just as dangerous with her drives as she is beyond the arc so Wilson and Snell will have a big ask containing her defensively.
Conversely,ÊAmelia Todhunter, Cumming and Novosel will have the same issues keeping Wilson from driving to the basket or Snell from wriggling free for three-pointers.
The Flames cannot sleep on Novosel either as she regularly scores quick baskets off the bench and relieves some pressure on her side.
If things get tight on offence, both clubs will look to their shooting guards to break the shackles so whoever stands up best will go a long way towards winning Game 1 and the series.
Another crucial match-up will be Blicavs and Taylor although Dandenong could share the guarding of Taylor between the likes of Blicavs, Malott and even Kennedy.
Blicavs had foul trouble in Games 2 and 3Êagainst Perth soÊSydney UniÊwould love to force her from the court early and disrupt Dandenong's momentum.
But Taylor is just as hard to get a handle on, especially when she is shifted around offensively and has catches in both the high and low posts- her tough play around the basket will ask a lot of the Rangers and this is where the likes of Kennedy, Malott and Lauren Scherf will need to be strong.
Taylor, who joined Mitchell in the WNBL All-Star Five, has been everything FlamesÕ coach Cheryl Chambers hoped and more.
ÒItÕs been a while since IÕve had to recruit a WNBL import and I was quite nervous about it so kept going back to the agent for more tape on Asia,Ó Chambers said.
ÒI wanted someone with an X factor and who was a bit different to your regular import- Asia turned out to be a great player and a great person off the court and she is just lots of fun.
ÒThere are times IÕll tell her to go somewhere on the court and sheÕll move and shake and dance to that position- thatÕs what I enjoy about her.Ó
Where it will be won
If the Flames can execute their offence and score around the basket like they have all season then they will be hard to beat.
And if Mitchell can attack the paint and create for her teammates they will become even more dangerous.
But if the Rangers have their defensive pressure dialled up to 10 and force the Flames into turnovers, like they did to Perth in Games 1 and 3, then we will have a series on our hands andÊa potential Game 1 upset.
With both sides pretty evenly matched and so potent offensively, it will come down to who can walk the walk on game night and who stands up best in the big moments.
Bring on game one.