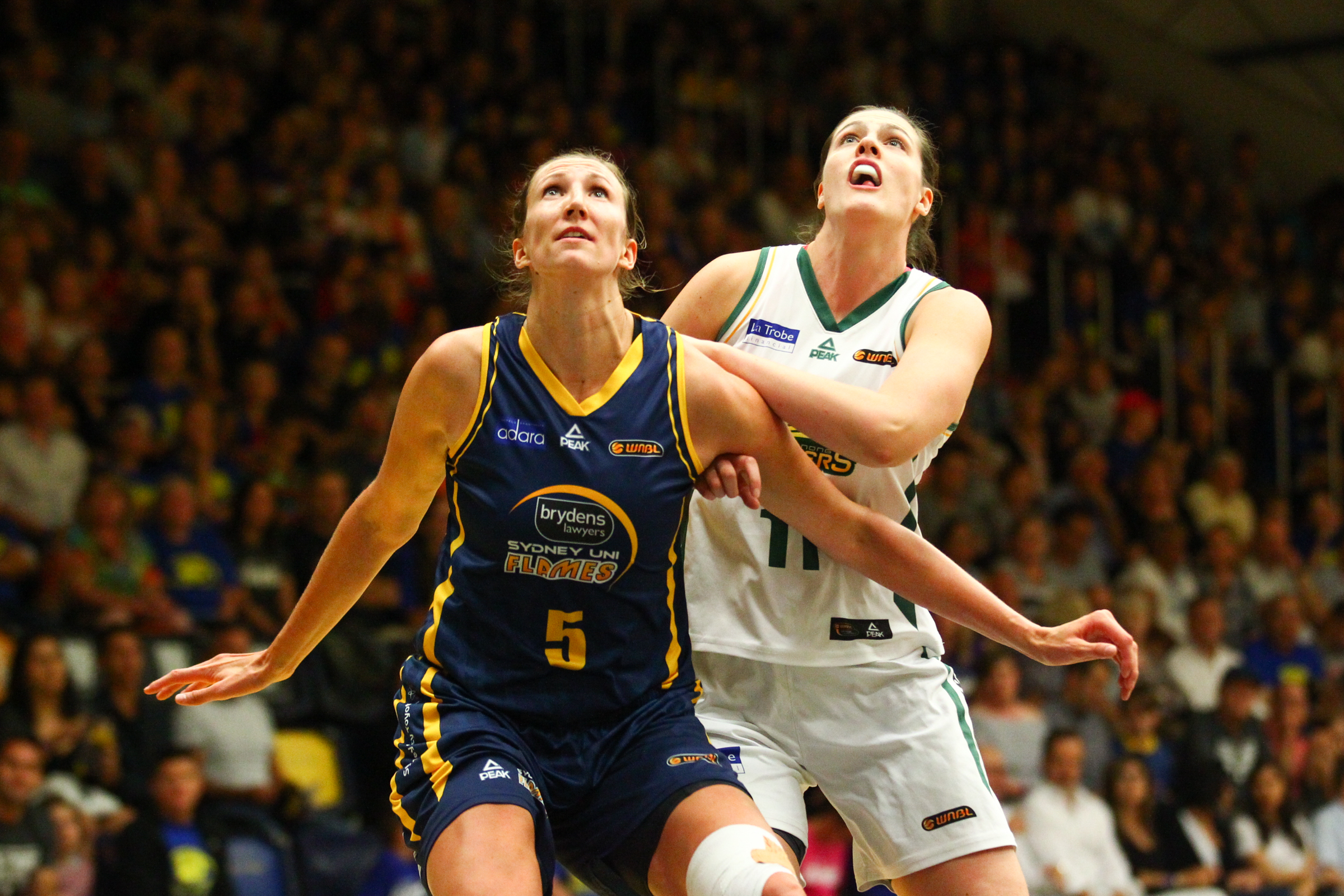 March 16, 2017 | WNBL news
Brydens Sydney Uni Flames v Jayco Dandenong Rangers (Sydney Uni leads series 1-0)
Game 2: Dandenong Stadium, Friday night (March 17) 7.30pm
Game 3 [if Dandenong win game 2]: Brydens Stadium, Sunday (March 19) 2pm
Likely starters (PG-C):
Flames: Leilani Mitchell, Ally Wilson, Belinda Snell, Asia Taylor, Jennifer Hamson.
Rangers: Aimie Clydesdale, Steph Cumming, Amelia Todhunter, Sara Blicavs, Ally Malott.
The Contest
As we saw in Game 1, neither side will take a backward step and both want to run and attack the basket.
The Flames were able to establish their inside game as they looked to Jennifer Hamson early and in the fourth quarter while Asia Taylor also burned brightly before being slowed down slightly in the second half.
Dandenong are willing to give up a little height to the likes of Taylor and Hamson but only if they can use more versatile defenders like Sara Blicavs and Ally Malott to create offence or draw fouls on the FlamesÕ bigs at the other end so it will not be surprising if Sydney Uni look to lob in more passes to Hamson in the low-block this weekend.
The Flames also went to smaller line-ups for parts of the second half in Game 1 and it worked in their favour with Tahlia Tupaea and Lauren Nicholson both stepping up in crucial moments and combining for 17 points off the bench.
It is also worth noting Belinda Snell was more of a distributor in Game 1 with five assists and only four shots but if she lights it up from distance on Friday night, Dandenong could find themselves in trouble.
Flames coach Cheryl Chambers said her sideÕs offence was solid but its defence would decide if they win Game 2.
ÒThere will be a focus on defence and making sure we take care of that,Ó Chambers said.
ÒAs you can tell we have a spread of scorers, Ally [Wilson] was fantastic in Game 1, Jen was sensational too then we had Leilani, Asia and others scoring so our offence will take care of itself but we have to play some defence.Ó
Key Match-Ups
The Rangers know the Flames will score points due to their offensive firepower but they cannot be allowed to shoot 59 % from the field again.
This means the Rangers need to get on top of the FlamesÕ bench and restrict them frin getting too many layups or open shots.
Shutting down HamsonÕs production will be a focus for the Rangers who will charge Malott, Jacinta Kennedy and Lauren Scherf with that task while at the other end of the floor, they will attempt to coax the FlamesÕ centre into foul trouble.
Malott will be keen to be more productive after she started the game well last weekend before falling away while Kennedy will lay it all on the line as she could be playing her last WNBL game if the Rangers lose.
Bringing down WilsonÕs points and keeping her out of the corner three will be crucial for the Rangers while Steph Cumming will also want to find more baskets and continue to attack the rim alongside Natalie Novosel, a ploy that worked well in their Semi-Final series againstÊPerth.
What needs to change from Game 1
The Rangers were leading at half time last weekend but know their offence did not maintain its poise in the second half as the FlamesÕ continued to find ways to rush the visitors.
With a home crowd on their backs and the series on the line, expect more poise from the RangersÕ offence against a Sydney Uni team that has proven time and again that they are a very competent side in clutch situations.
Rangers coach Larissa Anderson said her side had too many rushed plays in the second half of Game 1 and it would be addressed before they take the court in Game 2.
ÒWe just took too many quick options in the final quarter and even in the third quarter I thought we got some good stops then had a few too many turnovers,Ó Anderson said.
ÒWe did some uncharacteristic things; we need a bit more ball movement as we tried to attack after just one or two passes and thatÕs not our style at all.Ó
Sara Blicavs was outstanding with 25 points and was a threat throughout the game but the Rangers would love to utilise Cumming, Novosel and Aimie ClydesdaleÕs ability to get into the paint and score some easy points from the free-throw line.
Scoreboard pressure can work in favour of home sides so having more scorers will help the Rangers but the Flames could make that work in their own favour if they can take a lead early.
Kennedy said her side wants to force a Game 3 and give themselves a chance at the championship in Sydney on Sunday.
ÒEveryone handled Game 1 well, everyone was prepared and their heads were where they needed to be,Ó Kennedy said.
ÒItÕs been said before that some of our girls like to get up and muck around and dance [pre-game] but everyone was spot on and ready to go.
ÒWe are really excited to get to our home crowd at Dandenong then get where we need to be, do what we need to do and be ready to go on Friday night.Ó