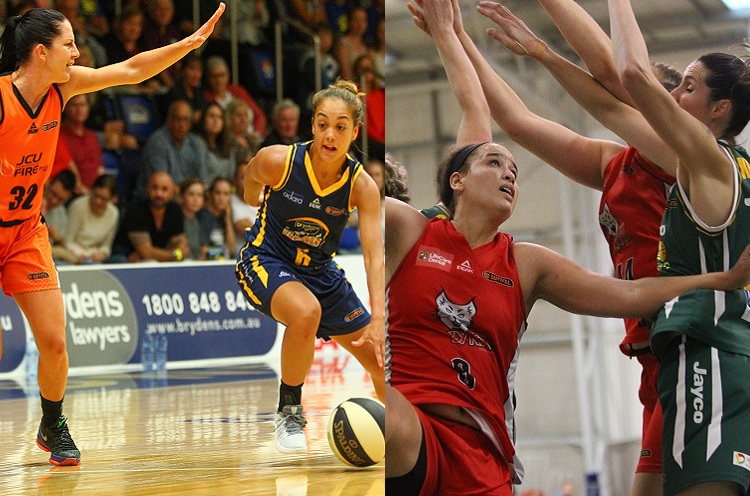 March 2, 2017 | WNBL news
Photos via Kangaroo Photos.
The WNBL Semi-Finals seriesÕ have reached their decisive moments as both Sydney Uni and Dandenong stand just one win away from reaching the Grand Final.
But both the Rangers, who face Perth, and the Flames, who battle Townsville, will be away from home in Game 2 on Friday night and they face difficult trips.
Under the best-of-three format, if the Lynx or Fire win, they will earn a deciding Game 3 on Sunday at Dandenong and/or Sydney respectively.
Game 2
JCU Townsville Fire v Brydens Sydney University Flames, Townsville Stadium, Friday, 7.00pm (local time)
The situation
The Flames lead 1-0 and have all the confidence and momentum as they fly into Townsville looking to land a knockout blow on the two-time defending champions and end their hopes of a three-peat.
SydneyÕs 111-69 win in Game 1 was a WNBL finals record for points and winning margin and there was little silver lining for the Fire other than the best-of-three format which has kept their title hopes alive.
Flames coach Cheryl Chambers saw her side put on one of its best performances of the season against a Fire side with much more finals experience but she is expecting a major turnaround from Townsville on their home floor.
ÒNo one would have seen this score-line coming or seen this happen in any way, shape or form,Ó Chambers said.
ÒSo that makes me think in the back of my head thatÕs there is still work to be done.
ÒI know Townsville have been in the grand final ÔxÕ amount of times and won it before so I know Friday will be a different ball game.Ó
What we learned from Game 1
The FlamesÕ offence may be the most dangerous in the league, especially from outside where they nailed 10-25 three-pointers in Game 1.
Former Fire guard Alex Wilson nailed five of those threes and Fire coach Claudia Brassard was very disappointed her side did not do more to close down the FlamesÕ shooters.
ÒWe gave them 11 open threes and they are the best three-point shooting team in the league,Ó Brassard said.
ÒWe want them to have to make shots they donÕt want to take.Ó
Six Flames scored eight points or more including WilsonÕs big performance and that gave Chambers heart heading into Game 2.
ÒThe sign of a really good team is to have trust and back each other so if someone else is doubled or being guarded a certain way then we can give it to someone else who can put the ball in the hole,Ó Chambers said.
What changes in Game 2
The Fire will have an air of desperation about them in Game 2 and while Suzy Batkovic and Mia Murray scored well last week, watch for Kelly Wilson and Micaela Cocks, two players with a history of big finals performances, to bounce back from quiet games.
The Flames are out to score their first Grand Final appearance since 2007-08 and will look to Rio Olympian Leilani Mitchell to lead the way while also countering whatever defensive changes the Fire dish up.
Brassard said her side had to regain their belief if they want to force a Game 3.
ÒThere was very little explanation for what happened in Game 1 except that it was pretty embarrassing,Ó Brassard said.
ÒWe had a bit of a video session this week which wasnÕt very pleasant and hopefully that wonÕt happen again this weekend.
ÒThe last time we were belted like that was about 10 years ago so itÕs all about how you react to it- if we show some character and pride then we will have a shot at it in Game 2.Ó
Tickets: https://au.patronbase.com/_TVCC/Performances?prod_id=1174&error=prod_not_on_sale_yet
Live stats: http://www.fibalivestats.com/u/wnbl/577306/
Live Stream: https://www.youtube.com/channel/UChW2LjizyYyFvBYvm8R-m8A
Game 2
Perth Lynx v Jayco Dandenong Rangers, Bendat Basketball Stadium, Friday, 6.30pm (local time)
The situation
The Rangers will take the court in Perth looking to return to the Grand Final for the first time since 2011-2012 when they last won the WNBL championship.
But the Lynx made last yearÕs Grand Final and still believe they can win the series Òthe long wayÓ despite dropping Game 1 73-66 at Dandenong last week.
ÒWe still believe we can do it," Lynx guard Tessa Lavey said.
"We have to do it the hard way, we are always prepared to go around the track and do it the long way- itÕs an exciting time.Ó
The Rangers built a 25-point lead in Game 1 before withstanding a strong comeback in the final term from the Lynx.
Rangers coach Larissa Anderson said her side did well to create such a lead but couldnÕt afford to give the Lynx any comeback chances.
ÒWe stuck to our scouts, stuck to what we wanted to do defensively and we were rewarded at the other end,Ó Anderson said.
ÒBut those things didnÕt happen as much [in the second half].
ÒWe could have done more damage in the second half but you know Sami Whitcomb will never give you a quiet four quarters but then we allowed Lavey to hurt us in the second half so we need to look back at the tape and see what we can do.Ó
What we learned from Game 1
When the Rangers can lock down defensively it fuels their running game and the Rangers showed they can perform in the pressure of a Semi-Final as they kept the Lynx to 30% shooting.
Anderson praised the leadership of experienced role players Jacinta Kennedy, Amelia Todhunter and Steph Cumming during Game 1 and they will have big jobs again in Game 2.
ÒYou could tell Jacinta was really locked in and not overawed by the occasion and thatÕs what we really needed,Ó Anderson said.
ÒShe was a huge part of that second quarter then in the second half you could see her in the huddles- we just needed that settling influence so she was great.Ó
Perth need to get leading scorer Whitcomb free earlier in the game as Todhunter controlled her well in the first half while the Rangers will need to keep creating shots on offence to match the likes of Carley Mijovic who will be keen to improve on her 1-11 shooting performance from last week.
What changes in Game 2
Perth have a lot on the line as they aim to make their second Grand Final in the past 18 years while the Rangers will not want to send the series home to Dandenong for a high pressure decider.
Keeping rebounders Nat Burton and Ruth Hamblin off the glass will be crucial but with a 1-0 lead, Dandenong own the momentum.
ÒEven though Perth will take some confidence from what they did in that fourth quarter our girls can be confident that thatÕs two weeks in a row they have put in a really solid effort beating a really quality team,Ó Anderson said.
ÒWhat Perth showed is that you can never fall asleep as they can really punish you.
ÒNow we can go into Perth and give it all weÕve got then see what happens.Ó
Tickets: http://www.ticketmaster.com.au/Perth-Lynx-tickets/artist/2165336
Live stats: http://www.fibalivestats.com/u/wnbl/577307/
Live stream: https://www.youtube.com/watch?v=euXzkmck4Ww