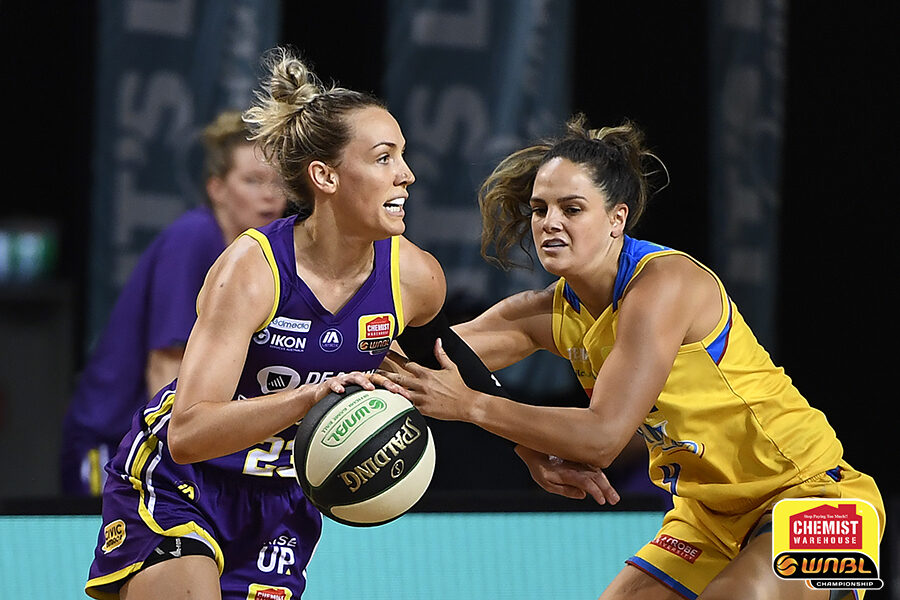 December 11, 2020 | WNBL news
Maddie Garrick celebrated WNBL game 250 in style as the Deakin Melbourne Boomers took a step closer to a top-two finish on the back of a hot start to each half to deny the Villawood Properties Bendigo Spirit a win this season, prevailing 91-70.
Friday night's double-header in the Chemist Warehouse WNBL season got underway at Cairns Pop-Up Arena with the Spirit having their last chance of avoiding a winless season, but that soon became a monstrous task.
Melbourne shot out of the blocks to score the game's opening 19 points with Bendigo's first score not coming until almost five minutes in.
However, to the credit of the Spirit, led by the inspirational Tessa Lavey, they fought back impressively and did get as close as six in the second term. But the Boomers went on another 17-0 run either side of half-time to be up 24 and win by 21.
It was a crucial win for the Boomers and they need to beat Townsville on Sunday to all but lock in that top two spot. They also won to celebrate the 250-game milestone of Garrick and were once again without Tess Madgen.
Garrick ended her milestone night with 16 points, eight assists and five rebounds while draining four threes, and she was proud to reach the mark to earn life membership.
"It's exciting and I'm humbled to be able to play 250 games to be up there with some of the greats," Garrick said.
"That's pretty cool and I've had a pretty good run to be able to reach that too without any major injuries. It's always better when you get a win obviously and who knows how long I'll go for, but I'll play as long as I can and squeeze out of every bit of juice that I have."
The Boomers got plenty of strong contributions again with Stella Beck delivering 17 points and four assists, Ezi Magbegor 16 points and eight rebounds, Izzy Wright 12 points and seven boards, Penina Davidson 10 points and four rebounds, and Cayla George eight points and six boards in 15 minutes.
The Spirit deserve to be proud of their showing in the last game of what's been a frustrating season that ends at 0-13. The fact they fought back from conceding the opening 19 points to make a game of it, and never give up was a great testament to them.
Lavey was again the standout for Bendigo flirting with a triple-double with 16 points, nine assists and eight rebounds.
She had a fine season but was prouder of how the team stuck together.
"We are done now and I'm just really proud of the group for the way we carried ourselves. We could have easily blamed each other and not enjoyed our time, but it has been the opposite," Lavey said.
"We've held together and supported each other. We would have liked to get a win but it just wasn't our luck this season, so moving forward I just hope the girls became better people and players out of this season."
Mary Goulding ended her season on a high with the Spirit with 12 points while Demi Skinner contributed 11 and in what could have been her final WNBL appearance, Amelia Todhunter scored 10 and even had the last shot of the game set up by Carley Ernst.
It was a remarkable start to the game from the Boomers. It began with a Garrick basket and by the time Magbegor drained one from downtown all of a sudden it was 19-0 after four and-a-half minutes.
Todhunter got the Spirit on the board with a triple from there and then they worked back into the contest with Goulding hitting seven quick points to close the opening term.
Bendigo kept up the momentum and with Goulding again connecting from deep and then Chevannah Paalvast doing similar, it was a six-point game. Garrick, though, answered right back with a three for Melbourne before the Boomers closed the first half on an 8-0 run to lead 49-34.
They continued on with it to open the second half with the opening nine points beginning with a triple from Beck, and that opened the game up again and while the Spirit fought hard, they could never get closer than 14 as Melbourne went on to win by 21.
Chris Pike is a freelance contributor to WNBL.basketball
Deakin Melbourne Boomers – 91 (Beck 17, Magbegor 16, Garrick 16)
Villawood Properties Bendigo Spirit – 70 (Lavey 16, Goulding 12, Skinner 11)