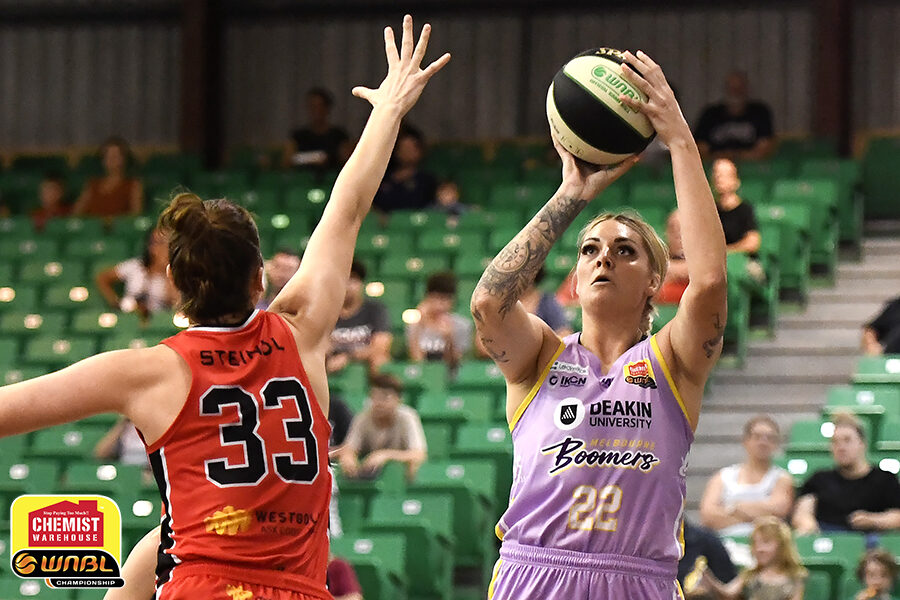 November 16, 2020 | WNBL news
Opals stalwart Cayla George produced another classy performance as Deakin Melbourne Boomers overcame a horrendous three-point shooting performance to shade Perth Lynx, 62-56, in their Chemist Warehouse NBL clash in Mackay on Monday.
The Boomers struggled early against a youthful Perth outfit, whose enthusiasm and energy allied to good execution gave them the advantage.
Melbourne trailed by 13 in the second quarter but inspired by George's power and accuracy inside, the win moved the Boomers to 3-0 for the season.
George scored 12 in a decisive 16-2 third-quarter run, as Melbourne turned a nine-point deficit into a five-point lead heading into the final term.
Plucky Perth levelled the scores with a 7-0 run early in the last and were level inside the last two minutes, but Melbourne scored the last six points.
The Boomers didn't help themselves by missing all 20 of their three-point attempts, ten in each half, with George off target with five long bombs.
Inside was a different story, as Perth couldn't contain George, who finished with 25 points after dropping 24 in the Boomers last game over local rival, Jayco Southside flyers.
Maddie Garrick scored 12 for Melbourne, who shot 40 per cent overall from the field despite their long-range woes.
"That was a bloody grind, but sometimes that how it is," George said.
"We just had to knuckle down and play a bit more of a poised Boomers brand of basketball together to get that job down."
Both sides went into the game without a key backcourt player.
Tess Madgen, who score 47 across the Boomers' first two games, didn't recover in time from an ankle injury.
Perth also started without an Opals guard, with captain Katie Ebzery not taking the court.
"Not having Katie there was a big deal but I think we did really good," Lynx's Nes'eya Willaims said.
Lynx dropped to 0-3, but coach Ryan Petrik would surely take some positives from running one of the title favourites so close.
Alex Sharp performed admirably for Perth, racking up 15 points and 12 rebounds.
She was the only double-digit scorer for Perth, who shot just 34 per cent from the field and made only five of 26 three-point shots, but the team as a unit hustled well and never gave up.
Lynx sprinted to an early eight-point lead and were 17-11 up at quarter-time.
Down 24-11, Melbourne rallied to get within two late in the second quarter and trailed by five half-time.
Both teams play again on Wednesday, with the Boomers playing the UC Capitals and Perth taking on Villawood Properties Bendigo Spirit.
Adrian Warren is a freelance contributor to WNBL.com.au
Box Score
Deakin Melbourne Boomers 62 (C George 25, M Garrick 12, E Magbegor 7)
Perth Lynx 56 (A Sharp 15. J Edwards 9, K Steindl 8)