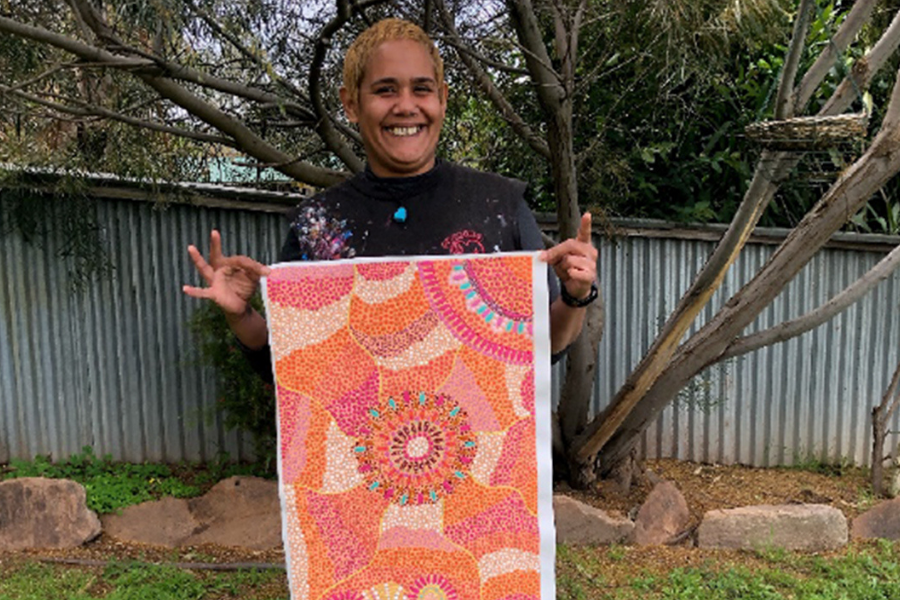 March 4, 2022 | WNBL news
Born and raised in the small country town of Coomealla (25kms north-west of Mildura) on the Namatjira Mission, Tamara May Murray (Mara May) has been a practicing artist for over 20 years.
A proud member of the Barkindtji tribe from the Coomealla, Lake Victoria and Mungo regions from her mother's ancestors and the Yorta Yorta and Dhudaroah tribes originating from the Shepparton area from her father's side, Mara May's connection to her land and culture fuels the storytelling through her art.
"It was a given gift (her artistry), I'm carrying on this tradition that the oldest living culture holds, this gift has been given to me and I'm just naturally doing it. I haven't been taught, I just love it, it runs through my blood," Mara May told us from her Albury home in the lead-up to the WNBL Indigenous Round.
"I can't explain it, some days I wake at 3am and the creation just comes to me. Some days I'm like, why me?"
The artist behind the WNBL's Indigenous Round, Mara May's piece titled "The only colours we know are the colours of the game," comes from a place of experience on the basketball court throughout her childhood.
"Growing up playing basketball myself, there was a lot of racism on the courts. I wanted my artwork to break down that barrier, and once you're on that court and in that jersey that's all you see."
View this post on Instagram
Mara May's story behind the artwork:
The semi-circle in the top corner of the artwork visualises a team facing the court with the different layers in the semi-circle representing the individual players that make up the team. The centre circle represents the basketball court, a communal space where players come together as equals to compete and play the game in unity.
The yellow connection lines emanating from the centre of the court acknowledge that basketball is truly a team sport, not only in relation to the players and spectators but all the people across our sport supporting and coming together to make the great game happen.
The gateway at the bottom of the piece represents the many opportunities that basketball creates – individuals coming together as a team, working in partnership through the highs and lows to achieve success together. The opportunity to make friends, to improve health and fitness, and to jointly fight to make their team, fans and supporters proud.
With her artwork reflected in the WNBL logo and warm-up tees worn league-wide as well as Bendigo Spirit hosting Mara May's design across their Indigenous Round jersey, Mara May can't quite believe that her creation and story is being represented across basketball's biggest stage.
"I'm just kicking back thinking is this real? It's like a dream. I'm over the moon and so thankful for the opportunity."
Indigenous Round celebrations are set to continue across Round 13 and the warm-up tops featuring Mara May's artwork are available now via | WNBL Shop (wnblstore.com.au)
View this post on Instagram
View this post on Instagram