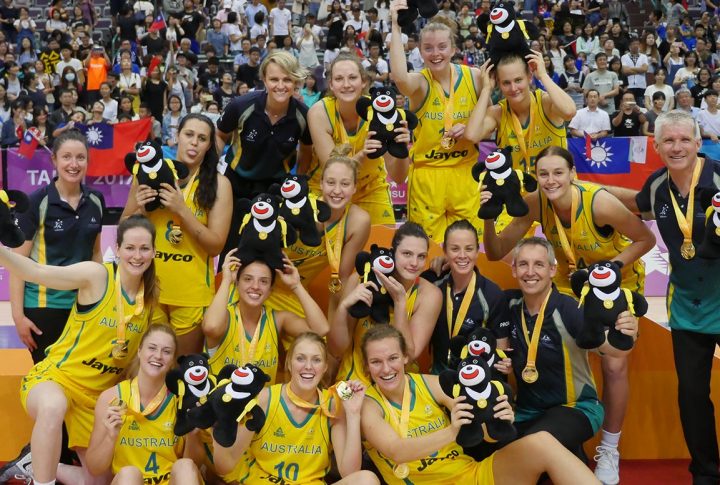 August 29, 2017 | WNBL news
Following outstanding performances against the USA and Chinese Taipei in the playoffs, the Emerging Opals have won gold, defeating Japan 85-78 at the 2017 World Uni Games.
Having only dropped one game for the tournament against the Russian Federation, the Aussie Women advanced through what was a tough draw in the pool stage.
They fought through that adversity though to come home with what can only be described as a hard-fought and well deserved victory, their first gold since 2007.
The Emerging Opals came out strong in the first quarter, despite the speed advantage that Japan held.
Darcee Garbin of the JCU Townsville Fire led the scoring with an impressive nine points at the first break, helping to give Australia a 24-16 lead.
Garbin's scoring run only continued as she gathered a game-high 30 points by the final siren with ten boards and six assists.
Brydens Sydney Uni Flames' Alex Wilson made her presence known early in the match with a stunning three-pointer from the corner late in the first before bringing her game total to 17 points.
Lauren Scherf (University of Canberra Capitals) comfortably added to the scoring tally with 18 points, 12 rebounds and five assists, continuing her dominance from previous games while also contributing four steals and four blocks.
Despite being held scoreless at the beginning of the second for 2:30, it was Abbey Wehrung of the UC Capitals who got the Emerging Opals back on the scoreboard with a three, totaling 11 points and three assists.
Providing the starting line-up with some quality back-up, MAC Adelaide Lightning's Aimie Clydesdale and UC Capitals' Keely Froling played strong minutes- Froling adding the team with three points and four rebounds in the third.
Despite the Emerging Opals lead, Japan were not going to let the Aussie's run away with the win, coming out hard in the last quarter and again holding the girls scoreless for over four minutes early.
While challenged, the talented young squad did not let Japan get a hold of the game with Wilson, Scherf and Garbin all pitching in to bring home what is the Emerging Opals second ever gold medal at the World University Games.
After winning bronze in 2005, 2009, 2011 and 2013, Australia gathered a collective 25 assists on 34 field goals in the game, proving to be too strong for the relentless Japan who brought the margin back to just seven points in the final minutes.
The WNBL contingent of the Emerging Opals now only have a short time before they will line up with their respective teams for the 2017/2018 season with tip off just five weeks away.
Success at the Uni Games provides a bright outlook on women's basketball, Australia now highlighted as producing some incredible home grown talent.
The WNBL season kicks off October 5 in Melbourne. Full schedule for the WNBL season can be found here.