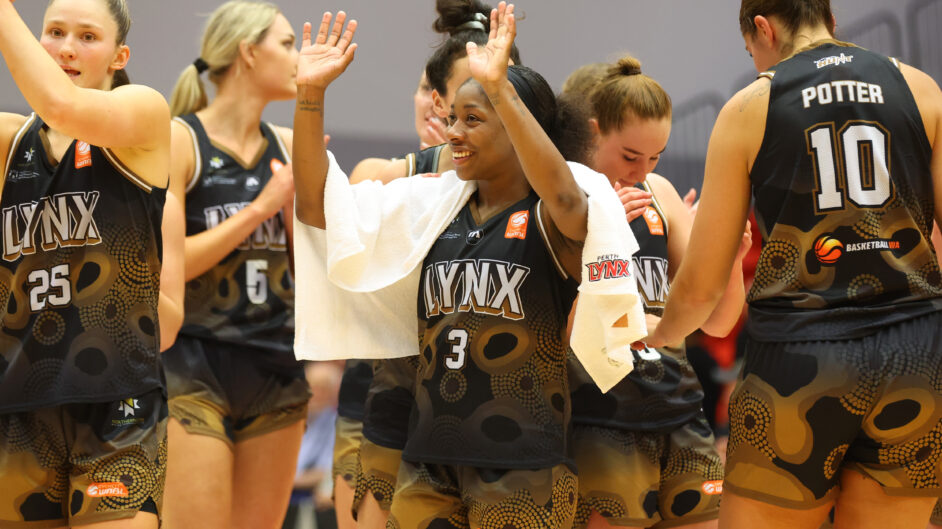 November 22, 2023 | WNBL news
Written by Darren Barker, Features Writer
It's a case of #3 for the Perth Lynx causing havoc on the court to lead her side to a 3-0 start while averaging a league best in points per game.
Aari McDonald.
3rd pick in the 2021 WNBA Draft, 3 seasons into her career with the Atlanta Dream, rocking the number 3 on her Perth Lynx uniform and killing it in 3 games to lead her side to a 3-0 start.
Ok I may have forced that narrative a bit but these are all facts! Good things must come in 3's, right?
An MVP-like beginning
Aari McDonald has been terrific to open up the 2023/24 Cygnett WNBL season and if it wasn't for another WNBA guard with an undefeated record in Melbourne, I would be putting McDonald's name as an early front runner for MVP.
Can we circle December 3rd while we're at it? Melbourne vs Perth, Aari McDonald vs Jordin Canada, both teams undefeated right now. Consider it circled.
We all love to make super early calls so I'm running with the MVP prediction, well kind of. She's up there in the top few regardless.
From Atlanta to Perth, Australia
Someone of Aari's caliber coming to Australia and playing a season down here is always an exciting move.
Automatic intrigue, automatic buzz, automatic questions around her name as well the Perth Lynx. They're good questions, by the way.
How good can she be down here in a different league?
What instant impact will she make?
Well, Aari's answered these questions already as she clearly makes a big impact, and it has taken just 3 weeks of action.
Top of the competition
27 points per game is McDonald's current average and you guessed it, that's the best in the league. Second in line in the points per game category is Isabel Borlase and Lauren Nicholson who are each at around 18 a game.
I hear you, it's not all about scoring but either is Aari. She's averaging 6.7 assists per game and threw out 11 of them against Adelaide a week ago, so she's got that aspect of the game covered as well.
Here are McDonald's totals from Perth's 3 wins:
Game 1 vs Sydney: 18 Points (7-14 FG), 0-4 3PT, 2 Rebounds. 6 Assists, 1 Steal
Game 2 vs Adelaide: 29 Points (12-22), 3-8 3PT, 1 Rebound, 11 Assists, 5 Steals
Game 3 vs Bendigo: 34 Points (13-19), 3-7 3PT, 6 Rebounds, 3 Assists, 3 Steals
I just love her quickness and aggression. She's super fast and isn't afraid to cause some havoc in the paint despite being 5'6 with some players quite above 5'6 floating around in there.
"She's a jet. She's just really hard to guard."
Well put, from Perth's coach Ryan Petrik post-game vs Bendigo.
McDonald has made three 3-pointers in each of her last 2 games as well so it's not like she's doing all the damage from drives and using her speed only, she mixes it up on offense so it's enjoyable to watch her dissect the defense.
A jet on and off the court
Her teammates and coaching staff really seem to get around her as well. You see players like Anneli Maley hyping Aari up post-game on her socials, coach Ryan Petrik talking about what a great character she is, that she's coachable and wants to get feedback from him.
These are all small signs that point to McDonald being a jet on the court, and off of it.
You're one of us now
I do really enjoy when WNBA players come to Australia to play because once they're back in the bright lights over in the States, you feel a part of their journey now. You feel closer to them, you want to root for them. It's a neat aspect of it all.
You're part Australian now, Aari, I think that's how it works.
It's early days but the signs are terrific
Perth are rolling right now, a record of 3-0 speaks for itself and #3 speaks for herself as well.
Aari McDonald has been great and she will be a joy to watch all season long. The talent is obvious but sometimes it's best to keep it simple when summarising just how talented she is, I'll leave it up to Ryan Petrik to close this one out.
"She's really bloody good."