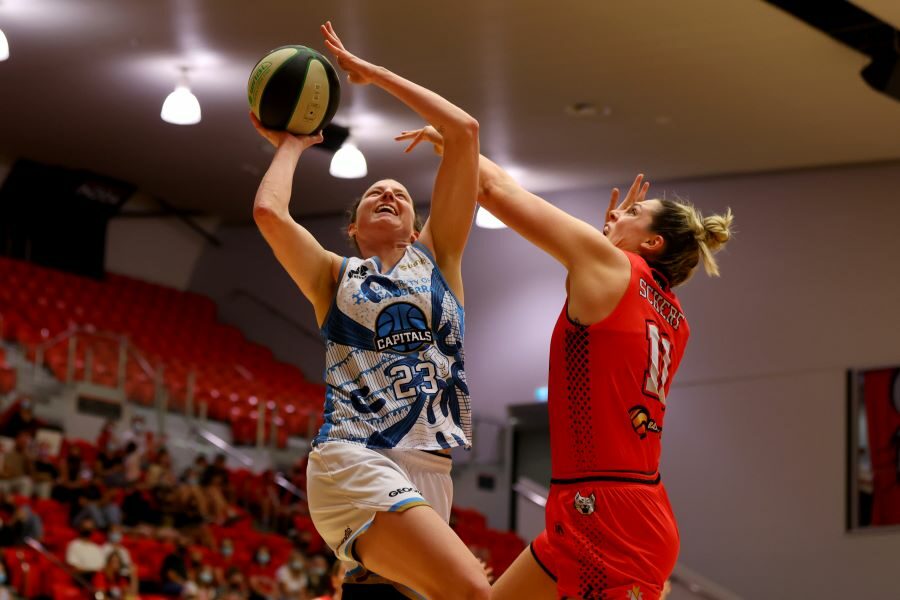 June 27, 2022 | WNBL news
There have been some big moves over the past fortnight in the WNBL, with some key player signings and movements announced.
After four years at the UC Capitals, former WNBL MVP Kelsey Griffin will return to where it all began for her in the WNBL – to the Bendigo Spirit. Griffin, who played with the Spirit for eight-years from 2012 to 2018, has signed a three-year deal, seeing her through to the end of the 24-25 WNBL season. While no doubt disappointing for Caps fans, Spirit faithful are understandably excited about the superstar's return, having won two WNBL Championships with Bendigo in 2013 and 2014.
Griffin will partner with current WNBL MVP, Anneli Maley, in the front court for the Spirit, the dynamic pairing no doubt will prove an absolute hand-full for opposing teams.
The Spirit have indicated some more roster announcements are in the works, so it will be interesting to see who new coach, Kennedy Kereama, is recruiting to join his two superstars.
In other big news, Adelaide Lightning announced a major signing in guard, Lauren Mansfield. Mansfield moves across to the Lightning after two years with the Sydney Flames, and back to her hometown, growing up in North Adelaide. It's a big win for the Lightning, Mansfield averaging 13 pts and 70% FT per game, as well as bringing leadership to the group, and international experience (as an Opal).
Mansfield joins Steph Talbot, Sam Simons and Chelsea Brook on the Lightning roster for the upcoming WNBL season.
The Sydney Flames also had a big announcement in the last fortnight, signing former South Dakota college star and WNBA Minnesota Lynx WNBA draftee Hannah Sjerven. The 191cm forward / centre and traditional post player will provide a real presence in the paint for the Flames.
Sjerven joins Opals stars Shyla Heal and Keely Froling, NZ Tall Ferns Captain Kalani Purcell, Kiera Rowe, and new signings Tiana Mangakahia and Emma Clarke on the Flames roster.
The WNBL farewells a number of athletes who have signed contracts in Europe for the upcoming season. Maddie Garrick will head to Italy and suit up for Polisportiva A. Galli Basket, while Opal Alanna Smith will play in Poland for Gorzów Wielkopolski. They join Darcee Garbin who has signed with Diósgyőri VTK in Hungary, and Ezi Magbegor who will play with Sopron Basketball, also in Hungary.
Plenty of announcements still to come from Clubs, and some big names still on the free agency list -Kristy Wallace (Southside), Carley Ernst (Melbourne), Funda Nakkasoglu (Sydney) and Nadeen Payne (Townsville).
Finally, the question now on everyone's lips – will we see Lauren Jackson in the 22-23 WNBL season? If so, where?
Resources