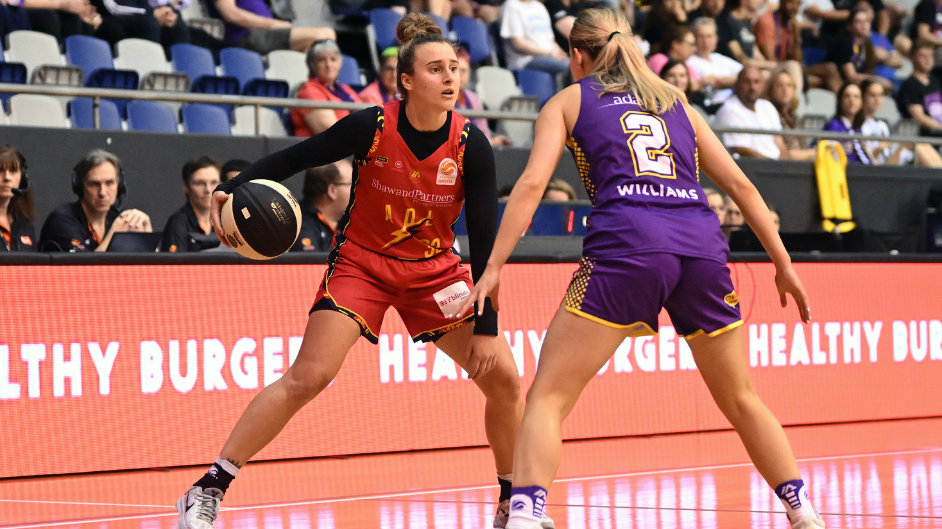 November 16, 2022 | WNBL news
By Daniel Herborn | The Pick and Roll
Putting together a list of the best guards in the WNBL drives home what a wealth of backcourt talent this league has.  There are some fine players that I couldn't squeeze in, be they youngsters on their way to elite status or veterans that are still contributing.
That's not to mention high-level import guards like Melbourne's Tiffany Mitchell, Adelaide's Kierstan Bell and Townsville's Karlie Samuelson.
Any positional list like this is a bit of an inexact science; some of the competition's best players, like Opals star Steph Talbot and Townsville's two-way terror Lauren Nicholson are versatile guard/forwards that could spend time in either the backcourt or frontcourt depending on what lineups their coaches run with.
Without further ado, here are our ten best Australian guards for season 2022/23.
Kristy Wallace | Melbourne Boomers
The 26-year-old Wallace is one of Australian basketball's great stories.  After a fabled college career at the University of Baylor, she was a blue-chip prospect with WNBA interest.  But then two devastating long-term injuries threatened to derail her career.  Showing the tenacity that is her on-court trademark, she fought back and had a breakout WNBL season last year.
She was arguably underutilised on the Flyers last season but made enough impact to win the Sixth Woman of the Year award and get the call-up to WNBA's Atlanta Dream, not to mention a spot on the Opals World Cup team.  She's versatile and tough on offence and does some uncanny things on defence, drawing on her knowledge of opposition player tendencies, tenacity and basketball IQ to shut down opposition guards.  She also plays as hard as anyone and thinks nothing of throwing herself on the court to snaffle a loose ball.
Expect to see her play a much more significant role this year.  She had an efficient 24 points in the season opener and looks set to level up with her new team.
More: Tears of disbelief: Kristy Wallace on her return from injury and elevation to the Opals
Bec Cole | Southside Flyers
Now in her 13th WNBL season, Bec Cole is still playing some of her best basketball.  She had 16.7 points and a career-best 4 rebounds per game on her to winning Southside's MVP last year, a bright spot in a generally disappointing season.
One of the competition's fittest players, the all-action Cole has two All-WNBL appearances on her CV and credits her experience with the national three-on-three team for rounding out her skills as a one-on-one scorer.
She has been white hot from three-point range across the last two WNBL campaigns, connecting at 54.3% in the 2020 bubble season and 46.5% last season, the latter good for best in the competition.
Shyla Heal | Sydney Flames
The 21-year-old Heal has already packed a lot into her career – Opals appearances, becoming a first-round WNBA draft pick, a WNBL Youth Player of the Award and an All-WNBL second team selection.  But her best is undoubtedly yet to come.
Heal had been a feature of junior representative national teams for years and even made her WNBL debut aged just 14 for the South East Queensland Stars.  But she really announced herself as a player with some precociously assured games for Townsville Fire in their run to the grand final in the 2020 season.
Last year, she made the move to Sydney, where she had played junior basketball for Northern Suburbs, and averaged 15.6 points per game. She's confident in catch-and-shoot situations and will back herself to beat defenders off the dribble.
Tessa Lavey | Bendigo Spirit
Surely one of the league's fastest players, Tessa Lavey can instantly energise an offence.  The two-time Olympian is an explosive athlete and a constant threat to streak away for a transition bucket or can blow by defenders in the half-court.  Her energy and pace in getting to the rim can collapse defences and create open looks for teammates.
Also, a star for AFLW side Richmond Tigers, it will be fascinating to see how Spirit coach Kennedy Kereama incorporates Lavey's high-octane style into an already stacked backcourt rotation when she becomes available to play.
Back when Bendigo Spirit last won a championship in 2013/14, Lavey was a young player earning spot minutes, but she figures to be a major piece this year as they push for a return to those glory days this season.
Tess Madgen | Melbourne Boomers
The bronze medal-winning captain of Australia's world cup campaign and the leader of last season's league champion Boomers, Madgen has proven her leadership credentials. Teammates rave about her off-court demeanour and mentorship; she's coming up to 250 WNBL games and is the type of cool-headed veteran that every squad needs.
She's not exactly slowing down as a player, either.  Last season she put up 10.2 points per game as an effective complementary scorer.  Her ability to get into the paint and make quick decisions make her a great systems player but as he showed in a sweet-shooting display in the grand final decider, she's very capable of seizing control of a game.  While she will miss early games with a knee injury, Madgen will again inevitably be a pivotal player come finals time.
Tiana Mangakahia | Sydney Flames
It's been quite a journey for Tiana Mangakahia to get her first WNBL gig since she played in the league as a youngster back in 2013/14.  Since then, she has undergone an excruciating process to recover from breast cancer, completed a remarkable college career with the University of Syracuse (where she became the school's all-time assists leader) and started her professional career with Dynamo Moscow.
Her off-season form suggests she'll make an immediate splash in the league.  She won the NBL1 North MVP for her high-scoring feats; she averaged 27.9 points and had at least 40 in three games.  She's not just a scorer, either – she's adept at creating open looks for teammates.  Expect her to have a readymade chemistry with backcourt partner Shyla Heal; the pair terrorised defences together in the NBL1.
Lauren Mansfield | Adelaide Lightning
While she may have been unlucky not to play more international basketball, rest assured teammates on the receiving end of Lauren Mansfield's playmaking guile know exactly how good she is.
Now back in Adelaide, where she played her junior basketball, she is one of the competition's most experienced and canny pick and roll operators.  One of the most creative passers of her generation, Mansfield can see opportunities and angles that other players can't.  She plays a highly efficient style; in an injury-shortened 2021/22 season, she had 3.1 assists for every turnover, the best ratio of any player on this list.
Jade Melbourne | University of Canberra Capitals
There are few more exciting prospects in Australian basketball than Jade Melbourne.  She plays with enthusiasm and free-spiritedness that's infectious, fearlessly attacking the hoop and not taking a backwards step against more experienced opponents.  Melbourne is particularly effective going to her left and has shown an ability to finish through contact and bury the floater in traffic.  Like many young guards, she can have a high turnover rate, but her decision-making is getting more precise as she gets reps at this level.
While Melbourne will, unfortunately, miss some of the early games after picking up an ankle injury in the opening round of this season, she will no doubt be back to her effervescent self when she returns to the court.
Steph Reid | Townsville Fire
Last season was easily Steph Reid's most productive, as she scored 12 points and dished out 4.9 assists per game.  The Frankston Blues junior was overlooked for junior representative teams coming up but her incredible work ethic and commitment to developing her skills have seen her improve each season to the point she is now easily one of the league's premier guards.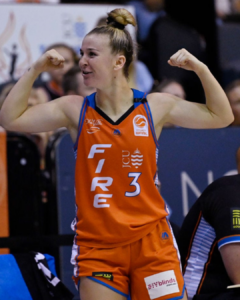 Her defence is her best skill; It's almost exhausting to watch her play on this end, such is her level of effort and tenacity.  But don't overlook her effectiveness with ball in hand; she has terrific court vision, is crafty in getting to the rim and can punish any team that sags off her with her improving long-range shooting.
More: Steph Reid on pre-game naps and achieving her Opals dream
Sami Whitcomb | Perth Lynx
Arguably one of the best scorers in WNBL history, Whitcomb can hurt teams in multiple ways.  She moves well off the ball and is always active as a cutter and in transition.  She has the ball-handling and agility to create for herself off the dribble.  Then there's her stepback jumper, one of the league's most unguardable moves.  A quick release she doesn't need much separation to get a shot up and she can also punish any defender who goes under a screen against her
Scoring feats aside, it's worth catching Whitcomb live to appreciate the subtlety of her sleight of hand as a playmaker; she'll often sell a defender she's going to make a play for one player and then whip a no-look pass to a completely different teammate.