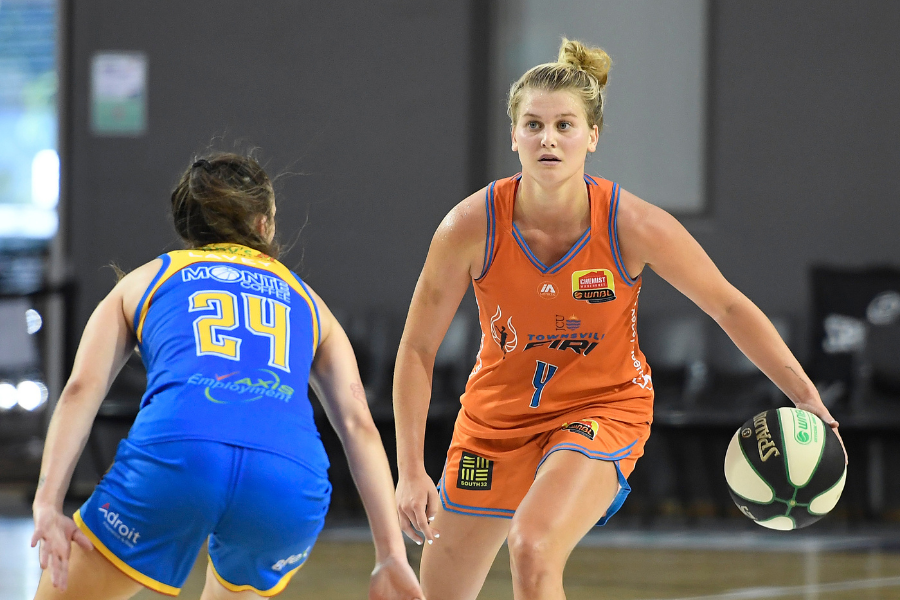 November 21, 2020 | WNBL news
An upset was brewing before Chemist Warehouse Opals rising star Shyla Heal put on a shooting clinic to rival her famous dad, to inspire JCU Townsville Fire's 91-81 win over Villawood Properties Bendigo Spirit, in the 2020 Chemist Warehouse WNBL on Saturday.
A spirited Bendigo finally looked set to break their winning drought at Townsville Stadium when they caught the Fire flat footed to lead by 11 points after the opening quarter and seven by half-time.
Enter Heal.
The teenage daughter of Boomers great Shane Heal is quickly making a name for herself and her second half heroics explained why.
Whatever Fire coach Shannon Seebohm said at the main break worked as Heal overcame a quiet first half and came alive in the second stanza.
The 19-year-old turned the match on its head with her sharp shooting to finish with a game-high 22 points (9-17 from the field, 2-4 from three-point range) along with six assists, as the Fire dodged a bullet to move to a 3-2 record.
Heal was ably assisted by the Fire's other members of the Opals Tokyo Olympic squad – exciting centre Zitina Aokuso (21 points) and Lauren Nicholson (20 points).
Workaholic centre Megan McKay (11 points, 14 rebounds) also impressed for Townsville.
"I didn't start off well in this game. Our team didn't come out with the energy that we needed," Heal said.
"I am glad we stuck together as a group. We need to know that everyone is good in this league."
Heal may be living up to the hype that is swirling around her but the teenager said she was not getting carried away.
"I just focus on my role. I am not focused on the outside pressure. I just block it all out. I am just glad we got the win," she said.
Aokuso's star is also rising.
Back from a knee injury that sidelined her last season, Aokuso impressed again after going toe to toe with Opals superstar Liz Cambage in the Fire's 12-point loss to Jayco Southside Flyers on Thursday.
Another absorbing duel, with Deakin Melbourne Boomers gun Ezi Magbegor now awaits Aokuso in Townsville on Sunday.
"I am feeling a bit rusty but each game I feel am getting better," Aokuso said.
Bendigo wondered what might have been after they slumped to a 0-5 record despite the best efforts of Opals guard Tessa Lavey (19 points, 11 assists), Tall Fern Mary Goulding (19 points) and Carley Ernst (15 points, eight rebounds).
"We came out a bit flat, made some bad decisions (in the third term)," Lavey said.
"We need to stay switched on for four quarters.
"We are dying for a reward…(but) I thought this was a huge step for us today."
Bendigo made Townsville pay for a stunning seven first quarter turnovers to go on a 10-0 run and jump to a 26-15 lead at the opening break and enjoyed a 47-40 halftime buffer.
Then Heal stepped up as the Fire went on a 13-0 run and grabbed the lead 69-58 at the final interval.
The Fire must back up to host second-placed Boomers on Sunday while the Spirit line up against Townsville again on Tuesday.
Laine Clark is a freelance contributor to WNBL.com.au
JCU Townsville Fire – 91 (Heal 22, Aokuso 21, Nicholson 20)
Villawood Properties Bendigo Spirit – 81 (Lavey 19, Goulding 19, Ernst 15)