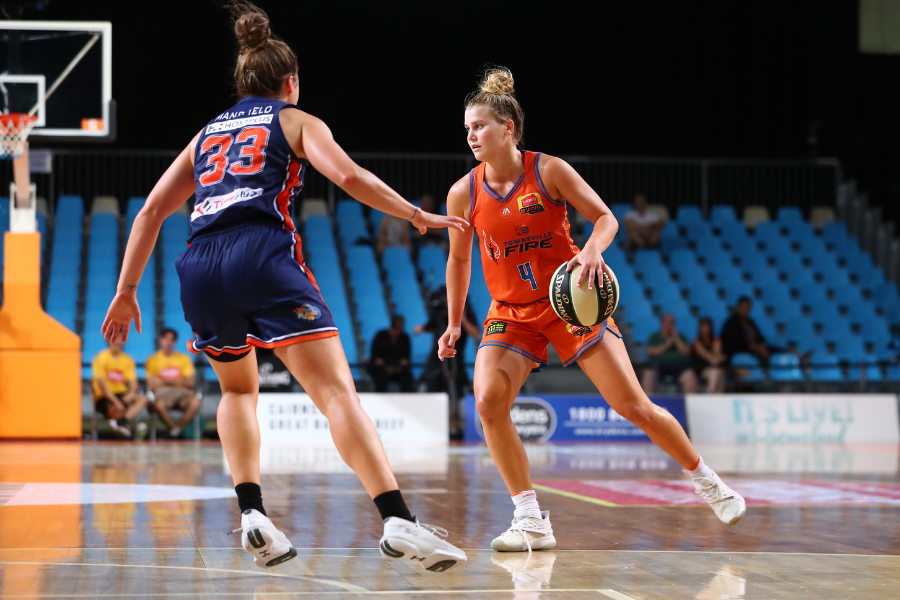 November 29, 2020 | WNBL news
A third quarter scoring blitz by Shyla Heal has sparked JCU Townsville Fire's come-from-behind 73-59 win over Brydens Sydney Uni Flames in the 2020 Chemist Warehouse WNBL.
The sixth-placed Flames needed a win to get their finals plans on track and appeared in the box seat when Lauren Scherf helped them grab an eight-point lead in the third term in Cairns on Sunday.
But livewire guard Heal had other ideas, piling on 11 points in the quarter as the Fire turned the match on its head.
In contrast the Flames suddenly couldn't buy a basket, limited to just 14 points in the second half.
They missed the firepower of sharp shooting guard Funda Nakkasoglu who was rested for Sunday's clash.
Heal finished with 15 points for the match along with six assists and five rebounds as the Fire (6-3 record) bounced back from Saturday's 24-point loss to Jayco Southside Flyers.
The Fire's gutsy Chemist Warehouse Opals guard Lauren Nicholson (14 points) not only played but started on Sunday despite suffering a badly broken nose, after copping a stray knee from Flyers rival Jenna O'Hea barely 24 hours earlier.
Opals squad member Zitina Aokuso came up big for the Fire in the second half, finishing with 16 points and 10 rebounds off the bench.
"I was proud of their effort. We know Sydney are a great team, they play as hard as anyone in the competition," Fire coach Shannon Seebohm said.
"We didn't play well in the first half, but we hung in there. It was a grind of a game."
Seebohm saluted Heal who at 19 is already an Opals squad member and has been tipped to be snapped up in the 2021 WNBA Draft first round.
"She is having a great season for us. We need her to keep being aggressive like that," he said.
"In the first half she may have not been as aggressive as she could have been but to her credit, she shook it off and came out and had a great third quarter."
The Flames (2-6 record) had a frustrating weekend after also going down by 22 points to Adelaide Lightning the previous day.
"We've got to play basketball for all four quarters. We will show two really great quarters and then go away from what is working," said Flames captain Alison Schwagmeyer-Belger.
"But this is a great team, we stick together. We will stay positive."
The Flames came out firing to grab a 27-26 lead at the first break and blew the deficit out to 45-39 by halftime as Scherf stepped up.
Impressive centre Scherf, a former championship winner with the UC Capitals, dominated to have 15 points, nine rebounds and four blocks by the main break.
However, Heal sparked a stunning 15-0 run as the Fire outscored the Flames 23-8 in the third term.
The Fire led 62-53 at the final interval and didn't look back.
For the Flames, Scherf finished with a game high 18 points and 19 rebounds, while Lauren Mansfield had 16 points and Schwagmeyer-Belger 14, 12 of them in the first half.
The Fire next play Perth Lynx in Townsville on Friday while the Flames take on Deakin Melbourne Boomers in Cairns on Thursday.
Laine Clark is a freelance contributor to WNBL.basketball
JCU Townsville Fire – 73 (Aokuso 16, Heal 15, Nicholson 14)
Brydens Sydney Uni Flames – 59 (Scherf 18, Mansfield 16, Schwagmeyer-Belger 14)