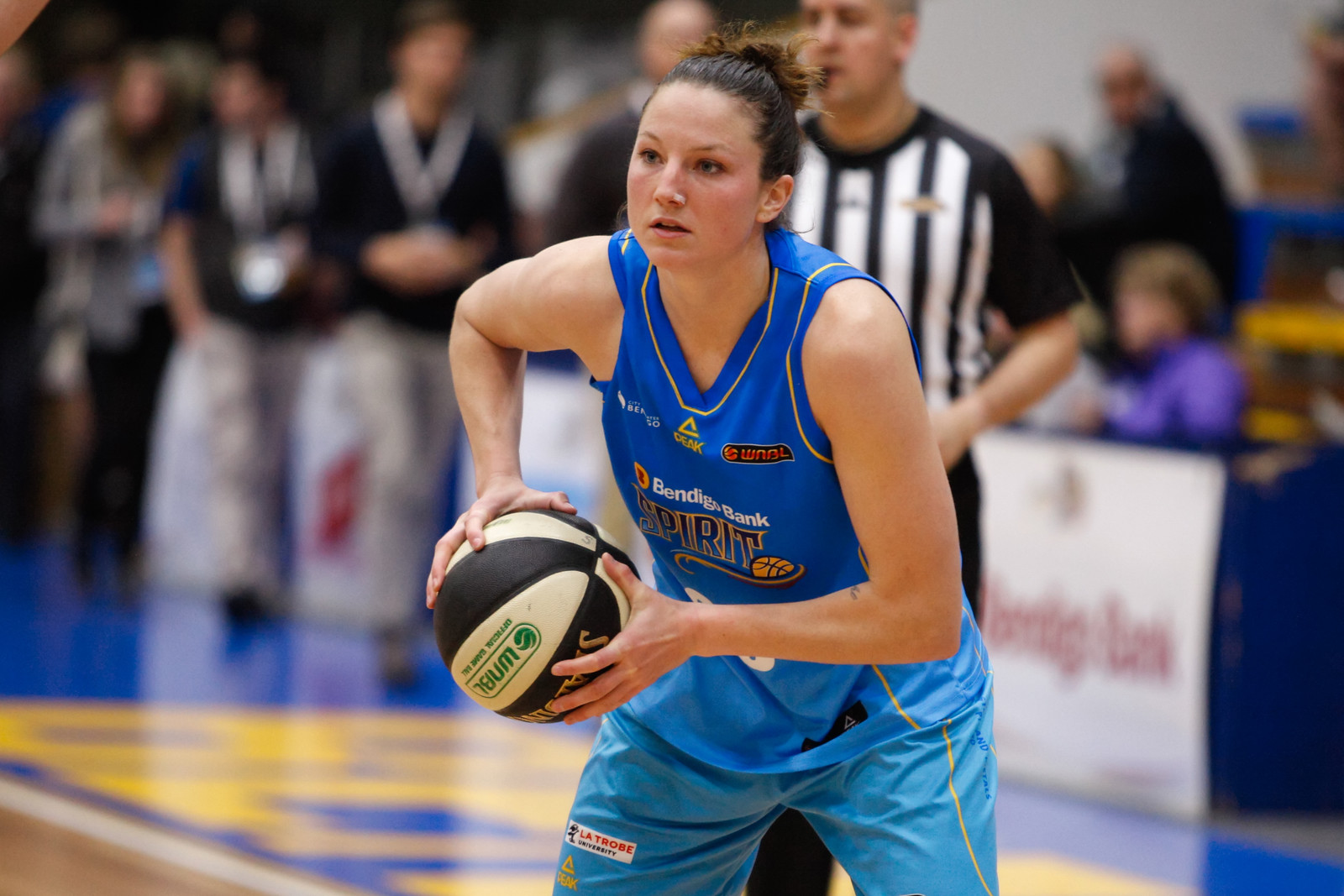 January 13, 2017 | WNBL news
BendigoÊBank Spirit star Kelsey Griffin has branded a Friday night WNBL Clash with Sydney Uni Flames as season-defining.
The two-time WNBL grand final MVP said the Spirit were hellbent on atoning for an Òeye-openingÓ 41-point loss in Perth last weekend.
They will get fewer bigger opportunities to do that than against a Sydney Uni team predicted by many WNBL experts to go deep into the finals.
The Flames have beaten Bendigo twice this season in a pair of nail-biters, with the Spirit getting one back on their rivals by 15 points just before the Christmas break.
Griffin said whichever way you looked at it, the Flames game was massive.
ÒI hate to say it because every game feels like itÕs the biggest game of the year this year, but this one is going to be season defining,Ó she said.
ÒThatÕs not to say if it doesnÕt go our way our season is over by any means, but we can really put ourselves in a good position.Ó
The Spirit head into the clash in third spot with a similar 10-6 record to Perth (second) and Sydney (fourth).
Dandenong is a win clear in top spot.
The Flames have every reason to be wary of Griffin, who by her own admission was below her best in Perth, going 0-8 from the floor to finish with five points.
The two-time WNBL All-Star described last weekÕs game as a good wake-up call.
ÒOne of the things I am working on this year is trying to get the team going and I probably didnÕt get myself into positions to make myself successful and do enough she said.
ÒIt was such a weird game to be a part of, but in saying that I know my game better than to shoot five-threes.
ÒI need to get to the basket and I need to get to the free-throw line more and have more of an attacking mindset.
ÒI probably played a bit too much into PerthÕs hands to guard me, but it was a good wake up call for myself.Ó
With the Flames playing Adelaide Lightning on Thursday night, Friday nightÕs game will be their third in six days.
The Flames will regain gun import Asia Taylor and Belinda Snell, who missed the teamsÕ last encounter, while Kerryn Harrington is out for the Spirit.
Coach Simon Pritchard hoped the Spirit could take advantage of the FlamesÕ heavy schedule.
The second-year coachÊsensed plenty of determination and fire in the belly of his players during the week in the wake of last weekÕs loss.
ÒThere was almost a sense of anger in them at training on Tuesday night,Ó he said.
ÒBut that anger needs to be converted to positive actions to attack Sydney.
ÒWe need to transfer that from training into the game.
ÒA win here is a double-win because a win give us the split over Sydney in a tie situation and weÕll stay above Sydney.Ó
Blake Dietrick will assume the starting point guard role in HarringtonÕs absence, with the US import earning praise for her application and work-rate during practice this week.
ÒEven though it was a rough loss in Perth I gained a lot respect for the way Blake handled herself,Ó Griffin said.
ÒWe didnÕt have anyone else on the bench and she just stuck to it and rode it out.
ÒSheÕs really competitive and IÕm excited to see how she steps up and I know sheÕs going to do well.Ó
Tip-off on Friday night is at 7.30pm.
Article: Bendigo Advertiser
Photo: Akuna Photography