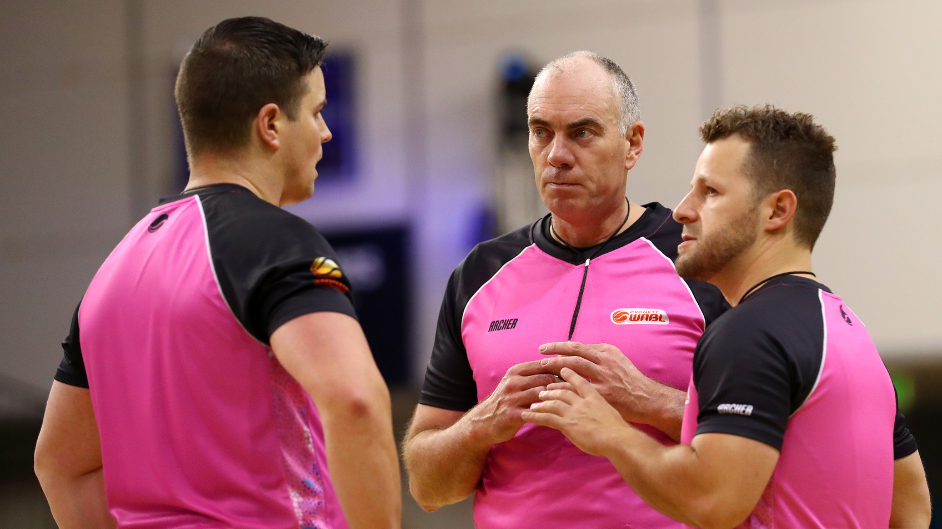 March 5, 2023 | WNBL news
Official and WNBL Life Member, Jason Kelly, will suit up for his 250th WNBL game today, the most of any WNBL referee.  
This milestone is an incredible achievement for a WNBL referee, with only two referees officiating over 200 WNBL games in the League's history – Sharon Arnold (201 games) and Kelly.  
Making his WNBL referee debut back in 2006, Kelly still remembers that game as one of his favorites.  
"That was probably one of my favorite games because it was my first game, however, I enjoy most of the games when I'm refereeing with my friends that I've refereed with for a long time. 
"Then obviously getting appointed to Finals is the cherry on top because, just like players, that's what we aim for."   
Awarded WNBL Life Membership in 2019, Kelly is one of four referees to have achieved this milestone, which requires 150 games.  
"I referee because it's fun. I've always said to myself – as long as I'm having fun then I'll continue to do it."  
To put it into perspective, 356 referees have officiated in the WNBL. The average number of games is 27.  
If Kelly were to tell his younger self one thing it would be:  
"Hey, you can actually do this, you just need to back yourself and work hard. 
 "I think that's what a lot of people don't realise, we train individually, we train three or four times a week in the gym. I watch every single game there is, I research players, I research trends. The hard work's worth it and you get out what you put in."  
The hard work and dedication has paid off, congratulations on this incredible achievement, Jason!  
Tune in to Melbourne Boomers taking on Sydney Flames live on 9Now.