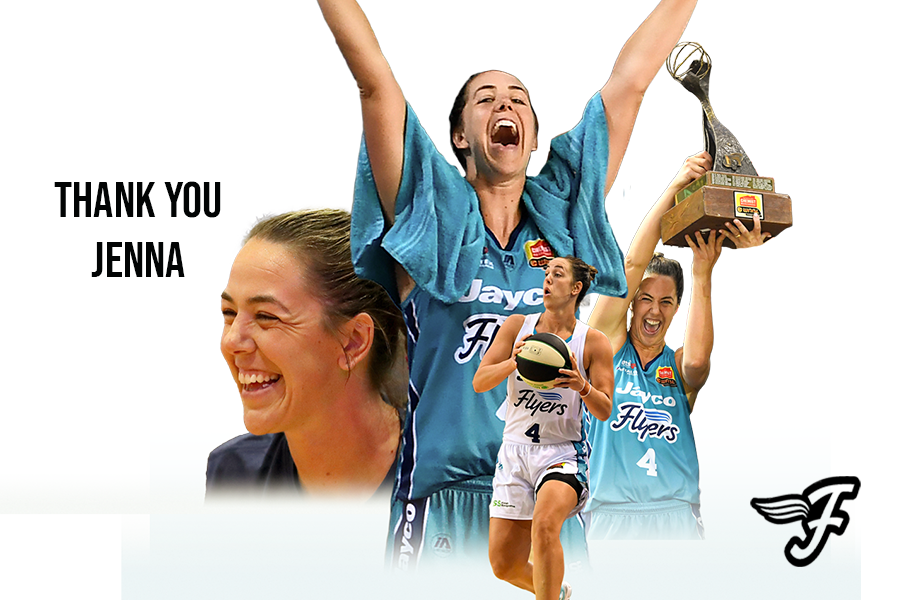 March 9, 2022 | WNBL news
Written by Southside Flyers news
Jenna to lead Flyers in her final three WNBL games.
Southside Flyers captain, and one of the finest leaders in Australian sport, Jenna O'Hea has announced her decision to retire at the end of the current WNBL season.
A three-time WNBL Championship player, Jenna is one of Australia's most successful basketball players, in a career which has included playing in the WNBA as well as being the captain of the Opals, Australia's national team.
Jenna advised her Flyers teammates of her decision before training earlier today and will lead the team in their final three games of the season, including their final home game for 2021-22 at Dandenong on Thursday night, in what will be her 297th WNBL game. Purchase tickets here.
A three-time WNBL Champion and six-time WNBL All-Star Five, O'Hea has represented and captained Australia at the Olympic Games, World Championships and Commonwealth Games, being a member of Gold, Silver and Bronze winning teams at the various competitions. Her contribution to Australian basketball was acknowledged in 2019 when she was awarded Life Membership of the WNBL.
"I have given it my all and believe it is the right time to retire. I am very happy with my decision, I have given my whole heart, body, soul, and mind to basketball since I was 15 and I feel I really have nothing else to give," Jenna said after making the announcement to the team.
"I am conscious that we have three games remaining and I wanted to announce this now so we (the Flyers) can focus on these games before I talk about the future," Jenna added.
Jenna's recent battles with mental health have been well documented and have led to her missing a number of games in what has been an interrupted season, both for Jenna and for the Flyers.
"Jenna has been an incredible player, whether it be for her club or for her country. She is the type of player and person you build a side around. She is a wonderful leader on and off the court and I am fortunate to have been involved with her career and appreciate, not just her ability but her incredible courage. Jenna has continued to set the standards and tone for her teammates in every team she was involved with," said Flyers Coach, Cheryl Chambers.
Jenna's incredible basketball career has seen her play with five teams in the WNBL, the Los Angeles Sparks and Seattle Storm in the WNBA and also in France. She was the inaugural captain of the Southside Flyers and captained the team to the 2020 WNBL Championship.
Jenna will play her final home game for the Flyers on Thursday night, March 10, when she captains the team against Sydney Flames at Dandenong Stadium, tip off at 7pm. Her final two games will be away games in Townsville and Adelaide.
Click Here to purchase tickets to Thursday night's game.
Jenna's Playing Career
From Traralgon she played junior basketball with Nunawading Spectres and represented Victoria at U16,U18 and U20 levels.
2003-2005 – AIS (WNBL)
2005-2007 – Dandenong Rangers (WNBL)
2007-2008 – Bendigo Spirit (WNBL)
2008-2009 – Arras (France)
2009-2011 – Bulleen (now Melbourne) Boomers (WNBL)
2011-2014 – Dandenong Rangers (WNBL)
2011-2014 – Los Angeles Sparks (WNBA)
2014-2016 – Basket Lattes-Montpellier Agglomeration (France)
2014-2016 – Seattle Storm (WNBA)
2017-2019 – Melbourne Boomers (WNBL)
2019–Present – Southside Flyers (WNBL)
296 WNBL games
154 WNBA games
117 Games for Australia
Major Awards:
Gold Coast Commonwealth Games: 2018 (Gold)
French Cup Winner: 2015
Olympic Games: 2012 (Bronze), 2021
FIBA World Championship: 2010, 2018 (Silver)
WNBL Champion: 2011, 2012, 2020 (Captain of the Southside Flyers)
WNBL All-Star Six: 2009-10, 2010-11, 2011-12, 2012-13, 2013-14, 2019-20.
FIBA U21 World Championship: 2007 (Silver)