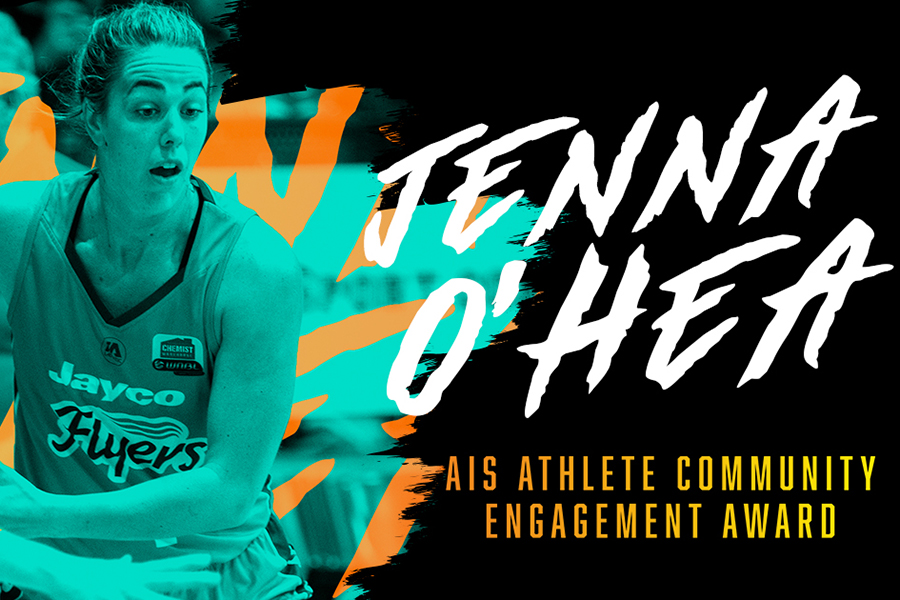 December 11, 2019 | WNBL news
Last night, at the 2019 AIS Sport Performance Awards, Opals Captain Jenna O'Hea received the inaugural AIS Athlete Community Engagement Award.
On November 21, the AIS announced the introduction of the Athlete Community Engagement Award, an award that recognises and celebrates the positive impact an athlete has on their community.
O'Hea was named as one of four shortlisted finalists alongside Dylan Pietsch (rugby), Dylan Alcott (tennis) and Katie Kelly (paratriathlete).
The finalists were chosen following the AIS' nomination guidelines in which the athlete must have had a positive influence on their community, have undertaken charitable work and contributed to the promotion and development of their sport.
O'Hea was announced as the inaugural award recipient last night at the 2019 AIS Sport Performance Awards in Sydney and was chosen via selection criteria and a closed panel.
O'Hea received the award for her involvement with the AIS Lifeline Community Custodians program, which delivers important messages about suicide prevention and mental health, a message that is close to O'Hea's heart after losing her uncle to suicide last year.
O'Hea, alongside 20 other athletes, travels to community events, telling her own personal story, spreading awareness and sharing the message of hope around the country.
The Southside Flyers' forward was also the ambassador for the WNBL's 'Lifeline Round' in January earlier this year, in which every three-point scored, $100 was donated to Lifeline to assist them in training crisis supporters.
O'Hea said she was extremely honoured to be the recipient of the award having been nominated alongside so many athletes doing amazing things in their communities.
"I'm happy the AIS are recognising the wonderful efforts from those athletes.
"It's almost a year since my uncle passed and I'm proud of the work done to create awareness around mental health and suicide prevention.
"Being a part of the Lifeline Community Custodian program is so humbling and I am passionate about helping as many people as possible."
Basketball Australia's CEO, Jerril Rechter, said she is incredibly proud of all the selfless work O'Hea does off the court.
"Jenna is a well-deserved recipient of this award having been so open in sharing her experiences with suicide and her immense support of Lifeline," Rechter said.
"This award recognises how important her work and the work of Lifeline has been among the wider Australian community."