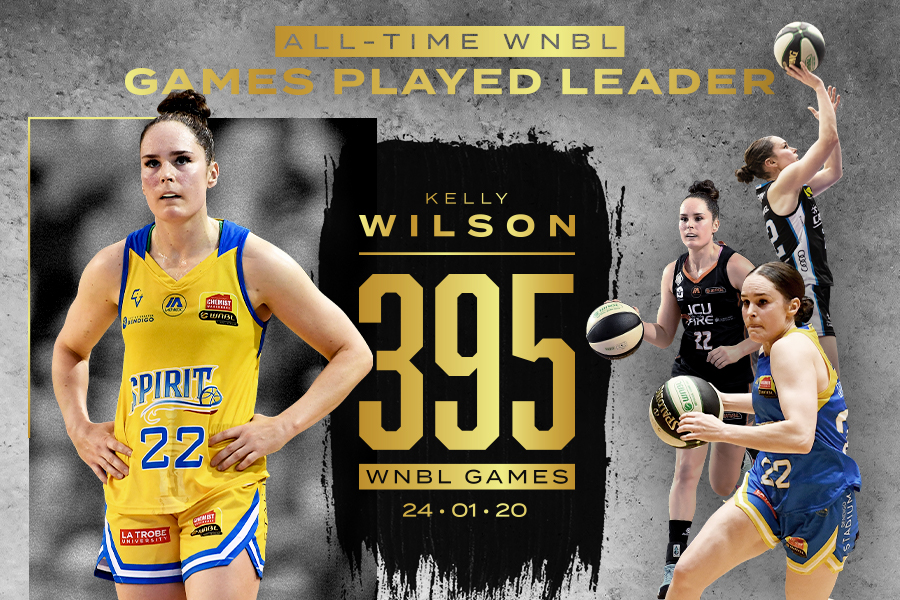 January 25, 2020 | WNBL news
Kelly Wilson tonight etched her way into the history books becoming the Chemist Warehouse WNBL games record holder.
The 35-year-old took to the court at Bendigo Stadium, as the Spirit hosted Perth, in game 395, breaking Dandenong Rangers and UC Capitals champion Jess Bibby's record of 394, set in 2015-16.
Wilson in her 18th year in the competition, now sits above Bibby, Adelaide Lightning legend Rachael Sporn and Spectres, Rangers and Caps star Lucille Bailie (377) and Sydney great Karen Dalton on 375 games.
"I reflect on when I started out and was trying to break into the league. If someone had have said then I'd play this long, let alone reach the games record, I would've thought they were crazy. I look back at that kid who was so eager and enthusiastic about playing in the WNBL," Wilson says.
"I knew I'd played a lot of games but wasn't really aware of the record. I still enjoy it and that's why I'm still playing."
The ultimate competitor, Wilson debuted for the AIS after graduating from the Institute and in 2003 won the WNBL rookie of the year award while playing for Sydney, coached by Dalton.
The point guard later joined Townsville Fire then Bendigo Spirit where, alongside Kristi Harrower, she enjoyed a successful tenure highlighted by back-to-back titles and the club's first championship in 2012-13.
Wilson would return to Townsville and win championship #3 with the Fire winning an epic Grand-Final series over the Melbourne Boomers in 2017-18.
Reuniting with Spirit team mate Kelsey Griffin in the nation's capital, the pair would enjoy the ultimate team success with the UC Capitals last season. Wilson returning home to Bendigo this season.
"I was fortunate to play with and against some of the best players the league has seen. Kristi Harrower, Suzy Batkovic, Kelsey Griffin. I played in Jess Bibby's final game,'' Wilson recalls.
"I look back to those days when I was really young and watching the great players on TV, idolising them and that was my dream was to play in the WNBL. The fact I'm here all these years later, I think when I retire it's something I'll look back on and be proud of."
And while Wilson's decorated career is full of highlights, success and now history, making life-long friends and connections is her greatest achievement.
"I think about all the amazing players I've played with but more so the friendships I've made. Gabe Richards and I met when we were 14 and I was fortunate to play with my younger sister Andrea for a long time and they were both bridesmaids at my wedding,'' she says.
"While I remember a lot of the games I've played in and am grateful for the team success, a lot of my memories are off-court enjoyed with the people I've met through playing WNBL and that's what I cherish the most."
KELLY WILSON
WNBL GAMES RECORD HOLDER
395 GAMES
AIS 2002-03
Sydney Uni Flames 2003-04/2004-05
Townsville Fire 2005-06/2007-08
Bendigo Spirit 2008-09/2015-16
Townsville Fire 2016-17/2017-18
UC Capitals 2018-19
Bendigo Spirit 2019-20
Jess Bibby, Previous WNBL games record holder
"Records are made to be broken. It's great for Kelly and I'm happy for her. She's been a warrior and she deserves this. Playing for Bendigo, her home club again too, makes it pretty special."
Kelsey Griffin, Bendigo and Canberra championship teammate
"I owe a lot of my career, if not all my professional career, to Kelly and the kind of person and player she is. She was one of my team mates on the first Bendigo team I played for when I was ready to retire and because of the calibre person and genuine competitor she is that really made me fall in love with the game again. The more I played with her and got to know her our friendship just grew and I feel so lucky to have played a small part in her amazing career.
Being able to play with her again at Canberra last year and really appreciate everything she brings to the game – her basketball IQ, passing ability and selflessness – to get to live with her and build more memories in our friendship, I feel so incredibly fortunate to play alongside her and call her my best friend."
Gabe Richards, Bendigo Spirit championship teammate
"I'm so unbelievably proud the record is hers. It's incredible and I don't think it's sunk in for anyone let alone her that she has the record. You watch her at games and training and she is still so unbelievably competitive and incredibly talented, running around out there you wouldn't think she's even close to giving it up. It's scary to think how many games she'll finish with."
Claudia Brassard, Townsville teammate and championship coach
"I loved playing with Kelly and truly enjoyed coaching her. Kelly for me has always been the ultimate professional. She's a combination of one of the hardest working and most prepared athletes.
She would never leave anything to chance, making sure she was always physically fit and mentally prepared for all situations. It was never a surprise to see her on the court in the morning, headphones in, doing full court lay-ups. And my money is on her playing for another 5 seasons"
Tracy York, Current Bendigo Spirit coach
"It's an unbelievable achievement. Kelly hasn't slowed down, she's still starting and playing big minutes, so to still be performing at a high level having played that amount of games is outstanding. I call her fiercely competitive. It might be game day and I'll look out on the other court and she's running. We have a game day shootaround and with the free throws if she misses one, she'll be up and down the court sprinting. She's been successful because she has such a strong mindset and drive."
Marianna Tolo, UC Capitals championship team mate
"Kelly is the hardest worker I've definitely ever seen. She does so much extra work off the court and is always working on her game. She's an awesome player."
Rachael McCully, Townsville Fire teammate
"Kelly's the ultimate team person and that's gone a long way to help her through her career and play at such a high level for such a long time. She's a fantastic basketballer, tough and feisty competitor and it's been a privilege to have played with her and also against her for a number of years."