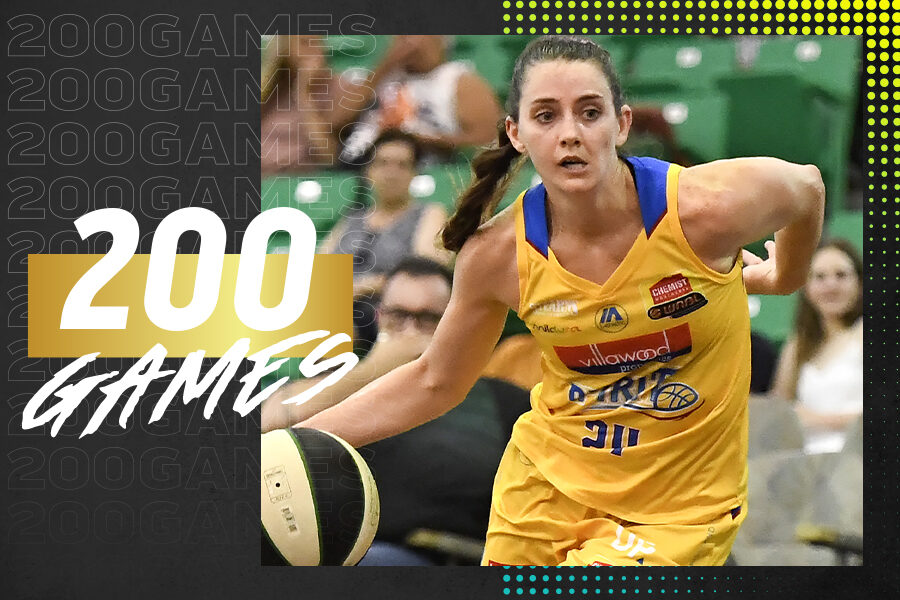 December 1, 2020 | WNBL news
During the 2020 Chemist Warehouse WNBL season, avid followers of the league's digital and social media channels will get to enjoy insights and interviews with leading women's basketball reporter and broadcaster, Megan Hustwaite.
With thanks to the league's naming-rights partner, Chemist Warehouse, Megan is based in the North Queensland hub and is bringing fans along for the journey with a series of feature interviews.
In Part 5 of "Life in the Hub", Megan catches up with Villawood Properties Bendigo Spirit captain Tessa Lavey, who is set to play in her 200th WNBL game.
Tessa Lavey has come full circle.
The Swan Hill product who debuted in 2009-10 will notch 200 Chemist Warehouse WNBL games when she takes to the court for the Villawood Properties Bendigo Spirit against the Perth Lynx on Tuesday night.
It's a career that began with the AIS alongside fellow stars of the future, and some of the 27-year-old's best friends, featured a season with the UC Capitals, a successful era at Bendigo, stints with the Perth Lynx and Dandenong Rangers before a return home to regional Victoria.
The milestone has crept up on the Chemist Warehouse Australian Opal and Rio Olympian amid a hectic campaign in the QLD hub.
"I'm shocked. As a kid coming into the league you just have a crack and see what happens, then you look around and all of a sudden there's 200 games and a whole lot of other stuff in between,'' Lavey said.
"I feel very lucky to have played in the WNBL, such a great league, for so long. I look to the future and hopefully can rack up a few more games."
After graduating from the AIS, Lavey stayed in Canberra to be coached by one of the best.
"I was coached by Carrie Graf which was really cool and one of the main reasons I went to the Capitals. I learned a lot there from Jess Bibby, Nicole Hunt and they had Carly Wilson, Brigitte Ardossi, LJ (Lauren Jackson) was meant to play that year too,'' she recalls.
A huge opportunity close to home presented itself at the perfect time.
"I'd been away from home for five years in Canberra so the opportunity to come home to regional Victoria and play for Bendigo and with Kristi Harrower and Kelly Wilson was huge,'' Lavey said.
"They were just beginning to hit their strides, they'd won their first championship, had Kelsey Griffin there and some really great names at the club. I was really stoked to get there and play with my best friend Sara Blicavs and there was Maddie Garrick and Tayla Roberts.
"We had a really good group and got to play in a championship as the Spirit went back-to-back."
Next, came a defining period out west which helped propel Lavey into the Olympic team for Rio.
"The Perth opportunity came up and I just wanted to really challenge myself and get out of my comfort zone and that's why I decided to cross the Nullarbor,'' she reflects.
"Andy Stewart was coach of the Lynx and I quite enjoyed playing under him, that was fun.
"I really wanted to take my game to the next level. We made a Grand Final against Townsville and were never looked at as a finals team which made it most enjoyable. That was a really great group, we had Sami Whitcomb, Nat Burton, Carley Ernst, Ruth Hamblin, Betnija Laney, Louella Tomlinson, Toni Farnworth and Izzy Wright."
In 2017, Lavey, Ernst and Blicavs reunited on court at the Dandenong Rangers.
"I decided I wanted to go back closer to home, having been so far away and missing out on Christmases, and Dandenong came about. I spoke with Larissa Anderson and she was really keen to get me on board,'' Lavey reflects.
"There was the lure of some really great people there already like Kayla Pederson and Sara, so I joined the Rangers for a couple of years."
The homecoming came last season with Lavey retuning to Bendigo to lead the club.
She says being Spirit skipper is an honour.
"I really quite enjoy the challenges of being a leader within the WNBL and am pretty proud of myself, especially this season, with what's happened during the year with COVID-19. I couldn't have done it without the family and the support of the Bendigo Spirit.
"I feel really proud to be captain of such a great club in the Bendigo Spirit, a rich history and I'm very lucky that the girls look to me as a leader."
A constant throughout Lavey's WNBL career has been best friend Carley Ernst. The pair have played together at three clubs over the past five seasons.
"Carley and I have played together for a long time, including our time at the AIS it's something like 8 out of 10 seasons,'' she said.
"We know each other really well obviously on the floor and we're besties off the floor. We get along super well, I love the way she plays, she stretches the four as a big which is hard to find and she's just a good person, someone who tries to make everyone better."
The Spirit will be looking to celebrate their captain in style and claim their first win of the season tonight in Townsville.
'Life In the Hub' by Megan Hustwaite thanks to WNBL naming-rights partner, Chemist Warehouse