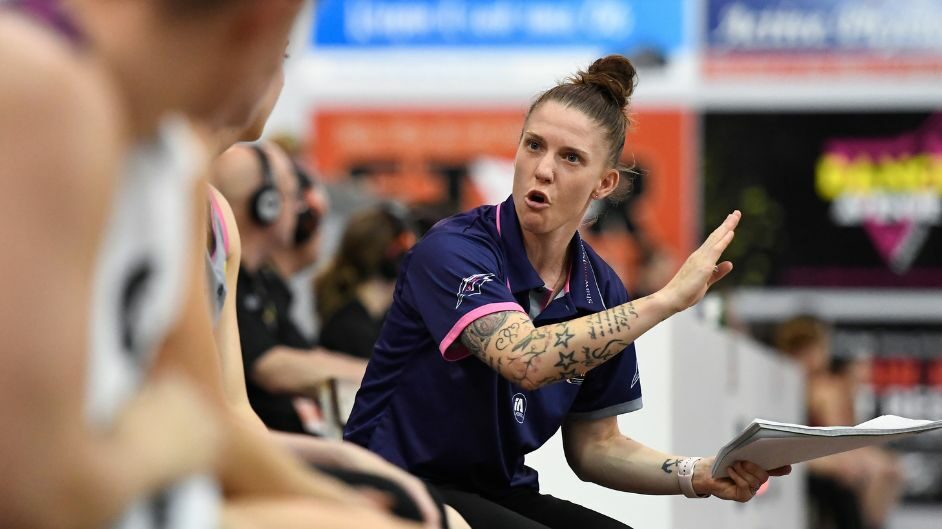 October 14, 2022 | WNBL news
By Tristan Prentice | The Pick and Roll
If there is a definition of the point guard being an extension of the coach, exhibit A would be the Adelaide Lightning's new head coach, Nat Hurst.
As the Cygnett WNBL 2022/2023 season fast approaches, preparation for the season ahead has ramped up with her arrival in Adelaide. "There's been lots of planning from interstate, Zoom meetings and just trying to get everything set in stone and now I'm here ready to jump into everything so it's exciting." She shared with The Pick and Roll.
"It's scary as well but it's great to be around the girls finally, and I'm ready for the challenge ahead and getting into it all finally."
Whilst the Lightning has become the priority, Hurst has still been assisting and helping her Canberra Gunners in their inaugural NBL1 East campaign. It's more experience to add to already what she will bring to her first year in charge of a WNBL team.
"My NBL1 team missed out on finals by one game. We had a very unlucky season with injuries, and I can't speak highly enough of the players. We are building a local Canberra team with Canberra players so to be as competitive as we were without imports and just missing finals – had a couple of things gone our way, we would've finished higher."
The Pick and Roll is an independent reader-supported publication. To receive new stories and support our work, consider becoming a free or paid subscriber.
Seven-time championship experience
It's no surprise that Hurst is ready for the coaching sphere, with her experiences and influence from coaches, teammates and clubs having well prepared her for the role.
"It helps being the point guard, which is often the extension of the coach. Does that mean it's going to turn me into a great coach – who knows? But to have been in that leadership role for 20 years in my career, it certainly helps. I've worked closely with coaches and of course been an assistant with Chris Lucas for several years and have learnt so much from him."
The names of significance in every year of her career continued over her playing time to build the knowledge she contains now.
"Carrie Graf as a coach, [I] won championships under her. As a player Kelly Abrams, Eleanor Sharp, Jess Bibby, Lucille Bailey, Lauren [Jackson], Kristen Veal, Tully Bevilaqua – I can rattle off so many more that I got to play under and be around and to learn so many different things from guards and forwards – I tried to absorb it all and keep it all and hopefully that helps me in the position I'm in now."
Catching the coaching bug
We know what style of player Hurst was – a hardened point guard who set her teammates up in transition, and aggressive herself in that mode. As a coach, she is still trying to find out what type of coach she will be amongst her peers in the coming season.
"I'm still trying to find a little bit of that myself absolutely. I'm learning as I go but I have identified the style I want to play is a quick uptempo style and I think we've got the players for that – so I think if I can carry out what I've envisioned I'll be happy."
Importantly, the WNBL will have three female coaches in 2022: Cheryl Chambers, Kristen Veal and Hurst. The representation of head female coaches in the league is a question Hurst gets asked a lot about, and she has a simple answer.
"I don't see us different to males – it's just taken us a long time to get into these leadership roles.
"I like working with the guys and the girls, it's a funny question I get asked a lot as I loved my time under Chris and my upgraded assistant Matt [Clarke] is a male, but I do feel it's the right time that a female steps into the right roles and I won't be surprised if we don't see more of that in the next few years.
"The players love to see female leadership in our league – as long as the best people are getting the jobs regardless of female or male then that's good for the league. It's great though these positions are giving opportunities for females in coaching and leadership in the league."
From apprentice to master
Two years studying as an apprentice to Chris Lucas, Hurst explained that she has a huge amount of respect for the shoes she's stepping into, and the learnings gained from one of the most experienced heads in the WNBL.
"Chris is impeccable in his detail: no stone, pebble is left unturned. I learnt so much about his preparation and his attention to detail – he was the best to learn that from no doubt, in the years I was assistant to him."
The Lightning's first game against the Melbourne Boomers will likely be a challenge, both emotionally and strategically.
"Chris will plan the way he does and also has Kristi [Harrower] as an assistant this season as well. Do I think there will be a lot of emotion in the game? Absolutely! There will be a lot of tactics in the game, and I think it'll be the team that can stay composed for the forty minutes that will get the result in that first one."
How will Lightning strike?
Hurst is ready to unleash a style of attractive basketball in Adelaide that she hopes fans will love to watch and embrace, and fill the stands to support their local club as they take aim at a WNBL championship.
"We're going to be a physical, athletic and running type team with some smart point guards. If we can get a great mix of both of those – after falling a bit short last season, we'll go one step further I hope."
The roster includes an Opal, a pair of 3×3 bronze medallists in adding Lauren Mansfield, a former Capital in Abby Cubillo, a host of returning faces, and a recent addition to according to Hurst has a big future ahead.
"We do have an exciting South Australian coming back with the 'world at her feet' in Isobel Borlase from the [Centre of Excellence]. I'll be looking forward to seeing what she can do – she's going to be something, whether that's now or in the future."
The last pieces are the imports, another which will be revealed soon by the Lightning, but this coach is remaining tight-lipped till the second is officially announced.
"Our imports will be long and athletic – Jacinta 'Jay' Monroe asked to come early so she can get stuck into the team as soon as she arrives."
Along with how the Lightning plays this season, we'll get to see another new coaching face develop her craft, as she grows in stature from apprentice to master. It's time to watch the fruits of labour blossom, to see how those years spent under Lucas' tutelage shapes Hurst's own ideals for her club.
"I'm hoping to bring my style and what I've learnt so far, learning along the way and trying to get my vision out there on the court – get it out in a coaching voice as a player coach."
As a lead woman of the WNBL, Nat Hurst will undoubtedly be a true definition, as she transitions from point guard to a point of authority at one of the WNBL's historic organisations.