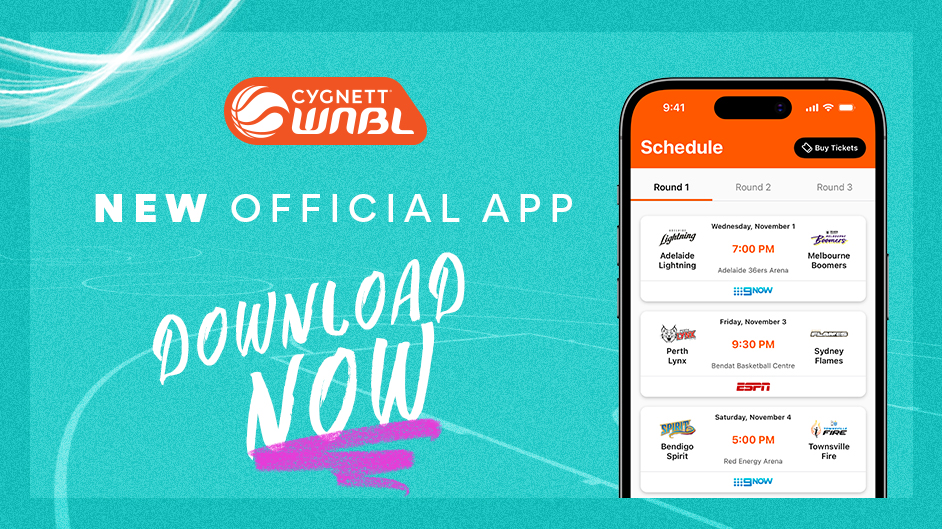 October 26, 2023 | WNBL news
WNBL fans can rejoice as they can now be immersed in the WNBL more than ever before, with the launch today of the official league app.
The WNBL app is FREE, providing  hoops enthusiasts with a seamless and immersive experience.
Check out all the key features below:
🏀 Live Game Coverage: Don't miss a moment of the WNBL action! Watch live games, follow play-by-play action, and experience the intensity of every match as if you were courtside.
📊 Real-Time Stats: Dive deep into the game with real-time player and team statistics. Stay updated on scores, shooting percentages, assists, and more, empowering you to analyse the game like a pro.
🎥 Highlights: Catch up on the best moments with exclusive highlights. Relive game-changing shots, incredible assists, and buzzer-beaters right from your device.
🗓️ Schedules and Standings: Plan your basketball calendar with ease. Access detailed game schedules, team fixtures, and stay informed about the latest league standings.
📰 News and Updates: Stay in the loop with the latest news and feature articles.
🏆 Player Profiles: Get to know your favourite players better! Explore detailed profiles, career stats, and personal achievements of WNBL stars.
🎟️ Ticketing and Merchandise: Easily purchase tickets to upcoming matches and browse official league merchandise, letting you show your support for your favourite teams and players.
"We're thrilled to introduce the official WNBL App, a hub designed for fans who live and breathe women's basketball," said Christy Collier-Hill, Head of WNBL.  "This app is a testament to our commitment to enhancing fan engagement and delivering an unparalleled experience. It's not just an app; it's a community where fans can celebrate the extraordinary talent and dedication of WNBL athletes."'
The WNBL App is now available for download on the App Store and Google Play Store.