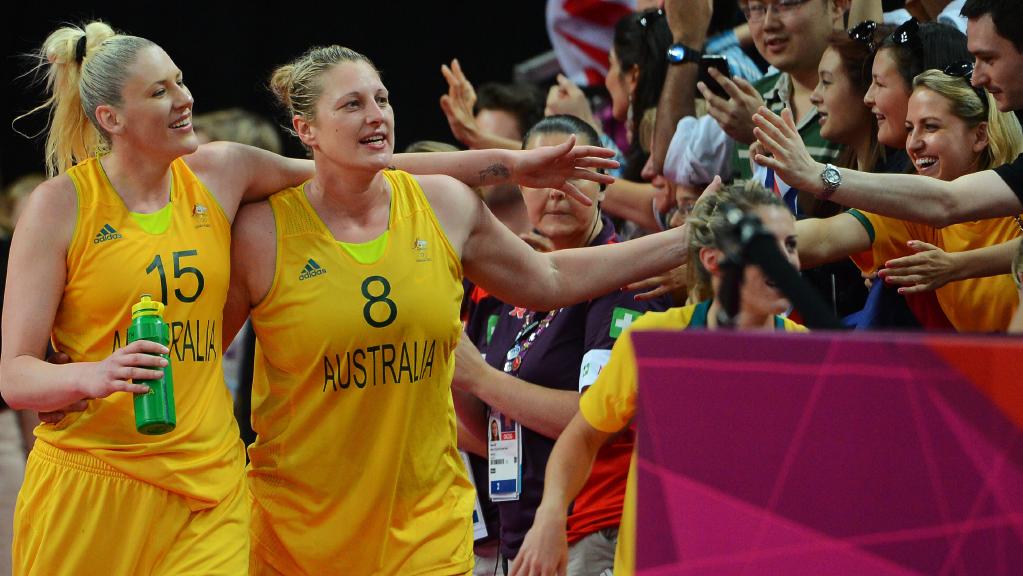 January 13, 2017 | WNBL news
JCU Townsville Fire captain Suzy Batkovic has been lauded by some of the legends of the sport ahead of her 300th WNBL game tomorrow.
Poised to become just the 17th player to reach the milestone, BatkovicÕs reputation as one of the competitionÕs greatest ever players was solidified long ago after wracking up a string of accolades including four championships and four league MVP awards.
The triple OlympianÕs competitive nature and sheer desire to win, however, were reoccurring themes when her past and present teammates and coaches were asked to reflect on her career to date.
ÒSuzyÕs longevity in the game is going to make her one of the best players this country has produced,Ó Opals legend Lauren Jackson said.
ÒI am so incredibly proud of her and what she has achieved Ð she has handled so much adversity and risen to every challenge.Ó
Fire coach Claudia Brassard noted Batkovic was a winner, with the star centre collecting a further four championships during her eight years in Europe to go alongside her WNBL titles.
ÒShe brings immediate success to any team she plays for Ð as demonstrated by her four (WNBL) championships,Ó Brassard said.
ÒShe is one of the most competitive people I have met and she just knows how to win.Ó
Presently playing in France, Abby Bishop spent time playing alongside Batkovic in Adelaide and for Australia, with the pair sharing a close friendship.
ÒHaving played with and against Suz, something I admire about her as a player is her knack to find a way to get it done,Ó Bishop said.
ÒSick, tired or injured, winning or losing, she finds a way and I think that comes down to her competitive nature which I truly admire too.Ó
Fresh off leading the southpaw centre to back-to-back championships, Chris Lucas was glowing in his praise for her longevity at the top.
ÒFor any athlete to play 300 games Ð at the elite level, in any code Ð is an awesome achievement,Ó Lucas said.
ÒHer ability to compete and perform on a consistent level every season is amazing.Ó
The Fire face the Capitals at Southern Cross Stadium from 2pm on Saturday.
Click here to see the all-time WNBL statistical leaders.
The best of the best on Batkovic:
Abby Bishop Ð Former Adelaide and Australian teammate
ÒHaving played with and against Suz, something I admire about her as a player is her knack to find a way to get it done. Sick, tired or injured, winning or losing, she finds a way and I think that comes down to her competitive nature which I truly admire too.Ó
Claudia Brassard Ð JCU Townsville Fire coach
ÒSuzy is one of the greatest WNBL players ever and I feel extremely privileged to coach her.Ê She brings immediate success to any team she plays for Ð as demonstrated by her four championships.Ê She is one of the most competitive people I have met and she just knows how to win.Ê Her impact at both ends of the floor is really quite phenomenal, and I have not seen many other inside players that can dominate a game like she can.Ó
Micaela Cocks Ð JCU Townsville Fire teammate
ÒWe all know what she brings on the court, but off the court sheÕs always got your back. If you have a problem, you go to her, sheÕs just a great teammate. And we all know what she does on the floor.Ó
Cayla George Ð Former JCU Townsville Fire and Australian teammate
ÒSuzy was my mother hen during my time with the Fire. She took me under her wings and it helped me immensely. Suzy is such a fierce competitor you most certainly want her on your team.Ó
Carrie Graf Ð Former Canberra and Australian coach
ÒSuzy is a unique player Ð somewhat unorthodox as a left-hander Ð but she has enjoyed an amazing career and has been super-efficient.Ê SheÕs developed into a great leader Ð a player that people want to play for and someone that always stands up for her teammates Ð and her grit and determination have been harnessed to make her a winner.Ó
Lauren Jackson Ð Former AIS and Australian teammate
ÒSuzyÕs longevity in the game is going to make her one of the best players this country has produced. She is a great friend of mine and a long-time teammate dating back to when we were 12 or 13. I am so incredibly proud of her and what she has achieved Ð she has handled so much adversity and risen to every challenge. She is just as an amazing person as she is player and IÕm so happy to call her a dear friend.Ó
Chris Lucas Ð Former JCU Townsville Fire coach
ÒFor any athlete to play 300 games Ð at the elite level, in any code Ð is an awesome achievement. Her ability to compete and perform on a consistent level every season is amazing. Having known Suzy since coaching against her when playing for NSW Country as a 16-year-old Ð following her career both nationally and internationally Ð I personally feel very privileged to have coached her for three years and winning two memorable WNBL championships with the JCU Townsville Fire of which she was an integral part of.Ó
Rachael McCully Ð Former JCU Townsville Fire and Australian teammate
Suzy is the player that you love to play with but hate to play against, she is not only the most competitive person I know but also someone that will do absolutely anything for her teammates both on and off the court. Congratulations Suzy, to play 300 games in the WNBL is an amazing accomplishment and to do it on top of numerous seasons in Europe and only with a left hand.Ó
Mia Murray Ð JCU Townsville Fire teammate
ÒFor a player to be as dominant as she has been for such a long time Ð and still is Ð is so admirable and IÕm proud to call her a teammate. She oozes experience and competitiveness and IÕd have her in my team in a heart-beat.Ó
Penny Taylor Ð Former AIS and Australian teammate
ÒWe started as friends and teammates at the AIS and our careers have taken us to various leagues across the world. SheÕs been a great player for such a long time and sheÕs showing no signs of slowing down, she still looks like she is 20 and she still has that dominant left-hand that no one can defend.Ó