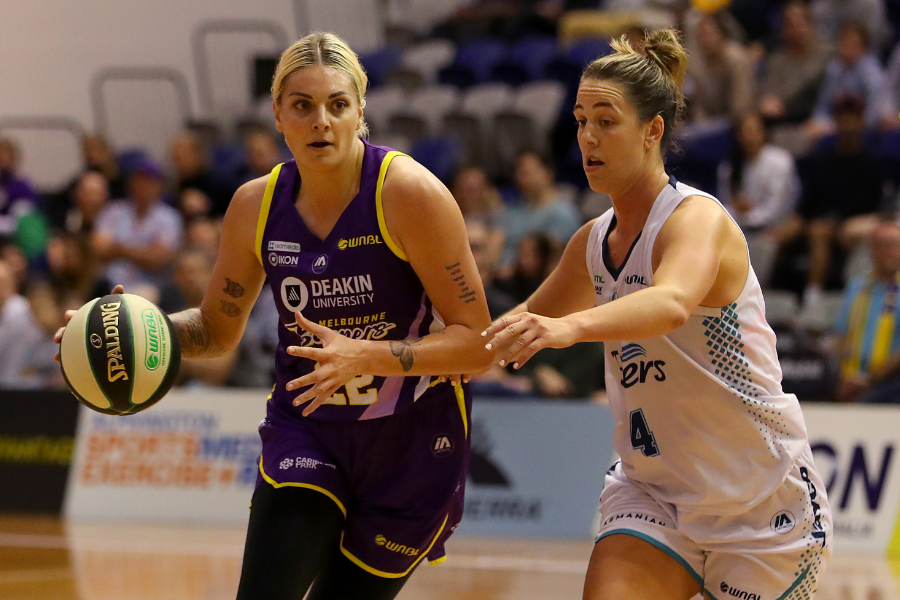 December 17, 2021 | WNBL news
Four games in two days, there'll be no shortage of basketball for round three. 
The Melbourne derby returns for game two, Adelaide and Sydney are searching for their first wins and the UC Capitals are back in action after covid sent them into isolation.
Southside Flyers v Melbourne Boomers. 
Dandenong Stadium. Saturday 5 pm local. FoxSports and ABC.
The Boomers claimed the first of the three-game Michelle Timms Cup series in convincing fashion last weekend however the reigning champions won't let them get away that easily. Tiffany Mitchell has been electric in offense and Cayla George has dominated under the defensive ring for the Boomers so they will both need significant attention from the Flyers' lineup. Southside's Abby Bishop plays a consistent game each week however the Flyers will need their experienced players in Jenna O'Hea and Sara Blicavs to contribute to get back on the winner's list.
Note: Boomer Tess Madgen is a quiet achiever however once she gets going can make serious problems for the opposition. Last weekend she notched up 20 points and four rebounds and could easily do that again.
Townsville Fire v Sydney Uni Flames. 
Townsville Entertainment Centre. 6:30 pm local. Kayo.
One game for one win for Townsville as they comfortably got the job done over Adelaide last weekend, reminding us why they were 2020 grand finalists. They return to a home crowd at the Fire Pit this Saturday night as they look to open their 21/22 campaign with a two from two record. The Flames had an unexpected round two bye after a covid case in the Caps camp interrupted their season although they would've used that extra time to regroup and analyse that round one dramatic loss. It'll be an intersting battle between Asia Cup Opals turned first-time WNBL captains, Loz Nicholson and Keely Froling.
Note: Flames offseason recruit Shyla Heal will go head-to-head with her ex-club, reuniting with the Fire for the first time since their 2020 grand final appearance.
UC Capitals v Adelaide Lightning. 
National Convention Centre. Sunday 4 pm local. Kayo Freebies.
Fresh out of seven-day isolation, the Caps will be itching to hit the court and find that form that saw them claim an inspiring come from behind round one victory over the Flames. The Lightning will be chasing their first victory and will need Steph Talbot to back up her round one 19 point, 12 rebound and four assist impressive performance to get the job done. UC Cap Brittney Sykes will also be looking to build on her round one momentum, making the Sykes v Talbot match up the key head-to-head to watch.
Note: Alanna Smith had her first taste of WNBL in round two and will be keen to take her contribution to the next level.
Bendigo Spirit v Melbourne Boomers.
Bendigo Stadium. Sunday 7 pm local. Kayo.
The Spirit achieved their drought-breaking victory upsetting the Boomers in round two, meaning that this rematch might see Melbourne return with extra fuel in the tank. It'll be an agility test for the Boomers however, as they play back-to-back matches this weekend while the Spirit come off a nine-day break. It'll be interesting to see if the long break makes or breaks the Spirit. Anneli Maley has been unstoppable over the first two rounds and if the Tessa Lavey, Maddie Garrick and Maley combo continues to soar, the Boomers may find themselves in trouble.
Note: Maddie Garrick and Tiffany Mitchell will be the key match-up to watch on Sunday night.
Want to attend a game? Purchase tickets here.