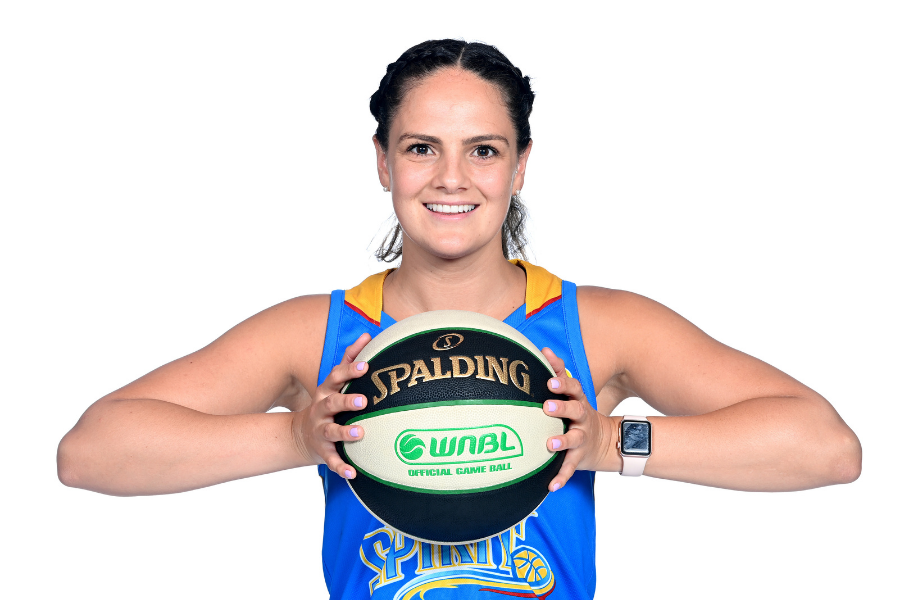 November 10, 2020 | WNBL news
During the 2020 Chemist Warehouse WNBL season, avid followers of the league's digital and social media channels will get to enjoy insights and interviews with leading women's basketball reporter and broadcaster, Megan Hustwaite.
With thanks to the league's naming-rights partner, Chemist Warehouse, Megan will be based in the North Queensland hub and will be bringing fans along for the journey with a series of feature written articles and video interviews.
In Part 2 of "Life in the Hub", Megan catches up with Villawood Properties Bendigo Spirit's Amelia Todhunter.
Veteran Amelia Todhunter admits she's never been the star or big-name player over the last decade of the Chemist Warehouse WNBL, but she's always known her role.
The 32-year old guard will play for the Villawood Properties Bendigo Spirit during the upcoming campaign in North Queensland after taking a season off in 2019-20.
And the oldest and most experienced player on Tracy York's roster knows exactly what she will bring to one of the youngest up-and-coming groups in the league.
"I'm not a big name and that's OK, I just love that I can do those little things for the team and I hope this year I can be a leader for the younger girls,'' she says.
"I want to show that you don't have to be a big scorer, you can shut down your player and contribute to the team, dive on those loose balls, get a big rebound or just play hard-nosed defence – that's what I want to teach our younger players."
That awareness and commitment plus plenty of passion has been key to Todhunter's longevity in this world-class competition.
She debuted for the Dandenong Rangers during the 2007-08 season and would make history a few years later in Bulleen Boomers' sole WNBL championship in 2010-11. Stints in Perth and back at the Boomers followed, before she returned to Dandenong and was part of the team's Grand Final Series appearance in 2016-17. She also captained the Rangers under the tutelage of coach Larissa Anderson.
It was at Stud Road, Dandenong where she suited up alongside now Bendigo stars Tessa Lavey and Carley Ernst in 2018-19.
Now, Todhunter and Ernst are co-captains with Lavey leading the Spirit this season.
"I've played with them both and I'd heard before I'd even signed (with Bendigo) Carley had pushed my case which was really special. She could see what I could potentially bring to a team,'' she explains.
"My role will be very different to previous years. At this stage I'll be a starter, which I have been before, but Tracy's really put her trust in me and because she's got my back so much I'm going in with confidence.
"I'm excited to see us grow. We're going in as underdogs, we've worked hard in pre-season and we're ready to play and develop."
Two weeks in hotel quarantine in Brisbane has been a busy period for Todhunter who works in a welfare role at Richmond Institute of Sports Leadership, a partnership between Swinburne University and the Richmond Football Club.
"It has been challenging but I'm very lucky that I'm so well supported and have a flexible job. Richmond are absolutely great and with the values they hold and their culture, it's no wonder they have come so far and been so successful in the AFL the last few years,'' she says.
"I've been able to counsel my students online around our training times. When the pandemic struck education didn't go anywhere so we've gone online and I want to give all my students a big hug because they've been amazing in a challenging year."
With the Spirit tipping off their campaign this Thursday against the Jayco Southside Flyers, Todhunter is champing at the bit to hit the court.
"I'm just looking forward to playing,'' she says.
"Because of the schedule there's limited training so it will be playing, watching tape and working on our stuff. I think playing, learning and getting back on court will allow us to improve and implement the things we need to."
'Life In the Hub' by Megan Hustwaite thanks to Chemist Warehouse