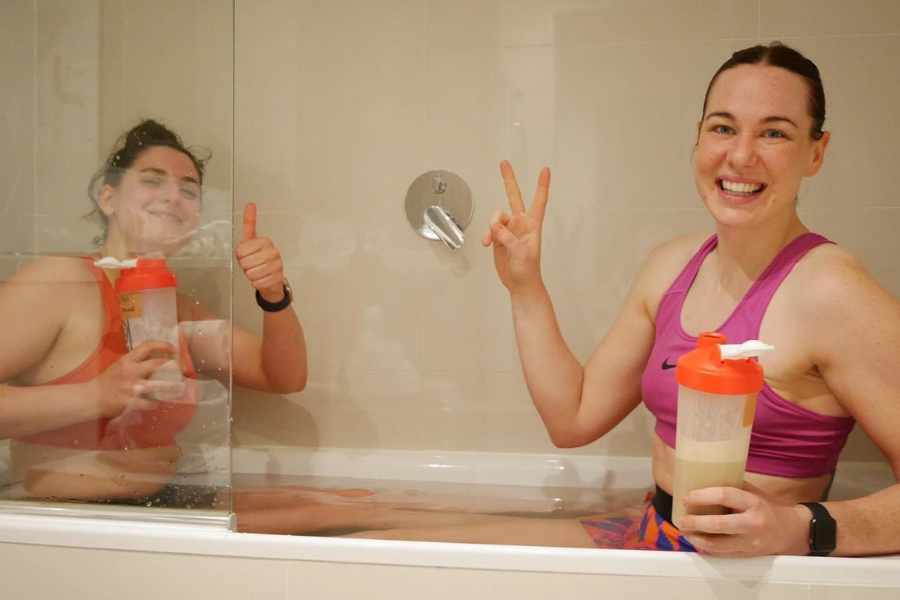 November 6, 2020 | WNBL news
During the 2020 Chemist Warehouse WNBL season, avid followers of the league's digital and social media channels will get to enjoy insights and interviews with leading women's basketball reporter and broadcaster, Megan Hustwaite.
With thanks to the league's naming-rights partner, Chemist Warehouse, Megan will be based in the North Queensland hub and will be bringing fans along for the journey with a series of feature written articles and video interviews.
The first article reflects on Megan's fly on the wall observations of quarantine in Brisbane with the three Victorian Chemist Warehouse WNBL teams.
Three basketball teams, a sprinkling of referees, an army of support staff and two cute babies.
Welcome to hotel quarantine…WNBL style.
As Victoria began to shed restrictions last week, a basketball bubble was settling in Brisbane for 14 days of quarantine ahead of the Chemist Warehouse WNBL season.
Our 76-member touring party, featuring Deakin Melbourne Boomers, Jayco Southside Flyers, Villawood Properties Bendigo Spirit, officials, club and league staff plus a whole lot of luggage, headed north on the evening of October 25. And life's been pretty good since.
The staff at Quest Eight Mile Plains have looked after us superbly, we've set up temporary home in lovely apartments and are delivered three meals a day. And morning coffee! Quest employees have been clocking extra steps daily bringing our countless grocery orders upstairs.
Unlike traditional hotel quarantine, we've been afforded many privileges and luxuries.
We have balconies for fresh air and warm Queensland sun, the three teams travel to Nissan Arena daily for practice and weight sessions, and all members of the travelling party can mingle at home base while always practising social distancing.
Arlo, the one-year old son of Flyer Steph Blicavs and nephew of Sara, and Evie, baby of Southside physios Alex and Kathleen, have provided refreshing entertainment and cuddles.
We all underwent COVID-19 testing 72 hours before departure to Brisbane and have been tested here twice, on days 4 and 10.
Bendigo coach Tracy York believes the experience has been a good one for her up-and-coming group.
"We were on Zoom together as a group for five months then had two weeks in Bendigo before coming into quarantine. It's been really good, quarantine has exceeded my expectations,'' she said.
"The girls are happy to change rooming arrangements everywhere we go, so quarantine, Mackay, Cairns and Townsville. The roommates are all getting along really well and getting to know each other which is a plus."
Unable to trick or treat, Bendigo got in the Halloween spirit with a team trivia night on October 31.
Veteran Amelia Todhunter packed her Shellac nail system with York stopping by last weekend for a hot pink manicure and pedicure.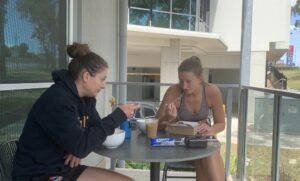 The Southside Flyers are sharing the same floor and the door to team manager Jenni James' room is always open for players to wander in for anything they need or a chat.
James cooked Sunday brunch for her team last week with the Flyers enjoying everything from scrambled eggs and homemade pastries to fresh fruit.
She's packed almost everything.
"The only thing I didn't bring was my 14-litre pasta pot, regretfully,'' she laughed.
"It's all about the players and what we need to do to make their lives comfortable. The girls will do some of their own cooking up in the hub, I can also cook for them game day and what have you. I just needed the tools to be able to do that."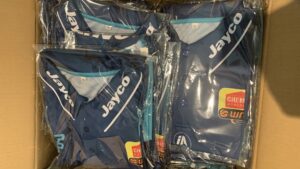 Boomers star Ezi Magbegor spent the middle months of the year in the WNBA bubble during her rookie season with Seattle Storm. On return to Australia, she did 14 days of hotel quarantine in Sydney before returning home to Melbourne for 24 hours then linking with the Boomers to fly to Brisbane.
"This definitely doesn't feel like hotel quarantine because I'm not by myself, I'm with my teammates and we're still able to train and play practice games so it differs in that aspect. In terms of the bubble in the States, it's similar because we're in our rooms, training or going to games," she explained.
"It's been so good seeing everyone, familiar faces and people that I haven't seen since the start of the year. I was really excited to see everyone.
"The WNBL is such a great environment, everyone knows each other on all the different teams and it's been good being here with Bendigo and Southside as well."
Quarantine expires for our Victorian bubble this Sunday night and after months of lockdown our Melburnians are very excited about a delayed return to freedom.
On Monday, all three teams fly to Townsville just days out from the commencement of the Chemist Warehouse WNBL season. Bring it on!
'Life In the Hub' by Megan Hustwaite thanks to Chemist Warehouse