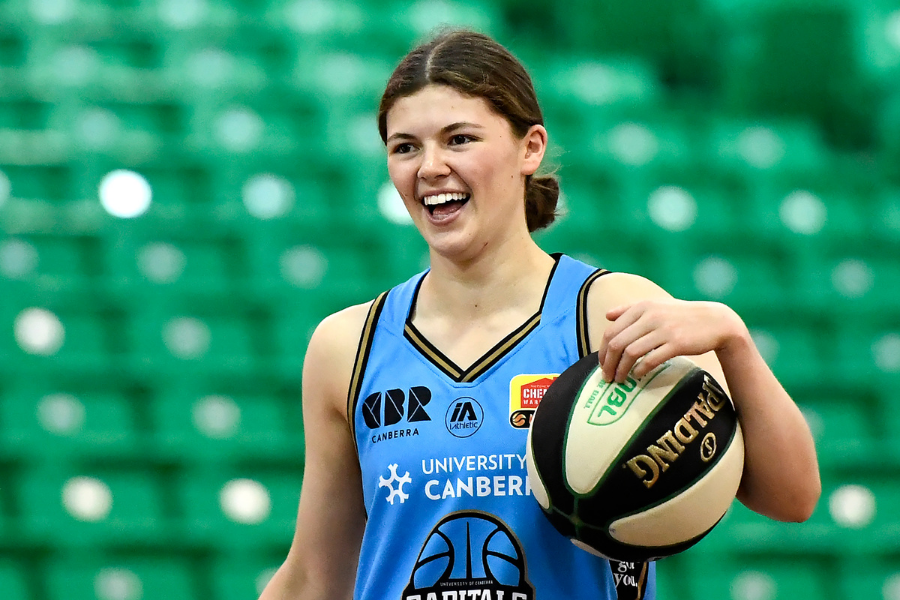 November 26, 2020 | WNBL news
During the 2020 Chemist Warehouse WNBL season, avid followers of the league's digital and social media channels will get to enjoy insights and interviews with leading women's basketball reporter and broadcaster, Megan Hustwaite.
With thanks to the league's naming-rights partner, Chemist Warehouse, Megan is based in the North Queensland hub and is bringing fans along for the journey with a series of feature interviews.
In Part 3 of "Life in the Hub", Megan catches up with University of Canberra Capitals rising star Jade Melbourne.
Jade Melbourne is having the time of her life The UC Capitals teen sensation is six games into her Chemist Warehouse WNBL career, has earned a spot in the starting line up and even top scored for her side against perennial finalist Deakin Melbourne Boomers in Mackay last week.
The 18-year old guard from regional Victoria, with the wide grin, cheeky giggle and perfect country manners, has just completed her year 12 exams and is loving every minute in the Far North Queensland WNBL hub.
"I'm absolutely loving it. I'm super fortunate to be in such a good team, staying in a pretty cool hotel and I'm just loving playing basketball to be honest,'' she said.
"It's unbelievable."
Just like Melbourne's lightning quick rise to prominence.
A phone call from Caps coach Paul Goriss and an invite to Canberra pre-season training quickly lead to a contract and packing for six weeks away in the hub.
Weeks later, Melbourne earned a spot in the starting five for the season-opener against Adelaide Lightning.
"I was in the starting group at training and started in a practice game against Sydney. Goz (coach Paul Goriss) called me into his room and told me he was going to start me against Adelaide and I was like 'oh!'.
"It was crazy and a cool feeling. To hear that I'd be starting in my first WNBL game I was nervous, excited all in one. I'm just loving it."
In just her fourth game, Melbourne scored a game-high 20 points in Round 2 as the Caps disposed of the Melbourne Boomers.
She already averages 10.7 points, 2.5 rebounds and 2.2 assists and has scored in double figures four times including 14 points against the Villawood Properties Bendigo Spirit and Jayco Southside Flyers plus 12 on the JCU Townsville Fire.
"It was pretty cool (top scoring in her fourth game). I'm just super fortunate I play in such a great team,'' Melbourne added.
"In our team, there's so many players who can light it up on any night and I was just able to find some gaps in that game. Everyone has confidence in me which has given me confidence as well. I'm trying to make the most of those opportunities."
Melbourne is enjoying life in the hub, the Caps are currently in Cairns after launching their campaign in Mackay. She says its like tournament play, similar to competing in last year's Under-18 Australian Junior National championships for victorious Victoria.
"I'm learning new things every day,'' she said.
"Everyone is willing to help and share their knowledge. They (Caps) have won two championships in a row, so I'm making the most of every training, every video session, playing every second or third day, staying in hotels with the girls, I'm just soaking it all up."
Goriss first saw Melbourne last year training at Basketball Australia's Centre of Excellence at the AIS in Canberra.
"Being in Canberra I get to see those (CoE) girls, pop in and have a look. Jade's improved greatly in the past 12 months,'' he said.
"I was taken back by how much she's improved physically, her game, skill wise and when the opportunity came up for us to have a development spot I worked with (CoE coach and Caps assistant coach) Kristen Veal, Basketball Australia and the CoE to see if we could get her on a contract before she goes to college and what that would look like around finishing year 12."
Goriss has coached some of Australia's best young male and female talent throughout his career and believes Melbourne's potential is limitless.
"Jade's an exciting player, I think she's a future Opal. She has the skill level, the game, toughness – she's just fearless. She has all the attributes of being an international player."
Melbourne aspired to play in the WNBL and now wants a championship. Her goals are as big and exciting as her future.
"Ever since primary school I've wanted to play in the WNBA and play at an Olympics for the Opals. I'm working hard every day to try and achieve those goals and hopefully one day I can make it happen,'' she said.
Following the season in North Queensland, and hopefully championship success, Melbourne will return to Traralgon in Victorian for Christmas and a long-awaited reunion with parents Brett and Sharon, and her two younger sisters.
"I'll get to see the family for the first time in May, it will be good to see everyone and have some downtime."
'Life In the Hub' by Megan Hustwaite thanks to WNBL naming-rights partner, Chemist Warehouse