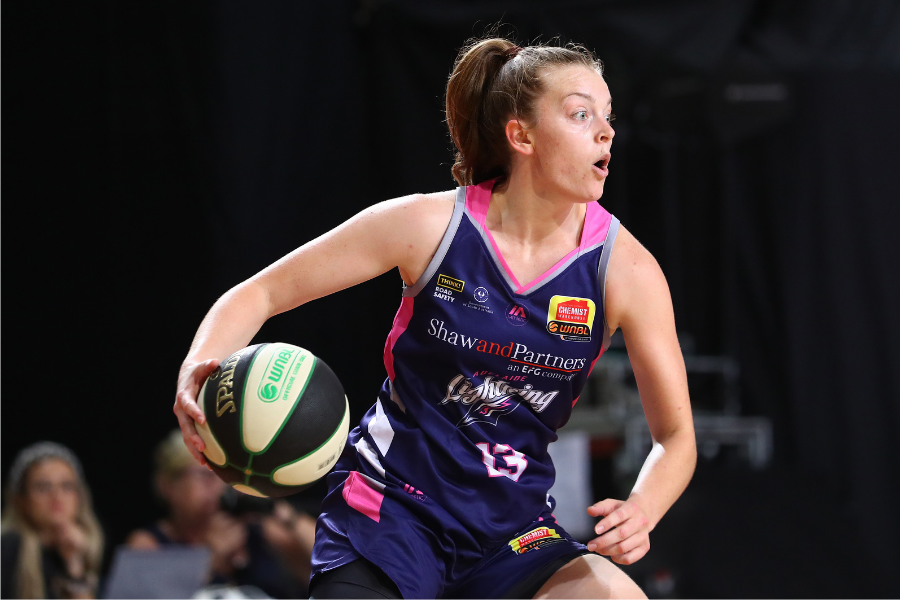 December 2, 2020 | WNBL news
Taking on Liz Cambage may be a scary thought, but Adelaide Lightning have vowed to play with "no fear" against the Chemist Warehouse Opals superstar in the 2020 Chemist Warehouse WNBL on Wednesday.
Cambage has picked up where she left off in her first WNBL season in two years, leading the league in scoring (22.3 points per game) while guiding her Jayco Southside Flyers into the top two.
Not that the Lightning had to be reminded.
Cambage was at her vintage best against Adelaide only days ago, piling on 25 points in just over 18 minutes to set up the Flyers' 31-point win over the Lightning on Sunday.
However, the third-placed Lightning (4-2 record) are backing themselves ahead of another crack at Cambage's Flyers at Cairns Pop-Up Arena on Wednesday thanks to the presence of their own Opals star, Steph Talbot.
Adelaide skipper Talbot is second behind Cambage in league scoring (20.8ppg) and also No.2 in WNBL rebounds (9.8pg) but was quiet against the Flyers on the weekend (six points, four rebounds).
Lightning's Abbey Wehrung backed the inspirational Talbot, and Adelaide, to bounce back against the star-studded Flyers (7-2 record) on Wednesday.
Asked how they would stop Cambage, Wehrung said: "With Steph on your team, you play with no fear, and against the Flyers that is how you have to play.
"Steph leads us in the way she plays. She's just a beast. She can score, defend like there is no tomorrow and rebound, she can do it all.
"I think she inspires the rest of us to go with her."
Wehrung said Adelaide would also welcome back key guard Alex Wilson, who was rested on Sunday.
She said the Flyers clash would provide a timely yardstick ahead of the finals.
"The Flyers are the benchmark. They have got scorers everywhere and pretty much got an Opals starting five," she said.
"If we can put up a pretty good fight, I think it is a good measure for us."
But Wehrung said she was already proud of what the Lightning had achieved this season.
Adelaide are tackling a hectic schedule after emerging last week from seven days in quarantine in Townsville following a coronavirus cluster in South Australia.
The lockdown caused three of their matches to be re-jigged, ensuring a frantic season finish.
"There have been a few things thrown at us, but I am immensely proud of the team," Wehrung said.
"It has shown the character that we have got as individuals and a team."
Meanwhile, Flyers coach Cheryl Chambers said Cambage would be unleashed again on the Lightning with no plans yet to rest the WNBL MVP contender ahead of the finals.
"She is no different to any other player, if she is right to go, we will play them," she said.
"But we are confident being on the court with Liz and without Liz.
"While she brings a huge presence we still think we can defend and score when she is not on the floor."
Chambers expected Adelaide to come out swinging after their loss on Sunday.
"They will be ready to throw everything at us," she said.
Laine Clark is a freelance contributor to WNBL.basketball
Come and witness the world class talent with your own eyes, purchase your tickets to tonight's game HERE.
Broadcast Details
Jayco Southside Flyers v Adelaide Lightning
At Cairns Pop-Up Arena
Wednesday 2 December 2020
6.00pm AEST / 7.00pm AEDT
LIVE on Kayo