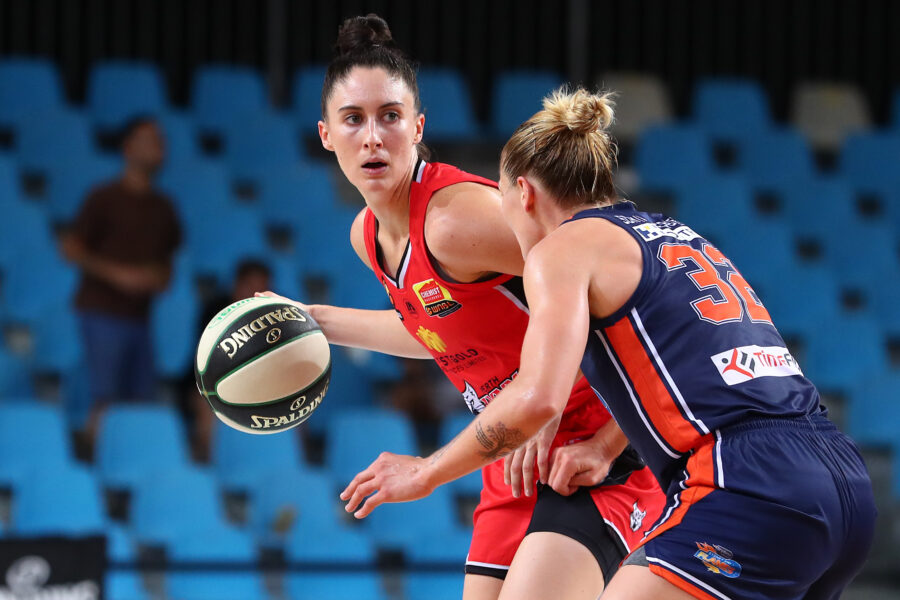 December 7, 2020 | WNBL news
Out of finals contention, the Perth Lynx and Sydney Uni Flames are chasing that winning feeling as the final round of the Chemist Warehouse WNBL home-and-away season gets underway.
The Lynx have some momentum after notching consecutive wins while the Flames are breathing fire after coming from behind on Sunday to topple the Villawood Properties Bendigo Spirit.
Perth captain Katie-Rae Ebzery says her group has hit its straps under new coach Ryan Pertrik.
"After losing a few close games it's definitely been nice to string a few wins together. I think we've been building towards it too – the way we've played in the last couple of games as the team we knew we could be. It's just been a matter of everything falling into place for us and learning how to play together,'' she said.
"It's tough that it's been this kind of season but we're definitely happy to have a few wins in a row and some momentum to finish the season. I said to the girls that this is the standard now, this is what we've been building towards and how we want to play as a group.
"It's what we're capable of doing and we just want to keep winning and performing as well as we know we can."
Last time the teams met, in Round 3, the Flames prevailed 74-67 with guard Funda Nakkasoglu draining a game-high 27 points.
For Perth, Darcee Garbin scored 22 points, Ebzery had 19 with Kayla Steindl grabbing 12 boards.
"Sydney have been learning to win as a new group. We learned a lot from when we played them in Cairns and we'll be looking to continue to improve and build on our momentum from the last few days,'" Ebzery said.
Sydney big Lauren Scherf believes how her team performs will be largely dependent on defence.
"We want to lock down on defence. We know that all our energy and tempo comes from our defence so when we lock down on that then we can get our transition going and our offensive movement going,'' she said.
"Perth have hit their strides and we know that they're going to come out hard. I think we just have to stick together and be united as a team and know our strengths and use them to our advantage."
Megan Hustwaite is a freelance contributor to WNBL.basketball
Broadcast Details
Perth Lynx vs Brydens Sydney Uni Flames
Tuesday December 8 2020
7.30pm AEST / 8.30pm AEDT
LIVE on Kayo