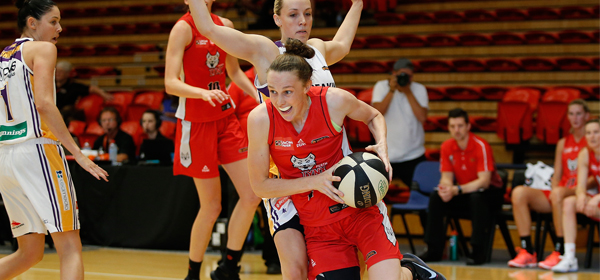 February 12, 2017 | WNBL news
The Perth Lynx have secured their second consecutive finals berth, after defeating the Melbourne Boomers 87-81 in an overtime thriller.
In a physical encounter, the Lynx and Boomers went back and forth throughout the game, before a thrilling final term in which neither team led by more than three points.
With 9.6 seconds remaining, Carley Mijovic knocked down a game-tying free throw, and MelbourneÕs buzzer beater to win the game rimmed out taking the contest into overtime.
The Lynx struck first thanks to a Brianna Butler steal and triple, but Melbourne hit back and the game was tied going into the final possessions.
With 19 seconds remaining and scores tied, Sami Whitcomb connected on a deep three pointer to give the Lynx a critical late lead, and the home side held on to secure the victory and a post-season appearance.
ÒI think this was the perfect game to have at this stage of the season leading into finals,Ó said Whitcomb after the win.
ÒIt obviously wasnÕt pretty, it wasnÕt as free flowing as we wanted it to be offensively, but thatÕs finals basketball.Ó
ÒItÕs not always pretty, but you hang tough and you fight.Ó
Whitcomb (22 points, six rebounds) found her shooting touch in the second half, but it was Carley Mijovic who jump started the game for Perth, tallying nine points and nine rebounds in the first quarter on her way to 17 points and a career high 13 rebounds.
Brianna Butler (19 points, two steals) continued her recent outstanding form, while Ruth Hamblin (12 points, 11 rebounds) played an important role on the interior.
The victory now ensures the Lynx will feature in the WNBL Finals but, with two games remaining and second place still up for grabs, the work isnÕt done.
ÒFor us to come out here and take a stand when we needed to, I was really proud of us.Ó
ÒWe got the win, and it was against a team that was after us; that was huge.Ó
The Perth Lynx next play the Dandenong Rangers and Bendigo Spirit next weekend to conclude the WNBL regular season.
Perth Lynx 87 Ð (Sami Whitcomb 22, Brianna Butler 19, Carley Mijovic 17)
Melbourne Boomers 81 Ð (Kalisha Keane 16, Rebecca Cole 14, Tegan Cunningham 13)