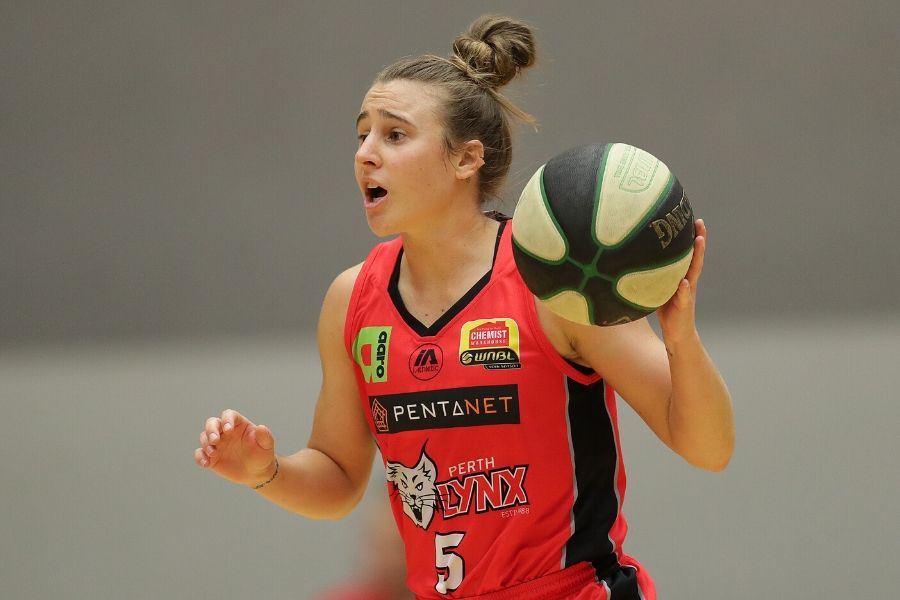 January 19, 2020 | WNBL news
The Perth Lynx have bid farewell to the Bendat Basketball Centre for this WNBL season in style, overcoming a slow start to ultimately dominate the Townsville Fire on Sunday, winning 95-62.
It's the last home game of the season for the Lynx, who now will have to win their remaining 4 matches to even remain an outside playoff chance. But if they can replicate their form from the final 34 minutes of Sunday's game, then anything is still possible.
Both teams have made late season changes and seemingly benefited, with the Lynx beating Bendigo last Sunday after releasing import Imani McGee-Stafford, while Townsville had scored impressive wins over the Capitals and Flames after parting ways with Abby Bishop prior to a loss in Adelaide.
It set the stage for a fascinating match up, and after a slow start, the Lynx turned it on. They produced a remarkable run of 31 of 33 points either side of quarter-time to turn an 11-point deficit into a match-winning 18-point lead.
The Lynx then accelerated in a way they haven't been able to all season in the second half, including a 37-point fourth quarter, as Alison Schwagmeyer-Belger top-scored with 21 points.
Co-captain Katie Ebzery was solid with 17 points and 8 rebounds, while Marena Whittle added 17 points, Lauren Mansfield 14 and Nadeen Payne 10.
For the opposition, and on a floor she knows so well from West Australian SBL championship rings with the Rockingham Flames, the Fire's Darcee Garbin had just two points at half-time but finished with 19 to go with 5 rebounds.
Bridget Carleton also added 12 points and 12 rebounds; Tess Madgen delivered 10 points and 5 boards before fouling out.
The Fire couldn't have started more impressively, racing to a 5-0 lead which became 10-2 after 5 quick Micaela Cocks points. It was then 15-4 when Tess Madgen converted an and-1 play and Bridget Carleton scored.
But from that point on, it was all the Lynx, the hosts finding confidence in front of their home crowd as a stunning 14-0 run started with consecutive Whittle triples before Ebzery and Schwagmeyer-Belger added 4 points apiece.
Mansfield hit a 3 to have Perth up 23-17 by quarter-time, and by around a third of the way through the second quarter, the Lynx were up by 18.
Despite Madgen's attempts to lift Townsville back into it, the Lynx were still up 42-29 at half-time, and while the Fire fought back in the third, that gap held relatively steady: The Lynx went into three quarter-time with a 10 point lead (58-48).
The Fire's difficult day was made more so when Madgen picked up her fourth foul late in the third, and the experienced player eventually fouled out 4 minutes into the last quarter.
Regardless, the Lynx were already going to another level, unleashing the depth of their bench to extend their lead and win by 33 points in a match that would've given Lynx fans plenty to cheer about.
Speaking after the game, Lynx coach Andy Stewart was proud of the way his playing group performed despite finals being out of reach, but was frustrated this form didn't come earlier.
"I think it's something that we need to do with regard to the pride of our club, and with regards to the integrity of the league that we need to play as good a basketball as we can, and that's what we did," Stewart said.
"It was nice to finish at home that way, but it's also frustrating because you hope that we would have done it a few other times. It's bittersweet because in these last couple of games we can see the potential in the group."
Meanwhile, Fire coach Shannon Seebohm was rightfully frustrated at the last 34 minutes of the game but still has faith in a strong finish in the last two home matches.
"To be honest, I think it just exposes us and our inability to stick to a game plan and a scout, and execute the same way every single time like a finals team does," Seebohm said.
"I know that sounds harsh but I do love coaching these girls. They're a great group but we need to make sure in our two games at home to finish the year that we finish the season in a way that our fans and ourselves can be proud of."
LOOKING AHEAD
The Lynx now play the Capitals in Canberra on Wednesday before the Spirit in Bendigo on Friday, while the Fire finishes their season at home with games against the Boomers and Spirit.
WNBL ROUND 14
PERTH LYNX 95 (Schwagmeyer-Belger 21, Whittle 17, Ebzery 17)
TOWNSVILLE FIRE 62 (Garbin 19, Carleton 12, Madgen 10)