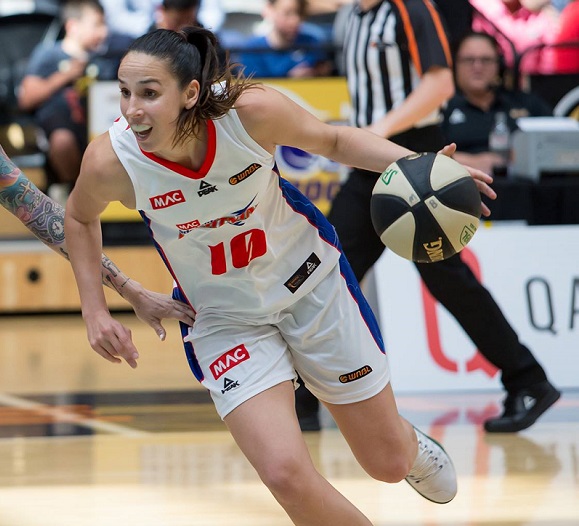 June 15, 2017 | WNBL news
In a recent success the 2016/17 Lightning MVP Laura Hodges has re-signed for another year.
Fan-favourite Hodges joins a line-up full of experience this season, making an impressive front-court for the Lightning joining Abby Bishop and Ruth Hamblin.
Laura who had another stand-out season for the MAC Adelaide Lightning last season, averaging 17.56 pts and 7.13 rebounds per game is looking to contribute to the team anyway she can.
ÒI am excited to be back playing for my home team, looking forward to playing with some new faces and some familiar onesÓ Laura said.
ÒThe goal for me is to be better as a group then last year, making the finals will be a great achievement for this group and I canÕt wait to get on the training track with these girlsÓ.
MAC Adelaide Lightning Head Coach Chris Lucas sees this as a very positive sign for the club, ÔThe Club and myself are very pleased that Laura has decided to be a one club player, which is almost unheard of in sport these days. She adds tremendous depth to our front court.Õ
Four time Olympian Hodges is very pleased to be playing back at home this coming season, mentioning many times how much she wants the Lightning to succeed on and off the court.
GM of the MAC Adelaide Lightning, Mandy Spear says that Hodges is a South Australian basketball legend, ÒHer profile and experience makes her an invaluable member of our team. We now boast an incredible collection of South Australian talent, which was one of our goals for the coming season.Ó
Laura who is set for a busy off-season being named in the Opals squad for the FIBA WomenÕs Asia Cup travels to Arizona from June 25 to attend training camp alongside fellow Lightning player Abby Bishop.
ÒPlaying for your country is always a privilege, I am excited to be a part of a new movement for Australian WomenÕs Basketball with a new coach, new system and plenty of fresh facesÓ Laura said about the selection.