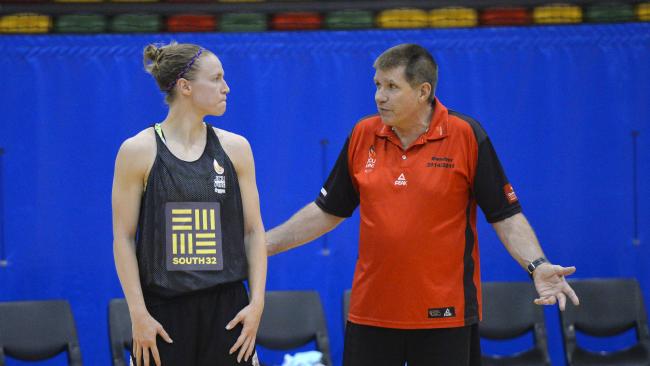 May 8, 2017 | WNBL news
The MAC Adelaide Lightning is excited to announce the signing of sharpshooting guard Natalie Novosel for 2 years.
Natalie joins forces with Head Coach Chris Lucas, which saw the combination win a WNBL Championship with Townsville Fire in the 2015/16 season.
Head Coach Chris Lucas said that Natalie was one of the first players he spoke to in recruiting for the season ahead. Natalie played a prominent role in his team winning a championship in 2015/16 season and she will play a vital role in our current program in achieving our vision.
Natalie who played for Dandenong last season averaged 11.4 points, 3.9 rebounds and 2.7 assists per game, while shooting at 50% from the field and 40% from the 3 point line. With her numbers, Natalie played a key role in Dandenong reaching the Grand Final in the 2016-17 season against Sydney.
Speaking about the signing and joining with Chris again, Natalie said ÒCertainly the relationship weÕve been able to cultivate has been really good. We see the game very much alike so as soon as he called, I was happy to listen. Having all these great players coming back to the league, even in the shortened season, means it is going to be great and IÕm really looking forward to playing for AdelaideÓ.
The third now of three key signings for the MAC Adelaide Lightning, Natalie will join Abby and Aimie in a bid to the 2017/18 playoffs.
ÒNatalie is a class above. She is one of the better all-rounders that I have coached in terms of her athleticism, teammate-ship and leadership. I could not be happier with her committing to our program for the next 2 yearsÓ, said Chris.
GM of the MAC Adelaide Lightning Mandy Spear spoke about the signing ÒThe signing of Natalie is a very important piece of the puzzle for us in our efforts to put an exciting and competitive team on the court this coming season. Not only is Natalie a quality player, she is a quality person, and that is central to the culture we are trying to create both on and off the court.Ó