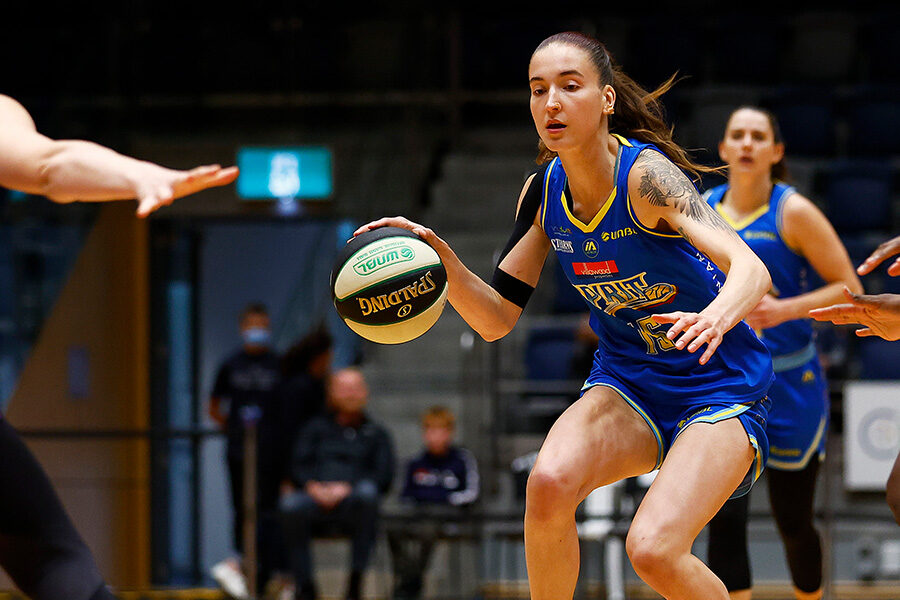 December 28, 2021 | WNBL news
Written by Megan Hustwaite.
Anneli Maley is spreading her offensive wings.
Having won praise as a rebounding machine in recent WNBL and NBL1 seasons, the 23-year-old has shown those who had pegged her a defender that she's an all-round weapon.
Maley, who signed with the Bendigo Spirit in the off-season, is enjoying a bright start to her campaign and leads league stats for both points (20ppg) and rebounds 14.5rpg).
She produced a career best display on December 22 with a whopping double-double (38 points, 20 rebounds) against the UC Capitals.
"Scoring more points that rebounds, that's never happened,'' Maley laughed.
"It's really nice because I work so hard. I put so much work in during the off-season working on my shot, my finishing and my scoring. At NBL1 level I've always been able to score but I've been working really hard on my offensive game just to round out the type of basketball player I want to be.
"I've always wanted to be known, not just as a rebounder, but an all-round threat and it's nice to feel the ball go through the net."
Maley feels as times she's been pigeon holed as merely defender but admits there's also been a change in her own mindset.
"In the past I've struggled with my offensive game because defensively and when rebounding I'm just looking for the ball and possession, I wasn't really looking for my shot,'' she explains.
"I think I even pigeon holed myself a little bit, put myself in that box that my role was to play good D, get extra possessions. Telling myself that's what I can bring to a team but this season I'm trying to bring more than just that.
"It's actually quite hard when you're going so hard for the ball to change the pace of your brain to calm and slow down to score. You're thinking 'ball ball ball ball, relax and shoot'
"I think 3×3 has helped me a lot with that because you're going fast but you have to relax to make decisions. Doing a lot of that, going to camps and playing a lot of one-on-one in the off-season has definitely aided my decision making, ability to think through a shot and relax and shoot through the ball."
View this post on Instagram
Not named in the original Opals FIBA Women's World Cup squad for next year's tournament in Sydney, Maley has built a strong case for selection and captured the attention of selectors with her form and performances.
"To be in the Opals is definitely one of my goals. If I was asked, I would love to get the opportunity to go to a camp," she said.
"It would be an honour to be an Opal. 3×3 is also on the cards, I've always been part of the squad but I've never got the opportunity to go away with the team so that's something I'd really love to do as well.
"I just want to focus on what's next. I think if anyone thinks too far ahead you can get lost in the end goal but that irrelevant if you don't focus on what's coming next.
"The most important thing to me right now is Bendigo and getting some more wins with the girls because we are so capable."
The Spirit's Round 5 clash with Sydney has been postponed after a positive Covid result in the Flames camp. Bendigo's next game is against the Fire in Townsville on January 9.