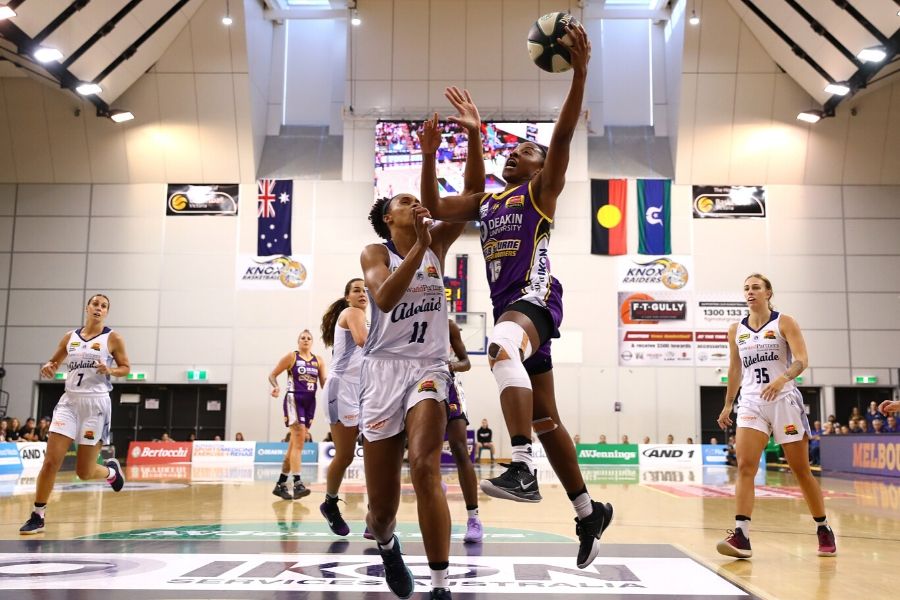 December 22, 2019 | WNBL news
The Melbourne Boomers made the most of an early jump-start against the Adelaide Lightning to bring home a crucial 9 point victory against a fellow top 4 side to end the WNBL's round 10 action.
With 3rd and 4th facing off just before Christmas, the Victorian State Basketball Centre packed more than a little extra heat, with the presence of Australian Opals and Phoenix Mercury coach Sandy Brondello ensuring it had Tokyo Olympics ramifications.
Of particular interest to Brondello was the Boomers' Sophie Cunningham and the Lightning's Brianna Turner, 2 WNBA-drafted Phoenix teammates who are developing their games in the WNBL, and today, found themselves on opposing sides.
Cunningham was certainly in the action early, as were most of her fellow Boomers, who started the game with a white-hot 8-point run. The Lightning missed their first 7 shots before Turner found some form, scoring Adelaide's first 6 points. In fact, the WNBA's fingerprints were all over this one, with Lindsey Allen leading all scorers with 8 points at the first break, where the Boomers enjoyed a 7-point lead.
Olympic hopeful Ezi Magbegor, the Boomers' 20-year-old centre, relished the attention. As a mobile stretch-5 with a bag of post-up moves, Magbegor gave the Boomers another dimension when Cayla George was rested for foul trouble. Abysmal shooting made it hard for Chris Lucas' Adelaide squad to work their way back into the game, shooting only 30 percent in the 1st half.
The Lightning's Lauren Nicholson, the reigning defensive player of the year, helped to pull the margin back with some scrappy defence in the 2nd half, and a last-second Steph Talbot basket on the 3-quarter time buzzer brought the margin back to a manageable 7 points for Adelaide.
George fouled out of the match early into the fourth quarter, which Adelaide tried to capitalise upon. However, Boomers captain Maddie Garrick found some rhythm in the last quarter of one of her quietest matches of the year, making a crucial basket late – her first of the match – to help quell any comeback.
Ultimately though, it was Allen's 22-point performance that proved the difference, allowing the Boomers to plaster over a patchy display that saw them record an uncharacteristic 15 turnovers, emerging as 66-57 winners.
Double-doubles from Lightning pair Talbot (15 points, 10 rebounds) and Turner (19 points and 11 rebounds) were wasted as the rest of the offence sputtered to their equal 2nd-lowest score of the season, though both sides' defences rarely allowed for any easy scoring.
This was noted by Melbourne coach Guy Molloy in his post-game press conference.
"We defended well… our offence was a bit lacklustre at times, but it was a consequence of how much we were putting into the defence," he said.
Adelaide coach Chris Lucas, noted his side was very much in a similar position, but ultimately had to find learnings from it given it was their loss.
"[I'm] never going to question the effort… a bit of a grind for both teams," Lucas said.
"I have always had the view that you learn more out of losses… If we executed better [offensively], we probably would have given ourselves a chance."
While Molloy will keep a lid on this victory, its importance isn't to be understated: It gives the Boomers some much-needed breathing room in the top 4 and draws them half a game from 2nd place.
WHAT'S NEXT
The Melbourne Boomers host the Townsville Fire (3-9) at the State Basketball Centre on Friday, December 27 at 7:05pm.
The Lightning host the rampaging UC Capitals on the same night at Titanium Security Arena. Playing twice in week 11, Adelaide's tough run of road trips will continue with a Sunday afternoon (December 28, 5:05pm) meeting with the Sydney Uni Flames (6-8) at Brydens Stadium, New South Wales.
While the Boomers are favoured to further solidify their finals credentials, the Lightning must cause an upset or two to prevent a slide out of top 4 calculations.
WNBL WEEK 10
MELBOURNE BOOMERS 66 (Lindsey Allen 23, Maddie Garrick 16, Cayla George 16)
ADELAIDE LIGHTNING 57 (Brianna Turner 19, Steph Talbot 15, Kilani Purcell 9)