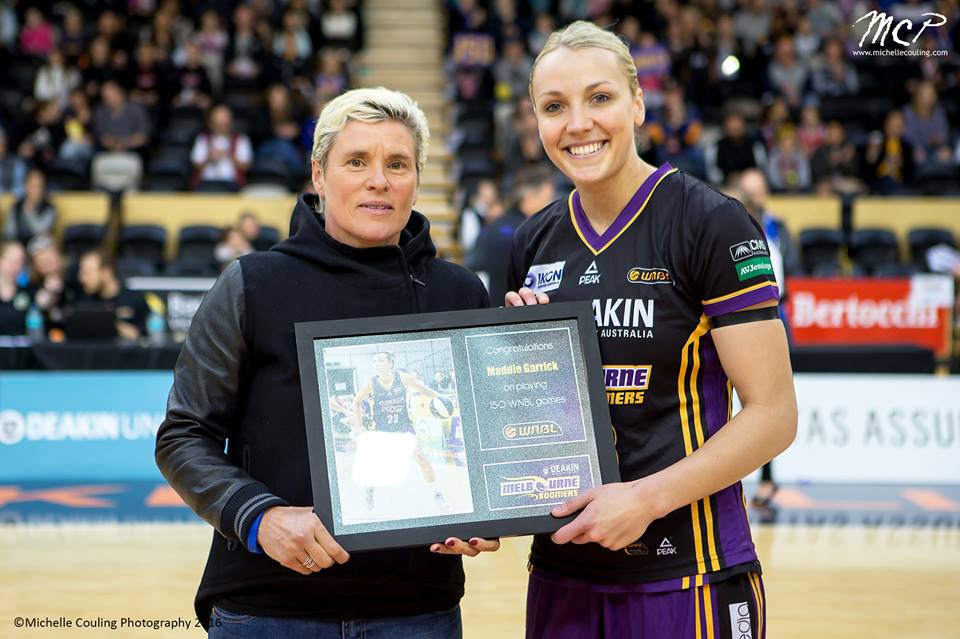 August 10, 2017 | WNBL news
ÒHow could we possibly not have Timmsy as the first of our eight ambassadors?Ó asked Boomers GM Justin Nelson as the Deakin Melbourne Boomers announced club legend Michele Timms as an ambassador for the coming WNBL season.
As the first of eight ambassadors to be announced in eight weeks, Timmsy was delighted to lead the way for her beloved Boomers.
ÒThe Boomers are such a big part of my family and my life, itÕs my basketball home and IÕm really honoured to be a part of this great new initiative,Ó Michele said.
ÒIÕve seen so many talented players come through the Melbourne basketball system and itÕs always such a proud moment when you see them out there playing in the WNBL. I always wore the Boomers singlet with such pride and to be an ambassador for the club means a lot.Ó
A champion of the Boomers, Opals and the WNBAÕs Phoenix Mercury, Timms continues to be actively involved in basketball and is about to return to China and continue her work with the national womenÕs team.
According to Nelson, the renowned ÔFamily ClubÕ culture of the Boomers is as strong as ever today and so much of that is due to the enormous legacy Timms has left on the club.
ÒThis is an iconic club, itÕs AustraliaÕs longer running elite-level womenÕs sports team and anytime you talk about the Boomers the name Michele Timms is always the first you hear É.. always!Ó said Nelson.
ÒThe role of our ambassadors is to promote the club and girls and women in basketball, and to engage with our members and supporters. To be honest, Michele can talk Boomers basketball in her sleep!Ó
Timms continues to be a big supporter of girls being active and participating in sport, acknowledging that elite level players are role models and vital to encouraging todayÕs youth to reach for the stars.
ÒRight now I think itÕs so important for all the kids out there, especially the young girls, to connect with their role models and the Boomers do that so well. Seeing the kids meet the players after every game is a highlight,Ó said Timms enthusiastically.
ÒItÕs an exciting time for girls and women in sport, the choice of activities is unbelievable and I hope we continue to see lots of grassroots basketballers rise through the the ranks and wear a Boomers singlet at some stage of their career.Ó
With a busy schedule out on court in her successful coaching career, the most recognised Australian guard to ever play the game is looking forward to getting to some Boomers games at the State Basketball Centre this season.
ÒIÕll be sure to get along to some games, the atmosphere and engagement with the crowd is fantastic. Melbourne has a strong WNBL team and no matter where my basketball journey has taken or will take me, IÕll always call the Melbourne Boomers home.Ó
The Deakin Melbourne Boomers will announce its second or eight ambassadors next Wednesday August 16.
To join Timmsy at the Boomers, grab your season membership today atÊwww.boomersmemberships.com.au