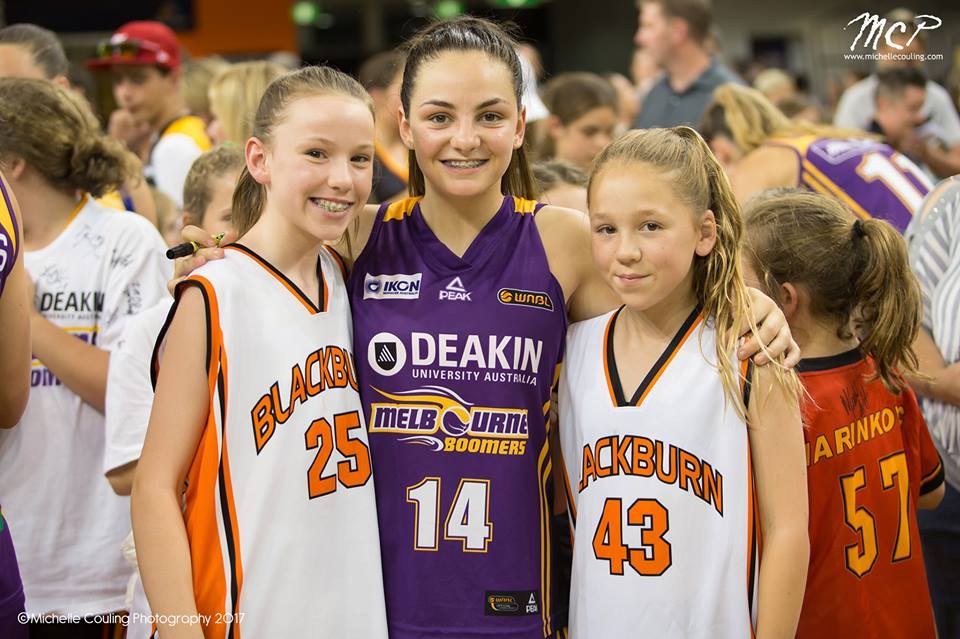 February 23, 2017 | WNBL news
It may have come as a shock to her last night when Monique Conti was named the 2016/17 Betty Watson Rookie of the Year but the young guard has the Deakin Melbourne Boomers to thank for her development.
EarningÊ25 votes out of a possible 48 as nominated by the captains and coaches, Conti joins names such as Lauren Jackson, Abby Bishop and Cayla George as Rookie of the Year recipients but the realisation is only beginning to sink in.
"I didnÕt know I was in contention for the award and had no idea it would be announced lastÊnight so when they called out my name, I was in shock," Conti said.
"When I walked up to receive my award, it was a surreal feeling because I really was not expecting it but itÕs pretty awesome to win it."
Conti played 19 games in her debut year, averaging seven minutes per contest and shooting 35% from the field and felt like she grew into her role as the season wore on.
ÒIt was quite a transition from juniors to senior level. But the Boomers are so welcoming and made me feel a part of the league straight away.
"Across the season I grew as a player and became more confident on and off the court and I think I finished the season off quite well.Ó
Acknowledging the entire sideÊin contributing to her development, Conti reserved special mention for a couple of her back court team mates.
"I really enjoyed training with and against Bec Cole while Brittany Smart and Maddie Garrick helped me a lot too. Having to train against them is really tough, theyÕre some of the best players in the league so they helped me on the court a lot and really impacted my season.
ÒThanks to [coach] Guy [Molloy], I think IÕve matured as a player too.Ó
Hitting the floor in front of some of the biggest crowds of the season on Australia Day Eve and when the Boomers celebrated their 33rd anniversary in February, Conti has also been overawed by the fans support.
ÒThe club just feels like one big family. We get heaps of fans to every game and a lot of young girls come up to me and tell me I am their role model which is great.
ÒThe atmosphere at big games is amazing. Knowing that youÕre not only playing in front of so many people but playing for them as well, itÕs so cool. It can be hard to describe because youÕre in the moment when you are playing but it really is always an amazing atmosphere.Ó
With Melbourne's campaignÊcut short as they did not reach the playoffs, Conti's focus has now turned to the 2017 season where she will play for the Melbourne Tigers' women team in their inaugural season.
ÒShort-term, IÕm planning on playing for the Tigers and I want to play at least another season in the WNBL.
"And hopefully I will be selected for Australia at the Under-19 World Championships in July.Ó