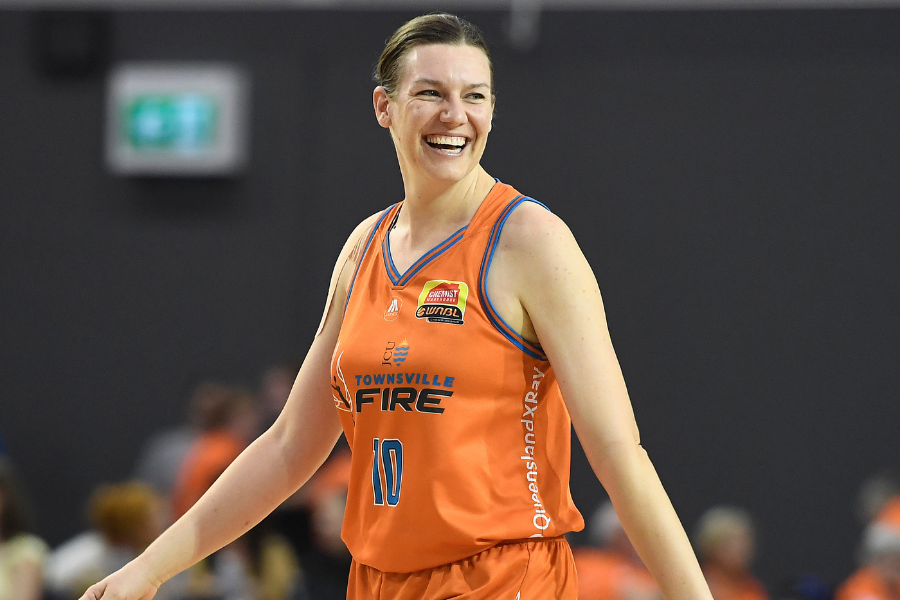 December 13, 2020 | WNBL news
During the 2020 Chemist Warehouse WNBL season, avid followers of the league's digital and social media channels will get to enjoy insights and interviews with leading women's basketball reporter and broadcaster, Megan Hustwaite.
With thanks to the league's naming-rights partner, Chemist Warehouse, Megan is based in the North Queensland hub and is bringing fans along for the journey with a series of feature interviews.
In Part 8 of "Life in the Hub", Megan catches up with JCU Townsville Fire captain Mia Murray, who played her 300th WNBL game this week.
Mia Murray has won and done it all in the Chemist Warehouse WNBL and now she's excited about what the next generation can achieve.
The triple WNBL champion and 2015 Rachael Sporn Medallist reaches 300 games this week, a milestone that's been a long time in the making.
The 32-year-old guard with the deadly three-point shot is back in the league with the JCU Townsville Fire this season after two years away to study and have her first child, 14-month old son Sidney.
Her experience and exceptional basketball IQ has been a huge strength for finals aspirant Townsville, a side boasting some of the most exciting young talent in Australian basketball.
In #WNBL20, Murray (nee Newley) has also come full circle, playing against fellow veterans she began her career alongside at the Australian Institute of Sport (AIS).
"I think it's really special because from that group there's a lot of us still playing and with this unique season up here in Queensland it's cool to see everyone again and still going,'' she said.
"I think of how young my Fire teammates are and what they've got ahead of them and I'm really excited because for me it has been such a fun ride. The WNBL is a great league and I've always really enjoyed playing in it, it's been fun."
Murray says she's enjoyed watching her star teammates in full flight this season and has had one of the best views, on court next to them.
"I get caught watching them all the time, Shyla Heal and Lauren Nicholson, the way they play is just awesome. Then I think 'I'm on the court with you I better help you out!'
"(Townsville this season) is fun to be a part of. They're all crazy as coconuts off the court. The bus trips, the change rooms, the music goes off and I think all of that off-court stuff goes a long way into how we're performing on court.
"We'll make a play that Shannon's (coach Shannon Seebohm) drawn up, someone will score, and everyone is genuinely excited by it. It's a very different style we play. People call us run and gun, but I don't think that gives us enough credit for all the stuff we've done in the pre-season with our offences, there's a lot of stuff and it highlights people's strengths a lot.
"After a relatively disappointing season last year the club has done an amazing job of putting great people together on the court that work well together."
Hailing from South Australia, returning home to play with the Lightning, after time at the AIS in Canberra, was an early career highlight.
"In my early days going back home to Adelaide and playing for the Lightning was special because that was the team I loved growing up. I loved Rachael Sporn, she was always a favourite. Jae Kingi was the point guard and she was cool,'' Murray reflects.
"Having the opportunity to be around people and players I admired and then playing against the likes of Belinda Snell, Penny Taylor and Carly Wilson, players that shot the ball from that three spot, that for me was a real buzz."
In 2011, Murray moved north to join the Fire and would go on to play an influential role in Townsville achieving its first title then two more.
After losing back-to-back Grand Finals to the Bendigo Spirit, Murray was a driving force in the Fire getting revenge in 2014-15 with a 75-65 victory.
Her game-high 23 points, seven rebounds and three assists netted her the Rachael Sporn Medal for best-on-court.
Winning finals in front of a packed and parochial home crowd is a thrill Murray wants Townsville's next generation to experience.
"In terms of career highlights, I can't go past three championships. Going through a whole season with a group of people with that one goal in mind, and getting there, is very satisfying,'' she said.
"It would be really special to get back into the finals and I know how much Townsville love finals up here. It would be amazing for our young girls to experience that early in their careers."
'Life In the Hub' by Megan Hustwaite thanks to WNBL