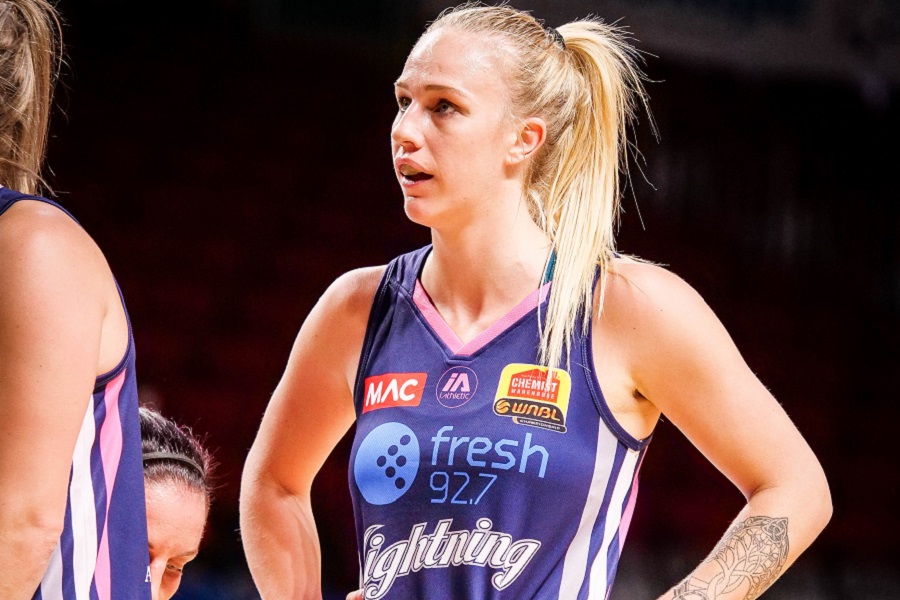 January 11, 2019 | WNBL news
By Megan Hustwaite.
Nicole Seekamp says off-court distractions have allowed Adelaide Lightning to focus purely on their form and earning a WNBL finals berth for the first time in six years.
The point guard this week told The WNBL Show that the Lighting players have put the club's financial woes to the side and looked to producing the best basketball they can under esteemed coach Chris Lucas.
"We've got it going well at the right time of the year and it's great to see. Ever since that Melbourne game where we found the news out about our team we've just got on the right track and hit our form, which has been great to see, and hopefully we can maintain it going into finals,'' she said.
"We were in warm-ups and our manager came up and said Chris (Lucas) didn't want us on our phones before the game and I thought that was a little strange but didn't think much of it because I was focusing on the game.
"After the game he told us that we'd lost our owner, so it made sense in hindsight, and we had our CEO there who came in and delivered the news.
"It wasn't the best time to hear that but for us and Chris really stressed the importance of focusing on the basketball itself and I think that's exactly what we've done and it looks that way because we've gone on a run.
"We obviously want to be here and we hadn't made finals for quite a few years so I think that could definitely be (added motivation).
"I actually haven't really thought about it (the future) and we're trying to focus on our basketball and winning a championship so I think if we stray from that thought, once the season is over then we'll maybe think about the situation."
Seekamp, part of the Commonwealth Games gold-medal winning team, was this week selected in the Opals squad and named in the WNBL team of the week.
The 26-year-old South Australian is averaging 12 points, five rebounds and five assists a game in #WNBL19 but says she is simply playing her role.
"The team has been really great. We enjoy each other's company both on and off court. We all have our roles, play our part and all have the ability to go off on any single night so if you shut down one player we have other girls who can step up and have big games,'' she said.
"I think that's definitely a big strength of ours and one of the reasons why we have been winning games because if you shut down Nia Coffey in terms of her scoring we've got Lauren Nicholson and Steph Blicavs who can step up and make threes.
"To go into finals with the momentum we have right now is going to be huge."
The Lightning host Melbourne Boomers on Saturday at 5pm (AEST) on Fox Sports.
Listen to Nicole Seekamp on The WNBL Show here.
The WNBL Show airs every Tuesday during the Chemist Warehouse WNBL season.