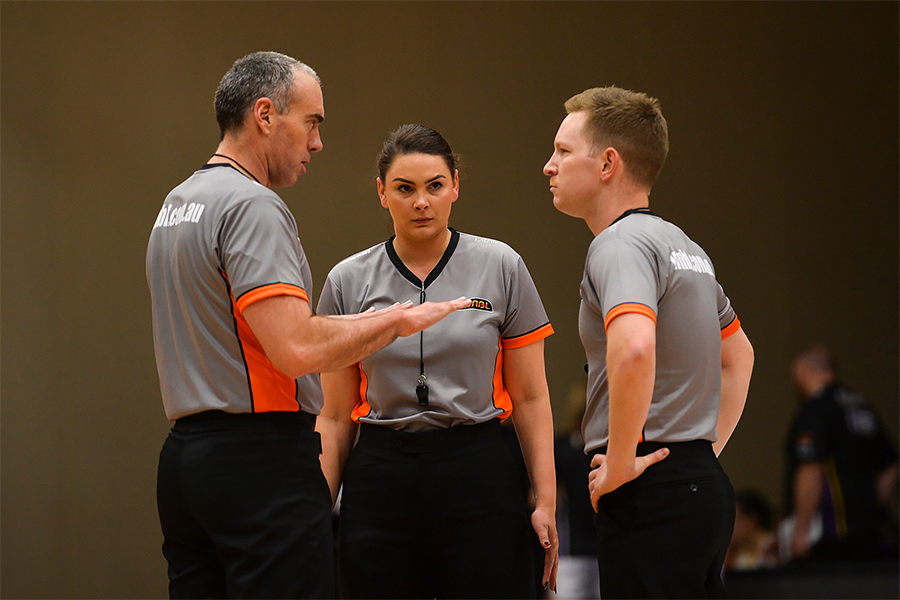 February 12, 2019 | WNBL news
As one of the league's most experienced referees, Jason Kelly has more than earned his Chemist Warehouse WNBL life membership.
Officiating more than 150 games, 'black and white' is Kelly's mantra since his debut on November 17, 2006 when the Bulleen Boomers played West Coast Waves.
"From an officiating point of view, the best thing you can do it take emotion out of the equation," said Kelly.
"The rules are there and it's just about being black and white. Nine times out of ten, people yell at what you're wearing. It's never personal."
Officiating wasn't an unexpected career choice for Kelly with his umpiring journey dating back to a competitive edge he had in his early teens.
"I was 13, driving home from a stadium and I was talking about the referees when my mum said, 'You think you can do a better job?' and I went "Of course I can,' being a typical 13-year-old boy."
It appeared to be an instant challenge for Kelly but after a few years of domestic and junior experience, he realised what the future could hold.
"At 19, a couple of my mentors, David Bartlett and Ron Clarke, came up to me and said, 'You could be a really good referee if you wanted to.' And I guess the rest is history."
Having now spent more than a decade around the league, Kelly credits his straight-shooting personality for his enduring career.
The cliché of 'what you see is what you get' is an apt description of his approach to officiating in a high-pressure environment.
"Dealing with the coaches and staff in games, the important thing is about being human.
"I say to the coaches all the time, I'm going to be honest. If I'm not, credibility goes out the window."
Amassing several seasons in the league and now earning Life Membership, Kelly's approach to each game remains the same.
"I'm a student of the game," he said.
"I still get butterflies every time. When I read the roster, I start researching games but before I go out on the floor I'm nervous. That nervousness is because you care and you don't want to stuff up.
"Violet Palmer, the first female NBA referee said, 'As an official you strive for perfection even though you know you will never achieve it' and that couldn't be more true. So I try to educate myself to become a better referee and better person each time."
With the stress of the job leading Kelly to consider retirement at one time, the desire to go out on his own terms has motivated him to remain in the black and white stripes.
"I've got a great relationship with Referee Manager Peter Carey and there have been some challenging moments in my career where I didn't believe I was up to standard.
"I took some time off but then you go back to that old perspective of wanting to go out on your own terms.
"I hope to have three to five years left in me to hopefully achieve a couple of goals including being the first male referee to reach 200 WNBL games."