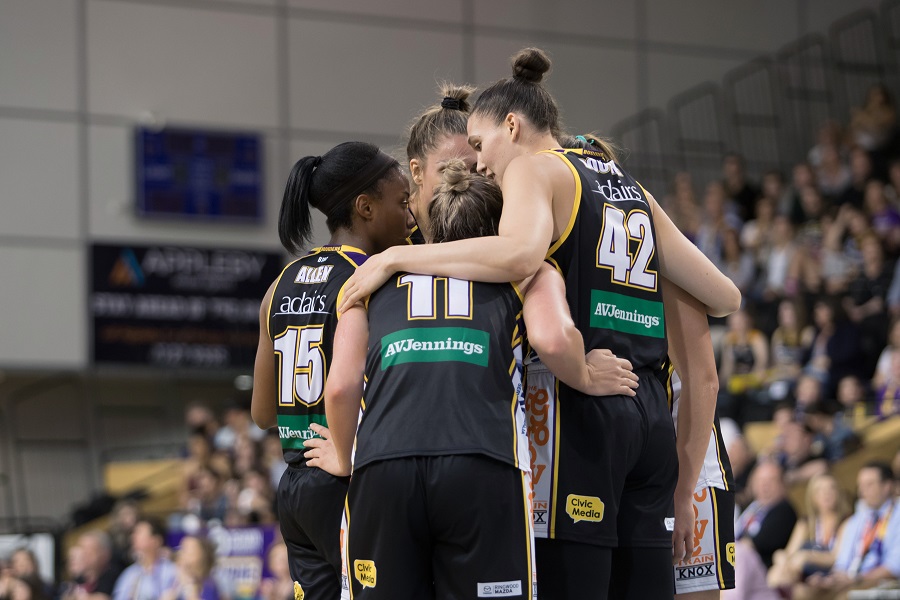 November 9, 2018 | WNBL news
Image: Michelle Couling Photography.
Jenna O'Hea didn't see it coming.
The 31-year-old had just stepped off the plane after leading the Opals to a silver medal at the FIBA World Cup in Spain and now was quickly switching focus to captaining her Deakin Melbourne Boomers in the 2019 Chemist Warehouse WNBL championship.
O'Hea and new team mates Cayla George, Steph Talbot and Ezi Magbegor had a limited preparation and quick initiation with their fresh-look team before stepping out on court in Round 1 against the Bendigo Spirit.
The two-time championship forward telling The WNBL Show the quick turnaround showed on the floor.
"That first game was interesting. To have four starters come in and only get four training sessions with the rest of the group it was tough and I think I was a bit naïve just to think everything would fall together,'' she said.
"The more we train together, the more we play together, we're all feeling more comfortable with each other, within the system, and things are starting to roll a lot better for us.
"Bendigo played terrific that first game, taking nothing away from them, they shot the ball really well and Nat Hurst is running that team really well, she's so poised and is shooting it great. They've got a lot of options and are playing good basketball."
That precious silver medal and captaincy honours mean much to O'Hea, an Olympian in London in 2012, who has returned to the national program under coach Sandy Brondello.
"(The experience was) amazing,'' she said.
"I can't speak highly enough of Sandy Brondello, she's been terrific and I'm so thankful to her for bringing me back into the program and giving me another shot. I'm so pleased, honoured and humbled to be back in.
"To get back into the gold medal game and on the podium, was so great. We had such a great experience away, everyone got along so well off the court, I think we played really well together on the court and it really showed with that result.
"I'm just so thrilled to be back in and amongst such a great group of women and Sandy has just been terrific for the Opals program."
The Boomers are currently in the midst of a hectic stretch of their campaign after playing their third game in six days last night against Sydney Uni before heading north to face Townsville in a rematch of last season's Grand Final on Sunday.
Last round, Melbourne fell to the Spirit on their home floor on Cup Eve but two days prior took a 1-0 lead in the Michele Timms Cup with an emphatic 26-point victory over arch rival Dandenong.
Talbot was the star with 27 points, five rebounds and five assists, netting high praise from her skipper.
"Steph was so great. She's hitting open shots, she's driving to the basket, her defence is always so good, she's just doing everything for us and it's so great to see,'' O'Hea said.
"Our offence is starting to click, we're moving the ball well, opening up people like Steph to knock open shots so it's been good."
Listen to Jenna O'Hea on The WNBL Show here
The WNBL Show airs every Tuesday during the Chemist Warehouse WNBL season.