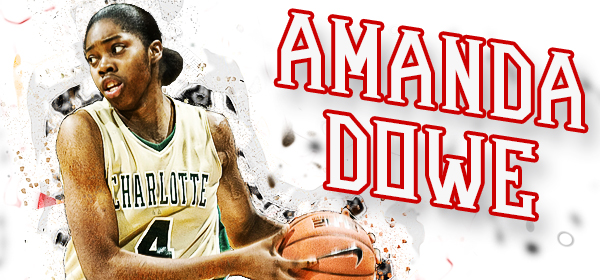 August 17, 2017 | WNBL news
The Perth Lynx have made another major addition to their roster, signing American centre Amanda Dowe ahead of the 2017/18 WNBL season.
Standing 193cm (6Õ4Ó), Dowe has earned a reputation as an uncompromising rebounder during her time in Europe, and will play a pivotal role on the defensive end for the Lynx.
After attending the University of North Carolina at Charlotte, the 26-year-old launched her professional career in Spain, and has since played in Italy, Brazil, Germany and France.
Dowe joins the Perth Lynx after a season with French side Landerneau Bretagne Basket, during which time she led the league in rebounding (10.1rpg) while averaging 7.6 points and 1.6 steals per game.
In addition to her fearsome work on the defensive end, the athletic American brings a wealth of experience that could prove vital during a condensed WNBL season.
ÒI bring to the team a winning, positive attitude,Ó said Dowe.
ÒIÕm going to look for any way to encourage my teammates and doing whatever I have to do to put my team in the best position to win.Ó
ÒThe fans can expect a coachable, hard working individual who puts ÔweÕ before ÔmeÕ.Ó
Despite her size, length and athleticism, the former Charlotte 49ers standout suggested it was her attitude and mentality that has led to her success on the glass.
ÒIn my mind effort and hustle go hand in hand with rebounding, because going the extra mileÊor making that extra hustle play could be the deciding factor in a close game.
ÒI think Amanda is exactly what this team needs,Ó said Perth Lynx head coach Andy Stewart.
ÒShe is long and athletic and, although she is quite capable of scoring, her primary focus is rebounding and defending.
ÒWe have recruited a squad of quick, fit, athletic players; Amanda sits in this mould and compliments the game style we hope to establish.Ó
The Perth Lynx have now signed eight players to their 2017/18 roster, with further announcements expected shortly.
Perth Lynx memberships areÊon sale nowÊÐ starting from just $69!