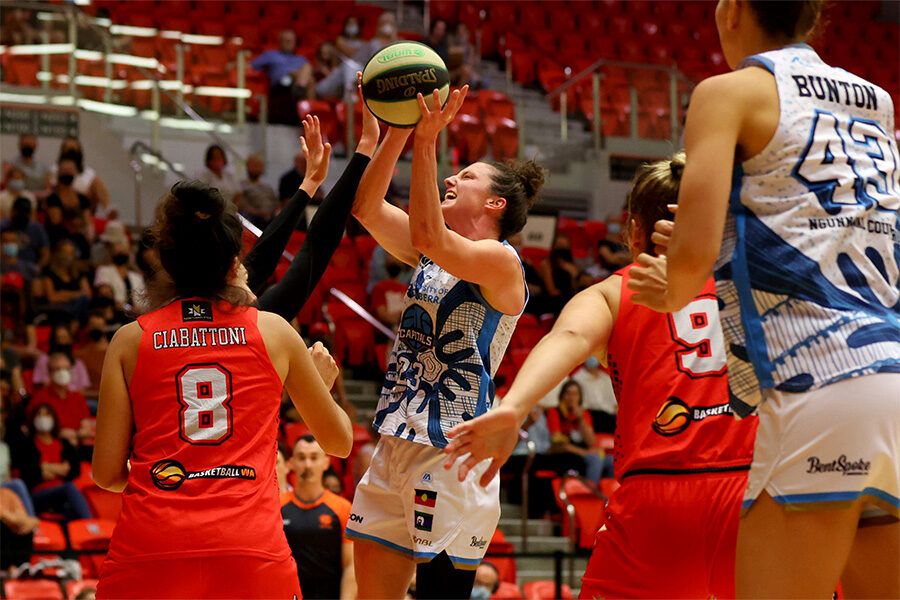 March 29, 2022 | WNBL news
The UC Capitals have advised that they are unable to field a team for the second game of the semi-finals series. Perth Lynx will now go through to the WNBL Grand Final.
The WNBL COVID Finals Protocols stipulate the priority of any Finals series is to play it as a best of three, if this is not possible it can be played as a best of two, or as a single game.
Following a COVID outbreak in the Capitals camp on Sunday 27 March, the second semi-final was unable to be played.
The final game of the WNBL semi-final series between Perth Lynx and the UC Capitals was scheduled for on Wednesday 6 April at 7.00pm (local time) at the Bendat Basketball Centre.
In consultation with medical staff, given the extenuating circumstances surrounding their COVID outbreak (including ACT Government mandated isolation period) the UC Capitals have determined that it would be medically unsafe for the team to travel to Perth and play.
They have therefore advised that they cannot participate in the game, meaning the series reverts to one-game, which has been played and won by the Perth Lynx.
While a disappointing outcome for Capitals fans, the league understands and respects their decision not to travel to Perth.
Perth Lynx will now contest the WNBL Grand Final against the minor premiers, the Melbourne Boomers, who earned their place on Saturday defeating the Adelaide Lightning.
The 21-22 WNBL Grand Final Series schedule is as follows:
Saturday 2 April               5.00pm               Melbourne Sports Centre Parkville (Melbourne)
Wednesday 6 April         7.00pm               Bendat Basketball Centre (Perth)
Saturday 9 April               5.00pm               Melbourne Sports Centre Parkville (Melbourne) * If required