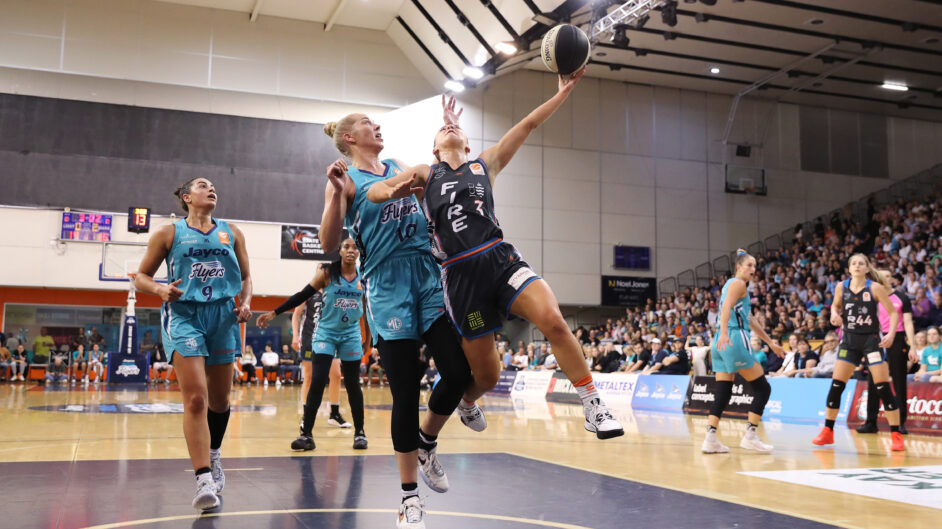 October 16, 2023 | WNBL news
Power ranking the potential starting fives across the WNBL
by Hayley Wildes | The Pick and Roll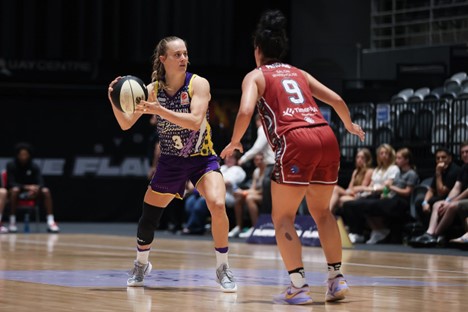 The WNBL season is creeping closer, with just over two weeks until the regular season tips off. Preseason action is now underway, and we're starting to learn a lot about each team's lineups. With that in mind, let's dive into power ranking the starting fives across the league.
As I started to put this together, it was incredibly hard to split teams and that's a credit to the league and those that work within the clubs in recruiting. There's superb talent in every lineup and I do believe every fanbase should have genuine excitement about the season ahead.
It's pretty clear straight away that three teams stand out as having assembled what could potentially be dominant starting units. After that, you get the sense each team has a chance to make a playoff push if things go to plan.
Townsville Fire
PG: Steph Reid SG: Sami Whitcomb SF: Alice Kunek PF: Mikaela Ruef C: Tianna Hawkins
When the defending champions add Sami Whitcomb and Alice Kunek to their squad, you have no other option but to put them at the top of the power rankings. It was simply an unbelievable offseason for the Fire, who also re-signed Finals MVP Tianna Hawkins. It doesn't get much better than that.
Kunek's return to the WNBL, after playing in Europe for many years, is massive. She's one of the best small forwards in the country and will be motivated to put in a great season with the Fire, knowing the Olympics aren't too far away.
Don't think I've forgotten about Steph Reid either! I have her right up there as one of, if not the best, point guard in the country, and her defensive energy and work rate is unmatched. The Reid-Whitcomb backcourt is a nightmare proposition for opponents.
Ruef and Hawkins were huge in the frontcourt during last season's run to the championship. Hawkins was dominant in the Grand Final series, while Ruef is one of the most underrated players in the league for mine. She just gets the job done night in, night out and is the perfect frontcourt pairing alongside Hawkins.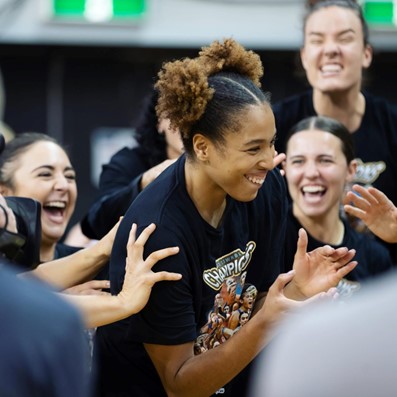 The Fire will enter the season as defending champions and on a 16-game winning streak. With the starting five they have, I wouldn't be surprised if they keep that streak going for quite a while.
Melbourne Boomers
PG: Jordin Canada SG: Kristy Wallace SF: Sara Blicavs PF: Naz Hillmon C: Keely Froling
The Melbourne Boomers have had a busy offseason and after a lot of change, now boast a five-woman starting lineup that will challenge the best in the league.
As I've said previously, the backcourt duo of Jordin Canada and Kristy Wallace is outrageously good and those two will have the Boomers playing with real pace. Both are beasts on the defensive end too and I can't wait for the first matchup against Townsville's backcourt of Reid and Whitcomb.
Having initially signed Jantel Lavender as their second import, the Boomers announced she won't be suiting up this season due to personal reasons and wasted no time by signing Naz Hillmon to replace her. A former teammate of Kristy Wallace's at the Atlanta Dream, there will be some familiarity between those two and that will no doubt help her transition into the league.
The completely reformed Boomers also added superstars Sara Blicavs and Keely Froling. Froling is just a rebounding machine, whose toughness and love for the fight is among the best in the league. She'll stop at nothing to get a board or loose ball. That toughness in the frontcourt will be huge for Melbourne, fitting in alongside their dogged backcourt pairing.
We all know what Blicavs brings to the table and she's continued to evolve as a player. It's exciting times ahead for the Boomer faithful and I get the feeling, their fans will have plenty to cheer for this season.
Sydney Flames
PG: Tess Madgen SG: Lauren Nicholson SF: Didi Richards PF: Lara McSpadden C: Cayla George
It feels strange to have the Flames at number three, considering they've added Opals captain Tess Madgen, reigning WNBL MVP Cayla George and 2023 WNBL champion Lauren Nicholson, but it says more about the work of Melbourne and Townsville than discrediting Sydney.
The Flames would be absolutely rapt with their offseason, completely reshaping their roster by adding big name player after big name player. While those three are going to be huge for the Flames, it didn't stop there with Sydney also adding Shaneice Swain (who will miss the start of the season due to injury), import Didi Richards and 2023 WNBL champion Lara McSpadden.
There's so much to like about the Flames; while you'd think it might take some time for it all to click for a team that is completely retooled, there's past connections all over the court. Similar to Madgen and George playing together for many years, the same goes with Nicholson and McSpadden, while Guy Molloy has also coached George and Madgen before – that should see a smooth transition for the team.
Didi Richards is a player that I know Sydney fans are going to enjoy watching. She's a ball of energy and a menace on defence. In her time in the WNBA with New York, she was named to the 2021 WNBA All-Rookie Team and although injuries have slowed her down since that season, a fit Richards is going to be a problem in the WNBL.
Southside Flyers
PG: Maddy Rocci SG: Bec Cole SF: Nyadiew Puoch PF: Lauren Jackson C: Mercedes Russell
In my eyes, splitting Southside, Perth and Adelaide was the toughest decision. All three teams have question marks, but also genuine upside.
It's all about health for the Southside Flyers. Maddy Rocci and Lauren Jackson are yet to return from their respective injuries, but if they're fit and firing at the business end of the season, the Flyers will be a tough cover.
The addition of superstar import Mercedes Russell is a major coup for the Flyers and she's the type of player that can dominate the paint on both ends of the court. A frontcourt lineup of Russell and Jackson, along with Carley Ernst, will have Southside in with a chance against any team.
Rocci and Cole were massive in leading the Flyers to the Grand Final last season and both will be just as vital to any success Southside will enjoy this season. They're both aggressive guards, who love to push the pace and drive hard to the bucket.
Perhaps the piece of the Southside's puzzle that is most exciting is Nyadiew Puoch. She was a revelation last season, swatting shots all over the place as her extreme athleticism shone through. She's likely a future Opal and I can't wait to see what she can produce after another offseason of work has been put in.
Perth Lynx
PG: Aari McDonald SG: Amy Atwell SG: Miela Goodchild PF: Anneli Maley C: Emily Potter
My prediction about this starting lineup says more about my thoughts on Miela Goodchild than anyone else. I'm super high on her game and could see Ryan Petrik running a three-guard lineup at times throughout the season when match-ups make it feasible. He did this at the River City Rebound and it's clear Petrik's team is going to be a run-and-gun style team.
The Lynx do lack frontcourt depth, but with Anneli Maley battling it out for boards and punching above her weight class, Perth will still get plenty of rebounds. Import Emily Potter also showed her rebounding nous in the River City Rebound, so those two will ensure that while the depth is questionable, they'll be ready to get to work.
The three guard lineup of McDonald, Atwell and Goodchild is one that I'm excited to watch. All young and improving guards, they each bring something different to the table, but will all be threats from beyond the arc. Atwell had an outstanding debut WNBL season in 2022/23 and truly announced herself to the Australian basketball-watching public after being away from home for the prior four years at the University of Hawaii. She's a flamethrower from deep and after a dominant NBL1 season where she won the NBL1 South and NBL1 national championship with Bendigo, she's put the work in and I think she'll take her game to another level in WNBL season 2023/24.
McDonald is going to be a fun player to watch. She starred in college at Arizona and currently plays for the Atlanta Dream, and her speed is going to be cause problems right across the league.
I really like how Perth has built out their roster, getting players that complement each other and the key to any success for them will be their ability to keep their pace up for 40 minutes. With McDonald pushing the pace from the point guard position, she'll have Maley running the floor like we all know she does on every possession, while the likes of Atwell and Goodchild will be encouraged to get out in transition too as open triples and driving lanes will be there if opposition transition defence can't get back in time.
Adelaide Lightning
PG: Izzy Borlase SG: Lauren Mansfield SF: Jocelyn Willoughby PF: Brianna Turner C: Isabelle Bourne
The Adelaide Lightning have an intriguing roster and one that has some exciting versatility. With imports Willoughby and Turner, both are capable of playing multiple positions, as is young gun Izzy Borlase, who is one of the most exciting prospects to keep an eye on in the league this season.
I expect to see Borlase and Mansfield handling the ball a lot. While I have Borlase listed as the point guard, Mansfield is more of the typical point guard for the team, while Borlase will likely be playing more of the two or three spot, but will often have the responsibility of initiating the offence, as we saw at the River City Rebound.
The addition of Isabelle Bourne is an underrated signing in my eyes. The Aussie has returned home after an impressive four-year college stint with Nebraska that saw her earn three All-Big Ten Honourable Mention selections from 2021-23.
In the River City Rebound, Bourne was massive for Adelaide as her all-round game shone through. Against Townsville, Bourne was unstoppable in the fourth quarter, hitting three straight triples to drag the Lightning back into the contest. She finished the game with 28 points, 8 rebounds and 4 assists. A big that can hit from beyond the arc is worth their weight in gold, and if she's able to be that for Adelaide, coach Nat Hurst will be jumping for joy.
While superstar Steph Talbot will likely be sidelined for much of the season as she continues her ACL rehab, there's real potential within this Adelaide team. Both imports have played in the WNBL before, which is always valuable and I expect to see them hit the ground running. Turner has the potential to be one of the best two-way players in the league and she will be vital to everything the Lightning do this season.
Bendigo Spirit
PG: Kelly Wilson SG: Abigail Wehrung SF: Kelsey Griffin PF: Alicia Froling C: Ruth Davis
This is one starting lineup I could see changing depending on matchups. While import Ruth Davis could start in the frontcourt against bigger teams, I also think we could see the Spirit go smaller by starting Alex Wilson and moving Davis to the bench. It's a good sign of the versatility coach Kennedy Kereama has in his squad, despite the loss of 2022 WNBL MVP in Anneli Maley.
Griffin is the key to Bendigo, and it was no coincidence that when she went down with injury last season, things went off the rails for the Spirit. Griffin is still up there with the absolutely elite players in the league and her signature fire for the contest is still burning bright too.
Having a backcourt boasting Kelly Wilson, Abigial Wehrung and Alex Wilson, as well as import signing Mehryn Kraker, is a super solid rotation. Both Wilsons' are terrific passers, while Wehrung was the best three-point shooter in the league last season, hitting a ridiculous 52.2% of shots from beyond the arc. Wehrung's defensive work is also vital to the Spirit, as she is often tasked with defending the opposition's best guard.
Alicia Froling enjoyed a career-best season with the Spirit last season and I can only see her getting better as she continues to develop and grow confidence in her shot, having overcome career-threatening wrist injuries by switching shooting hands prior to last season.
There's definitely a toughness about this Bendigo squad and with another preseason of learning Kereama's game plan and style, there's plenty to get excited about for Spirit fans.
Canberra Capitals
PG: Jade Melbourne SG: Nicole Munger SF: Alex Sharp PF: Bec Pizzey C: Alex Bunton
I've placed the Capitals in eighth, but don't for a second think they're not a team with major upside. Despite only grabbing two wins last season, there was a real air of positivity around the team towards the end of the season and that had a lot to do with the growth within the squad.
Jade Melbourne is only getting better and she's undoubtedly going to provide plenty of highlights this season.
I think one of the most underrated signings of the offseason is Alex Sharp. She's the type of player that will do whatever job is asked of her and after having to somewhat bide her time and play behind superstars in Perth over recent seasons, I believe she's ready to be a leader and shine bright on this Canberra team.
Import Nicole Munger is back after a breakout season and coach Kristen Veal has already stated that she will be playing as a guard this season after having to play out of position due to covering injuries within the team last season.
Bec Pizzey and a healthy Alex Bunton is a frontcourt pairing that is capable of battling it out against anyone. Pizzey enjoyed a career-best season in 2022/23 and showcased what she's capable of as she really found her groove within the team.