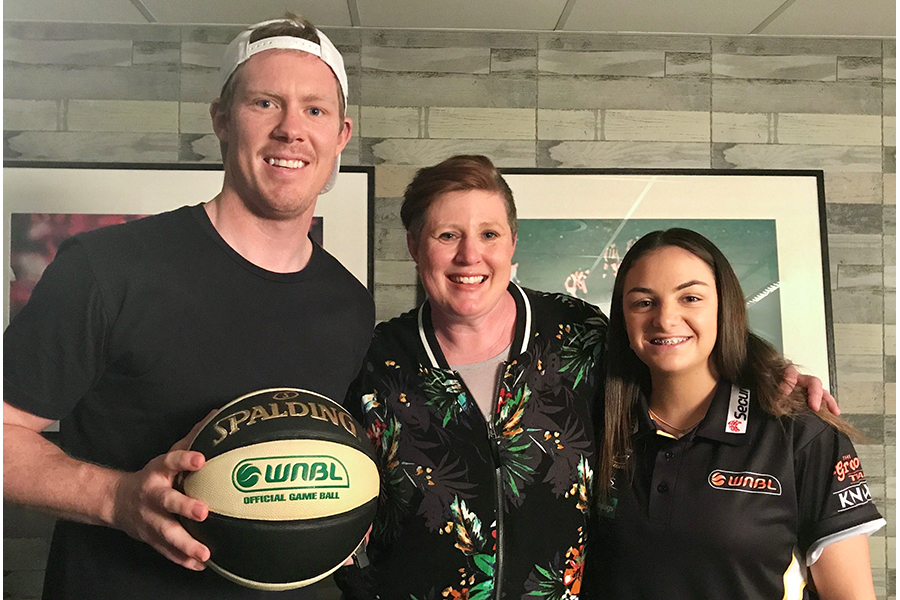 November 8, 2017 | WNBL news
The WNBL has thrown its support behind the Maddie Riewoldt's Vision as the Deakin Melbourne Boomers host the University of Canberra Capitals in the inaugural 'Purple Day' on November 18th.
After naming Joe and Fiona Riewoldt as Ambassadors for the 2017-18 season, the Boomers announced their support for the foundation that was established after their daughter Maddie Riewoldt lost her battle with Bone Marrow Failure in 2015.
Maddie's brother and retired AFL superstar Nick Riewoldt along with Fiona, Joe and current AFL Premiership player Jack Riewoldt have worked closely with the WNBL and the Melbourne Boomers to promote the event.
"Maddie's Vision is increasingly receiving serious support from Women's sport at an elite level," Maddie's Vision CEO Nicky Long said.
"We're so proud and grateful to partner with the WNBL and Melbourne Boomers to not only raise awareness and funds but also to showcase what is possible for girls. Strong, healthy girls who want to make a difference".
The Melbourne Boomers will be fundraising for Maddie's Vision as well as wearing a special one off purple uniform to commemorate the events, hoping for a sea of purple in the crowd on the day.
The day not only aims to raise awareness for Bone Marrow Failure (BMF), but also highlight the incredible growth in Women's Sport, something that was very close to home for Maddie Riewoldt.
Head of the WNBL Sally Phillips commented: "The Deakin Melbourne Boomers partnership with Maddie Riewoldt's Vision is just another example of how engaged our clubs are in the community.
"As the mother of two daughters, I can only begin to imagine what the Riewoldt family have been through and the WNBL is right behind this event.
"There are little things that we can do; donating blood and platelets makes a big difference to someone suffering from BMF, so we can all help. The Melbourne Boomers live and breathe family. We can't wait to see families at the game supporting the Boomers and Maddie's Vision, the sea of purple will be a great sight."
'Purple Day' will take place on November 18th, during round seven of the WNBL season at 3pm at the State Basketball Centre.
The game can be viewed LIVE on Fox Sports 503 and tickets are available HERE.
Donations to Maddie Riewoldt's Vision can be made at www.mrv.org.au
Keep an eye out on the WNBL website and social media for more exciting information from Maddie's Vision and the WNBL in the lead up to Purple Day on November 18th.
#FightLikeMaddie