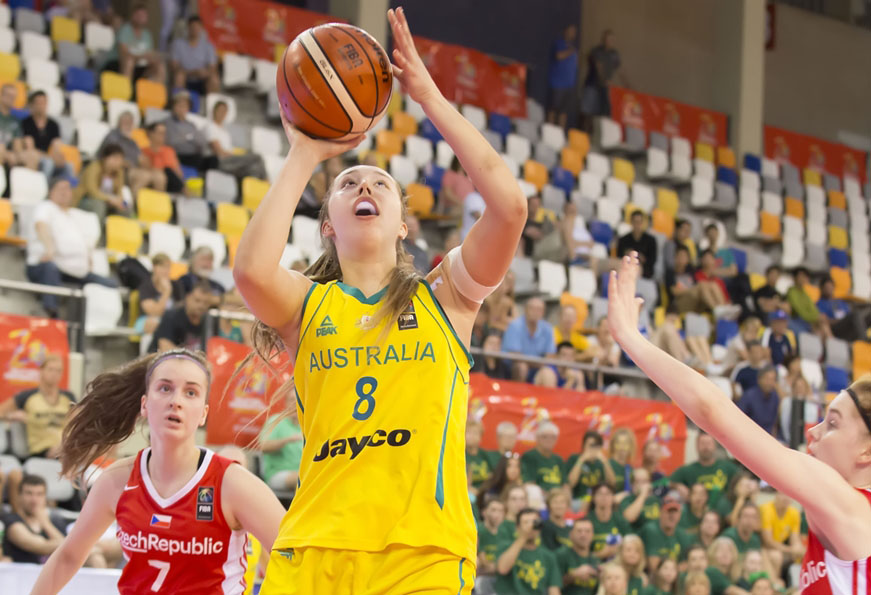 May 26, 2017 | WNBL news
The Dandenong Basketball Association is excited to announce that young star Rebecca Pizzey has signed a two-year deal with the Dandenong Jayco Rangers.
Rebecca will join fellow U/17 World Championship teammate Kiera Rowe on the 2017-18 Jayco Rangers squad, signing together after winning the FIBA U/17 World Championship with their magnificent Australian Sapphires teammates.
An athletic-rebounding forward, Rebecca will add further depth to the WNBL Jayco Rangers 2017/18 squad, playing alongside similarly athletic forwards Sara Blicavs & Carley Mijovic.
Jayco Rangers coach Larissa Anderson was thrilled to have Rebecca join the Jayco Rangers alongside Kiera Rowe, stating that the future of our WNBL program is looking brighter than ever.
ÒIt is fantastic to have Rebecca on board with the Jayco Rangers,Ó said Anderson. ÒBec has fabulous length and athleticism and is another very talented young player that will really benefit from stepping into the senior environment. Looking at her I see so much untapped talent ready to blossom, itÕs going to be really fun for me working with her and helping her realize what she is fully capable of on the court.Ó
Rebecca will not only be joining Kiera on the Jayco Rangers in 2017, she will also be joining her in JuneÕs U/19 Australian Gems selection camp for the 2017 FIBA U/19 World Championships. Seemingly connected at the hip, both players have been lauded with great praise by Larissa over the off-season, with the Jayco Rangers head coach impressed with both their on-court play and off-court maturity.
ÒObviously both Rebecca & Kiera are very talented players,Ó said Anderson. ÒBut theyÕre also wonderful young women, and I am extremely proud to welcome them to the Rangers familyÓ.
The Rangers family is something Rebecca has always admired from a far at her home club of Bulleen, stating that whilst battling Dandenong in rivalry matchups sheÕs always loved the Rangers Ôgrit and sheer determinationÕ. Moving back home to Melbourne will give the 18 year old an opportunity to harness that same grit in a Jayco Rangers uniform, while playing in front of both the Rangers family and her own.
ÒIÕve always admired Dandenong throughout my whole junior career at Bulleen,Ó said Rebecca. ÒWe have an unspoken rivalry with them and I love the way they play tough, team basketball. Dandenong also seem to possess a great family atmosphere and a real team focus which is something that I greatly value in a basketball community.Ó
Some players would be daunted with RebeccaÕs year ahead in 2017, however our newest Jayco Ranger is instead looking forward to meeting the challenges in front of her head on as she prepares to: excel in selection camps, make her WNBL debut and possibly star on the international stage. With a world championship gold medal already around her neck Rebecca is ready to take the basketball world by storm.
ÒIn my first WNBL season I have no doubts there will be many challenges but I am willing to give anything a go and ride the inevitable roller coaster,Ó said Rebecca. ÒIÕm excited to be able to play with some of the best talent in the country; IÕve actually looked up to some of the athletes on the Jayco Rangers for the past few years so to have the opportunity to play with them will be a surreal experience!Ó
For all media enquiries and commercial opportunities, please contact Michelle Harrison on 0423 957 986 or via email at michelle.harrison@dandenongbasketball.com.au