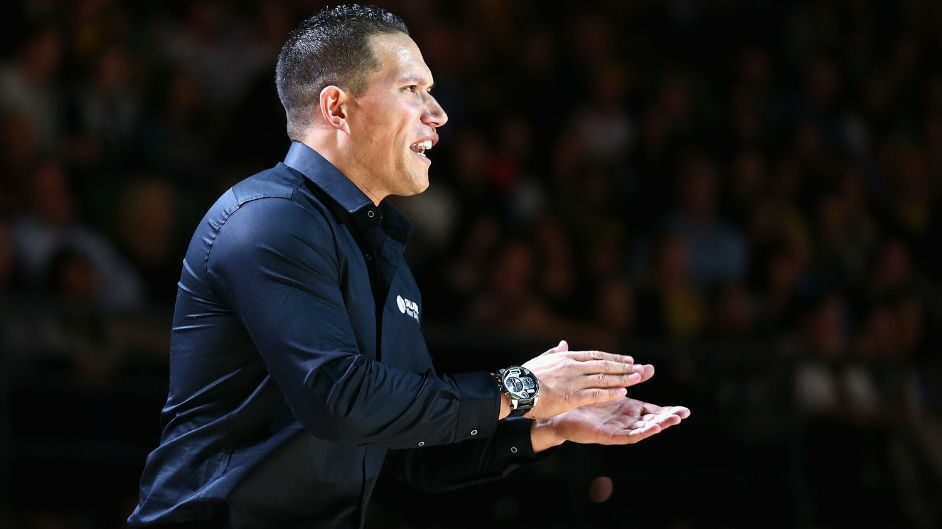 October 21, 2022 | WNBL news
By Damian Arsenis | The Pick and Roll
In taking on the coaching reins of the Bendigo Spirit, Kennedy Kereama's career has come full circle, having coached the former West Coast Waves in the 2010s. His resume is all the more impressive, when you include his time as head coach of the New Zealand Tall Ferns.
But what really stands out, is his passion for the sport and his craft. He lives, breathes and loves basketball, and that infectious passion has served him well.
Whether it is educating at grassroots level for the Sunbury Basketball Association where he is the director of coaching, leading the Knox Raiders women in the NBL1 South Conference across the past three years, or now as head coach of the Bendigo Spirit, Kereama would have it no other way.
"Sunbury have been fantastic. They allowed me to make the step up from Big V where we snapped up three championships in that time. It was time for me to move beyond that realm and Knox offered me that opportunity to take the next step.
"I've had three good years at Knox, with two of them brought short by COVID. Despite the interrupted season, they were really good times. To be honest, there was always the desire to be able to work with WNBL calibre players, and it was just a chance to get challenged on a weekly basis with very good players across the board and against very good coaches in NBL1 – many of them that are or very close to being WNBL coaches in their own right. It was a very critical opportunity for me and helped put me in the right place. It was always the plan that I would stay in place [at Knox] until a WNBL opportunity came up, and it was always the plan to get Jess May in the head coaching role as part of a succession plan. You talk about coaches who are ready, and she is one that is ready to step up! I'm thankful that I have played a part to set up the [Knox] program for future continued success."
A formula for success
Speaking of success, the Bendigo Spirit reached three straight grand final appearances for two championships between 2013 and 2015 under the guidance of legendary Bendigo coach, Bernie Harrower. While recent years have been lean, the formula for success of those winning teams were talent, experience and strong leadership. In many ways, it is a recipe for success that Kereama is keen to facilitate once more, explaining he was never more ready to lead the Spirit back to becoming a championship contender.
"When you are building a program it is critical to have good leaders to build success. Between the 2012-2015 period, Bendigo were a powerhouse of the league – it was not just the talent either, but the blend of experience and on court leadership.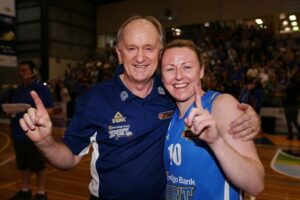 Having coached against the Spirit during their reign, Kereama saw firsthand the influence of Spirit superstar Kristi Harrower in facilitating Bendigo's championship success. It was something he was hoping to replicate, with the talent he has assembled for 2012-13.
"They were so damn hard to stop! Kristi just knew how to change things on court – the impressive thing was that they had already made an adjustment before there was a need for a time out. So having someone like Kelly Wilson, Kelsey Griffin [on the team] — they have the talent, experience and know how to go out there and lead a team to the top of the mountain. They can control the tempo of the game just like Kristi did. Kelly is making adjustments without me needing to call a time out, Kelsey does just the same.  Your job as a coach is made just so much easier as they make the adjustments for you. I am incredibly blessed to have a Kelly, Kelsey and Tessa Lavey our there playing for the Spirit this season."
Returning for the Spirit is also the reigning WNBL MVP Anneli Maley, fresh off winning a bronze medal for the Australian Opals at a home World Cup in Sydney. With Knox superstar and NBL1 South MVP Alicia Froling linking with Megan MacKay in the front court, among others, it is understandable that Kereama would be aiming high for the season ahead.
"Not to put anyone on a pedestal, we are competing for a championship. That is what everyone is here to do.
"The way my team plays may be a very different style of play than what Chris Lucas, Ryan Petrik and everyone else will do. Ultimately, we are all chasing the same thing – a championship."
Careers coming full circle
A lot has changed since 2012.
The West Coast Waves are now the Perth Lynx, and Kereama went on to coach the Tall Ferns for seven years, gaining further experience in the Big V in Sunbury and with Knox in NBL1 and assistant coaching roles in the WNBL. It is a journey that has allowed him to mature as a coach and leader.
"My previous experience with the West Coast Waves, which was 12-13 years ago, I was only in my early to mid-20s. Maybe from a basketball knowledge standpoint, I was not quite prepared for the [WNBL] role at that time, but I was always ready to work hard. Mentally though, I was always prepared. I learned a real lot from the first experience, but there were some really tough times too. The second time around, having had the first shot, it gives you perspective.
"I am much more refined on what I want, what I can do, and how I can get there."
Having seen first hand the success of the Spirit when he was coach of the Waves, Kereama's career may have come full circle, but so too it is for Kelly Wilson and Griffin.
Wilson will step out for the Spirit for the fourth time in her career, while for Griffin, she returns to the club where she her WNBL career started. Importantly, both were integral players as the club winning back-to-back championships in 2013 and 2014. Almost 10 years later, could it be a case of history repeating itself for the Spirit in 2022-23?
All about the team
So, what style of play can Spirit fans expect this season? According to Kereama, it will be all about the team.
"Team-oriented basketball. From our club's perspective, our team's perspective, we are going to be the type of team that plays for each other and be team-oriented. It will be very autonomous style of play, and allow plenty of freedom for the players to go out and just play.
"I have belief in their ability to play basketball. We obviously have some concepts and rules and guidelines within that. We have a great team, with players that can space the floor. We want to generate the highest percentage shot we can on each possession – the right shot, at the right time."
It is not all about the offence though. While he did not express it in as many words, the Spirit will reflect their coach when it comes to putting in the hard work and effort on defence.
"From a defensive point, I see a very hardworking, blue collar, disruptive team. We have good length in our guards and really disruptive perimeter defending forwards. We can change things up and extend our pressure, and certainly hope we can play at a tempo that may be able to challenge team's conditioning."
Equality is also important to Kereama, and while the pay packets and roles across the roster may vary, he wants to ensure that every play on his roster receives the same level of support and encouragement.
"One of my main goals at Bendigo is to create a environment that promotes growth and development, providing support to all players so that they can reach their potential. I want to help them grow, helping them get better, and get them into the Opals and the WNBA if possible — the pinnacle of their sport.
"I want to put in place and build programs to provide a firmer, stronger and better foundation for the players and the club overall – and finding just as much time to dedicate our resources to our development players, as sometimes they get forgotten about."
With the potential to see some free-flowing team basketball and hard-nosed defence, the Spirit may well be one of the most fun teams to watch this coming season if the squad can deliver on their new coach's vision and continue to gel together as a team.
Balancing basketball and family
While Kereama is focused on his team and players, he is also mindful of his family that support him in his coaching endeavours. It is often those behind the success of the coaches, players and administrators that underpins their success. With his wife Chelsea and two young boys aged 4 years and 2 months at home, the need to balance basketball with his family has never been more important, or challenging.
"I'm very fortunate to have a supporting wife in Chelsea who has been around SEABL and NBL1 before, and she allows me to continue to pursue my dreams and ambitions in coaching. Thankfully, we are a match made in heaven as she is much better in organising life off the court, while I am very good at organising things on the court!
"SEN who have taken over the licence of the program [in Bendigo] have been incredibly supportive, as have Sunbury who supported me in coaching New Zealand and while I was in Canberra. It is very rare that a club is so supportive. I'm also incredibly grateful for my wife, and I have certainly been put in a fortunate situation."
Coaches and players are often seen as just that — coaches and players! However, as Kereama pointed out, they are also people and have lives beyond the court.
"People forget sometimes that we are human, and we still have lives outside of basketball. Perhaps it is a chink in my armour, but basketball is very much a major facet of my identify, and my life, and I have to make sure I balance it out and make time for my family too.
"The coach is always planning, preparing and thinking about the team. We have an 18-player squad, and I am constantly thinking about every single player; what's best for them, and what's best for their development and growth. We are always thinking about scouts, planning and all that administrative stuff – and then have to make time for family."
Five weeks into the WNBL preseason and Kereama is enjoying every moment in his return as a head coach.
"I am absolutely loving every moment I get to spend with an incredibly talented and intelligent women. It is very much about winning at the club and we are off to a good start. There are different ways of measuring success, but we have a team that is very hungry."
Following two practice game wins against the Melbourne Boomers and New Zealand Tall Ferns already under their belt, they return to the court this weekend for a further two hit outs against the Southside Flyers on Saturday and a second bout against the Tall Ferns on Sunday. With a focus on allowing the players to play, Bendigo will take to the court in season 2022-23 with a renewed spirit, and a grand vision that has Kereama aiming to return the club to being championship contenders.